The Sustainability Agenda is Increasing in Relevance
Over the last few weeks, I've been involved in several discussions about sustainability including on the motivation of organizations that implement these initiatives. While it's clear that the sustainability agenda is increasing in relevance to Asia/Pacific manufacturers, distributors, and logistics service providers, there is some ground to cover before we really make an impact. At the same time, there is debate about how organizations should approach programs and frameworks to guide them on their journey.
Where there is some debate is:
Whether environment, social and corporate governance (ESG) is too commercially focused compared to other sustainability and ethics programs (formerly known as corporate social responsibility, or CSR), and
Whether bottom-line driven programs have a place in furthering the sustainability agenda.
It was also pointed out to me that the originator of the triple-bottom-line term (TBL or 3BL) was considering a management concept recall, where the word 'profit' should be re-thought in the people, planet, and profit concept.
Is there too much emphasis on the accounting or financial aspect? Should organizations adjust and consider the broader economic, social, and environmental implications of a company's actions?
On the other side, Michael Porter, father of the 5-forces model, also makes a good argument in his 2013 TED talk for businesses to address social and environmental problems with a business model in a concept he calls shared value.
There are many drivers to initiate sustainability programs, including government policies and regulations, public pressure, reputation risk, stakeholder expectations, collaboration opportunities, and access to green finance. These drivers vary in importance as organizations move through stages of maturity with regard to their adoption of ESG practices and frameworks.
For many organizations that are still in the early stages, a key motivator to get started or increase investment is the opportunity to dovetail financial outcomes with environmental or social ones. IDC's 2021 Manufacturing Insights Survey, the top areas of focus for Asia/Pacific manufacturers have obvious financial results – reduced energy consumption and waste reduction.
Areas of ESG focus for Asia/Pacific Manufacturers
It is important to acknowledge that company efforts can have a more significant impact than individuals. Organizations that turn off their lights are saving the energy of an entire building for an hour, and compared to individuals, this can be significant. Suppose companies take the opportunity to capitalize on all efforts that help the people, help the planet, and have a by-product of reducing costs or providing a competitive advantage. Wouldn't we (socially and environmentally) be in a better place anyway?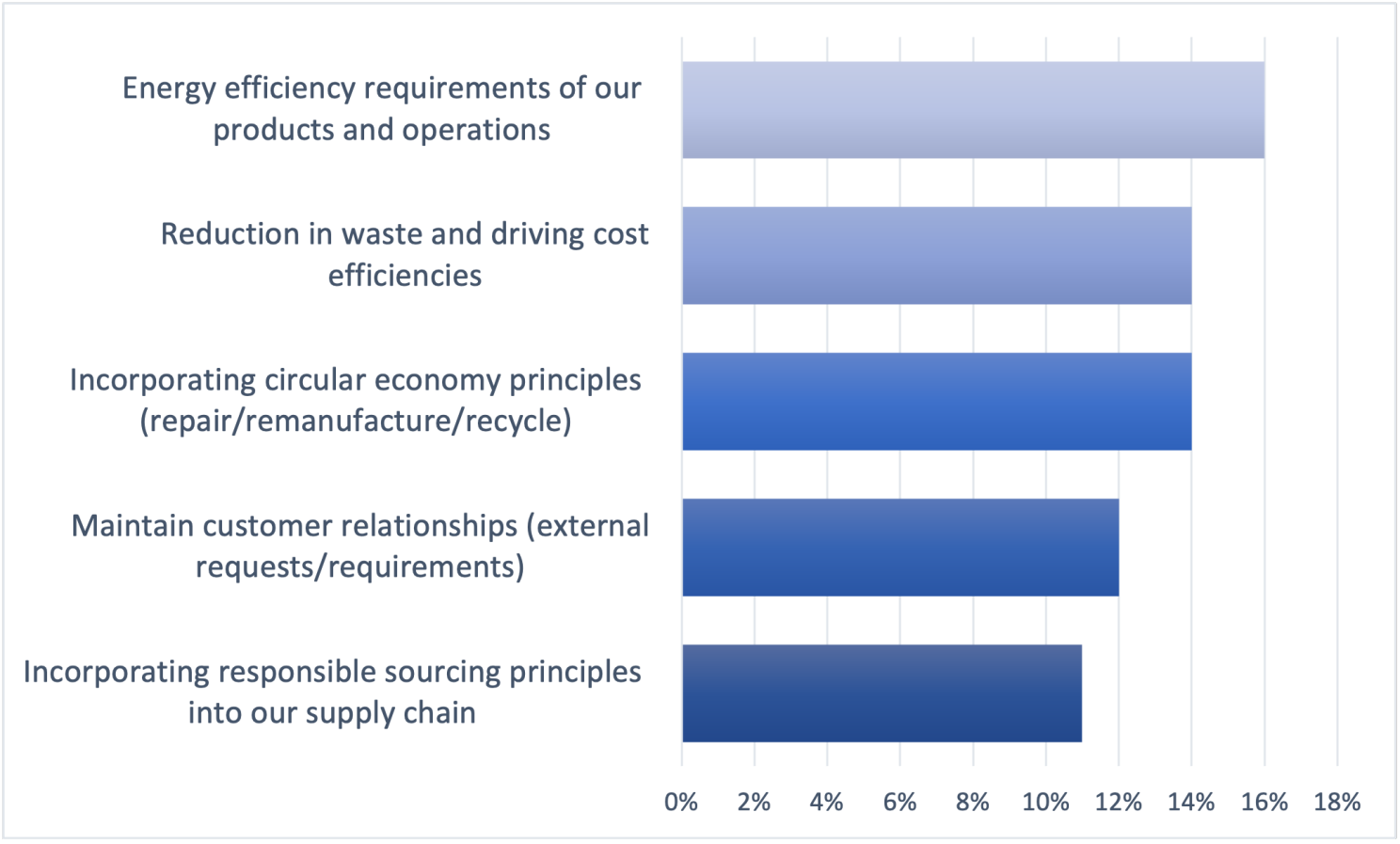 The Best of Both Worlds - Scaling Technology
There are opportunities for organizations to use technology to achieve both business and sustainability outcomes. Whether beginning with business goals or ESG ones, the foundational technologies such as sensors for equipment, ERP systems, and big data and analysis can support the optimization of processes as well as compliance and reporting, transparency, monitoring, and audit requirements. Using existing technology for sustainability outcomes will scale the investment, and the outcomes from these technologies can help scale resources and impact across the enterprise.
While it is true that having a more altruistic reason to act responsibly might be desirable to many, taking action and getting results is what will move the needle on emissions, waste reduction, and social good. In this case, it's the destination that matters. Our reasons for getting on that path may be irrelevant if we avoid that 1.5 or 2 degrees Celsius of additional global warming.
Join our Supply Chain Technology Leaders Recognition Program
Is your company's supply chain doing something amazing to support sustainability?
Get to know IDC Asia/Pacific's inaugural recognition program for Supply Chain Technology Leaders. Nominations closes May 6th, 2022.