Are you ready
to make a difference?
Careers at IDC Canada
Are you ready to make a difference in one of the most dynamic industries in the world? As a recognized leader in providing market intelligence, IDC Canada employs the brightest analytical minds in the ICT sector. We are commited to making IDC Canada a great place to work. Our success is based on the unique IDC culture, the diversity of the IDC team and the flexible, independent work environment IDC offers. Our team includes intelligent, innovative, passionate, and high performance individuals like you.
World's leading provider
As the world's leading provider of technology intelligence, industry analysis, market data, and strategic and tactical guidance, we can't afford to wait for things to happen. That's why our people are the industry's most forward thinking. A career at IDC enables you to sharpen your talents, working with some of the most recognized analysts in the industry. Come join our team of intelligence, collaborative and passionate individuals, just like you. Learn more about our culture and why IDC is a great place to work. Explore the job listings to find your next dream job.
Join our team
Join our team to help deliver our vision to be increasingly relevant and valuable to the success of our customers, our industry and our nation. Explore the Job Openings section to find the one position that complements you. While we appreciate all applications we receive, we advise that only candidates under consideration will be contacted. IDC Canada is an equal opportunity employer. It is the company's policy to recruit and select applicants for employment solely on the basis of their qualifications, with emphasis on selecting the best qualified person for the job.
Search Jobs at IDC
Canada Job Openings
Employee Insights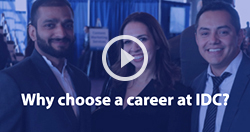 IDC is people-centric, which explains why a large percentage of our employees have been employed with IDC for 10 years or more...
Find out more about working at IDC
Connect with Us