Change is Constant
There is a quote attributed to Benjamin Franklin that says, "When you are finished changing, you are finished" and that is absolutely applicable to what's happening in the professional services market right now. One of the most impactful changes taking place is the gradual fading of the distinction between discrete services offerings. In this case, strategy consulting services, once the singular focus of large, multinational strategy firms, is rapidly becoming a business unit or service offering within an integrated solution.
What is Driving this Change?
Like any other significant (and potentially painful) change, the answer is multi-dimensional. On one hand, there seems to be a meaningful shift in the perceptions and preferences of Canadian businesses when it comes to how they consume and acquire services. Where the previous focus could be described as procedural in nature (creation of a strategy document or blueprint), the current focus is on the achievement of a specific business objective. In the context of most businesses, creating a strategy is not the desired outcome, it is the beginning. Executing that strategy to drive business outcomes is the objective and this requires execution by using integration/implementation and managed services.
The second source of change are the process innovation efforts going on inside professional services firms. Let's use Peter Drucker's framework for evaluating Innovations based on process needs from Innovation and Entrepreneurship. Of the 5 basic criteria for innovations based on process needs, 3 are instructive to the strategy consulting issue:
There is a missing link.
There is a clear definition of the objectives
The specifications of the solution can be clearly defined
The missing link is integration/implementation and managed services, the full life cycle of IT services. The objectives are clear: improve business processes, cut costs, improve profitability, enhance, and extend customer relationships, which cannot be achieved without implementation. The specifications are clear as well: incorporate strategy into the technology delivery and management function. But wait, it gets even better. Drucker outlined specific caveats that need to be overcome to achieve success:
The need has to be understood
The process must be understood and the knowledge to do the job has to be present
The solution must fit market needs/requirements
These three conditions have already been met by most services firms and now strategy firms are using these templates to build implementation and managed services capabilities. In effect, the market has spoken, both internal and external forces are reducing the efficacy of strategy consulting services.

What are the Views of Market Participants?
There is broad recognition on the part of service providers that the market for strategy consulting has changed irrevocably. While there are a variety of explanations, the underlying reason is straightforward, and it shouldn't be surprising given its impact of virtually every other commercial sector: information is omnipresent and data analysis is becoming commoditized. Strategy consulting required at least some amount of disproportionality in terms of information/data and analytic processing in the formation of a business/technology strategy. As these advantages become commoditized, providers have to respond by de-risking their core business by taking on greater responsibilities in the execution and management of technology-driven solutions.
For buyers, the shift away from pure strategy consulting is also multi-faceted but it comes down to two critical factors: time and accountability. In many respects, the structure of digital transformation is Agile (iterative software development, rapid deployment of MPVs) and time limited. Buyers de-risk their technology investments by integrating strategy into execution making quantifiable, measurable outcomes the standard of success. For Canadian enterprises, the importance of strategy to the execution of business outcomes is demonstrated in the chart below, with additional details in this report.
Canadian enterprises recognize the importance of defining a north-star strategy but implementation and execution, the enablement of technology-based solutions, are also key objectives. Agile helps to improve time to completion for iterative technology projects. Vertically integrated services firms are subject to greater accountability to drive project success, but buyers can also use their power to replace under-performing providers.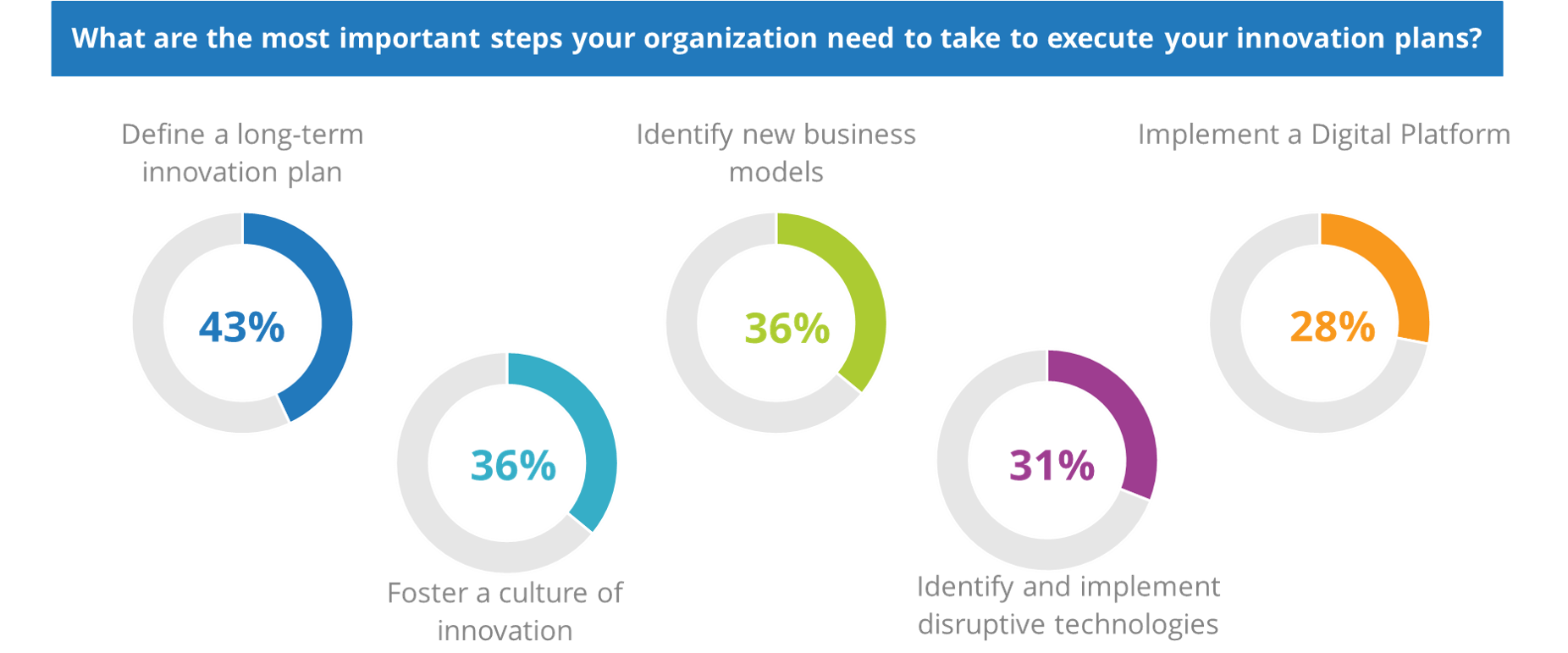 The Bottom Line
While the practice of strategy consulting is being incorporated into a broader implementation services category, providers must remember one key idea: separate procedures and practices from competencies. The competencies of strategy consulting will continue to play a critical role in the delivery of technology solutions. Service providers will be able to differentiate their brand based on the depth of their consulting competencies, but competitive success will largely depend on the strength of their implementation and manage technology services procedures.
So, do you know where end-user plans and expectations stand with respect to their innovation agendas? If you want to learn more about how IT and business services firms can use the innovation agenda to help customers achieve short-, medium-, and long-term business objectives, please read IDC's Survey, Plotting the Course of Innovation in Canada: How Services Firms Can Help Transform Business Operations for Competitive Advantage or contact me at askidc@idccanada.com.
Stay up to date with the latest advances in Canadian tech research and upcoming IDC events. Subscribe to Analyze This: IDC Quarterly Tech Brief and receive a quarterly digest with the latest trends and advice from IDC's industry-leading analysts.
---
International Data Corporation (IDC) is the premier global provider of market intelligence, advisory services, and events for the information technology, telecommunications, and consumer technology markets. To learn more about IDC Canada, please visit www.idc.com/ca or follow on Twitter at @idccanada and LinkedIn.
About the Author
Jim Westcott, Research Manager Application Solutions
Associated IDC Services:
Jim Westcott is a Research Manager for the Canadian Digital Transformation: Application and Professional Services program. In this role Jim manages IDC's research on enterprise applications and application services. Jim also contributes to the Services Contracts Database and the Services Tracker - Canada Region data products and provides expert opinion, market research and analysis, competitive intelligence, and consulting to IT services and technology providers. If you want to connect with Jim, feel free to reach out to askidc@idccanada.com