Digital Technology and Modern Enterprise Resiliency
The COVID-19 pandemic kick-started resiliency plans for many Canadian organizations, which most will continue to expand by investing in capabilities to operate in the new digital environment. By being more digitally resilient – rapidly responding and adapting to business disruptions by leveraging digital capabilities – organizations can not only restore business operations but also capitalize on the changed conditions.
For Canadian organizations to enable digital resiliency, it will require innovation and an agile IT foundation. As the pandemic proved, an organization must be able to rapidly respond to business disruptions. To be prepared in the long term, they also need to take a new approach to both incremental and extreme change. In meeting these requirements, Canadian organizations will adapt and accelerate digital programs to compete effectively in the post pandemic world.
Technology is a critical component of this new business imperative. That is why IDC believes that Digital Resiliency and Digital Acceleration are foundational elements that support the Future Enterprise.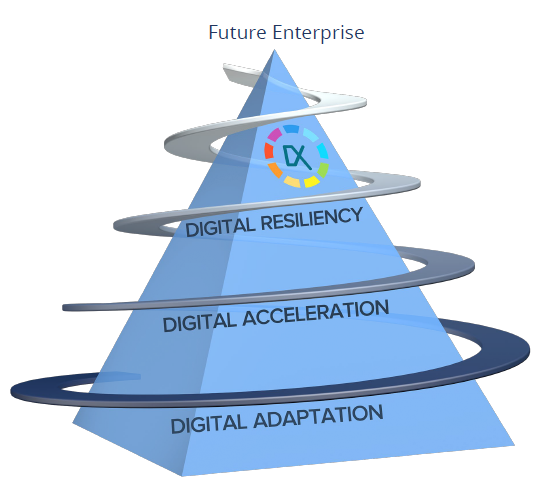 It is Time for a New Approach
IDC has developed a new framework that executives can use to identify digital resiliency weaknesses and prioritize specific technology initiatives, use cases, as well as process/policy changes that increase resiliency across different functions and the enterprise. By linking business outcomes to specific use cases and the associated technologies, organizations can use the framework to help them prioritize projects to improve their organization's digital resilience across three phases of crisis response and six organizational dimensions. By leveraging this framework, technology suppliers can evaluate how their solutions support enterprises in their transformation journey and help position their solutions to help their customers meet their digital goals.
While IT budgets are being prioritized to address short-term issues, depending on where an organization is on their road to recovery, business leaders and IT leaders should consider a phased approach to digital resiliency:
Respond and Restore. Business continuity, crisis management, and communications are the priority. With leadership squarely focused on the safety and security of the workforce, ensuring disaster recovery of systems and financial viability.
Expand and Optimize. Beyond the immediate event, planning and investing for growth. Driving productivity, faster decision-making, customer outreach, stabilizing supply chains and cost-reduction.
Accelerate and Innovate. Digital resiliency has been successfully incorporated. Priorities include creating a learning organization, agile business operations, redesigning business models, planning for the next crisis.

How Can IDC Help You?
IDC is a trusted partner for technology research and advice in Canada and around the world. By leveraging IDC's Future Enterprise research and Digital Resiliency Framework, you can ensure your solution addresses your customers' challenges. Help your customers to grow and thrive through disruptive market events. Position your solutions to help your customers plan, market and sell in the digital era:
• PLAN: Make better informed technology spending decisions and capitalize on the right opportunities, markets, and buyers.
• MARKET: Empower your marketing with quality digital content that moves prospects and customers along the buying cycle
• SELL: Sell more effectively by making your sales conversations highly relevant to your buyers' needs

Ready to learn more? Download IDC Canada's Digital Resiliency Framework eBook today to see the six critical enterprise dimensions to achieve digital resiliency, and how your organization can leverage the framework to position your solutions to support future enterprise success within your customer base.
Intrigued? Contact IDC Canada's George Bulat today to explore customized solutions to help your organization achieve greater success with IDC's Content Marketing Services. Strengthen your customer engagement with trusted, quality content from IDC.