CIOs are Facing New Challenges
IDC Canada's 2021 Top Executive study offers a pulse on Canadian enterprise priorities. In our most recent survey, completed this past July, we find organizations are facing a different set of challenges in 2021 compared to a year ago. These 5 challenges are shaping how Canadian CIOs respond to a world reshaped by COVID-19 as we all look forward to a post-pandemic economy.
1. Managing Escalating Costs
The pandemic has caused disruptions to supply chains globally, impacting availability and pricing across a variety of industries for both products and services. Canada is not immune and escalating costs of operations is now the number one business concern of executives according to our Top Executive study. CIOs face the dual challenge of helping their respective line-of-business (LOB) stakeholders manage costs of operations while also dealing with cost increases within the IT department. Our survey also shows that the most common measure of success for Canadian CIOs today is operational cost reduction, just ahead of employee engagement and employee productivity. While cost management will always remain a priority for organizations, it cannot remain the top focus for CIOs in the long run. The objective should be to solve the immediate cost challenges through thoughtful approaches to procurement and service modernization, while looking ahead to strategic issues like enhancing customer experience, employee engagement and business model innovation.
2. Securing Data, Systems and Clouds
Security was already an increasing challenge and focus of CIOs pre-COVID. Unfortunately, the pandemic exacerbated the situation and organizations are facing more frequent data breaches and cybersecurity incidents. LOB executives in our Top Executive study told us security is the top IT concern in supporting the organization in 2021. CIOs are acutely aware of the issues, with 44% indicating IT security of data and systems is the number one "critical concern", ahead of any other IT challenge. The rising adoption of cloud services creates another layer of risk for CIOs, as security in the cloud is shared responsibility between the enterprise and cloud providers. A recent IDC Canada study revealed that Canadian organizations on average experienced 3 security breaches in public cloud environments within the past year…and that's what they're aware of! CIOs need to be actively involved in risk management, security planning, governance and compliance across both on-premise and cloud environments.
3. Managing the Required Changes from Investments in Digital Technologies
CIOs moved swiftly early in the pandemic to adapt to demands for new digital capabilities and services. Many projects were implemented in record time. The continued accelerated rate of change is pushing IT teams to the limit. In fact, 75% of IT executives told us technology is changing faster than it can be effectively managed. This is up from 66% in last year's Top Executive study. Across the business we see a series of challenges managing the changes that digital investments brought on. The most common concern is that change happens too quickly to allow employees to adjust. Change management is a discipline that every organization needs especially during times of rapid implementation of new technologies and processes. CIOs play a central role in change management as they are responsible for orchestrating digital transformation across the business. Change management must be an ongoing focus as it becomes harder to drive change as organizations progress to adopt more innovative and often complex DX projects.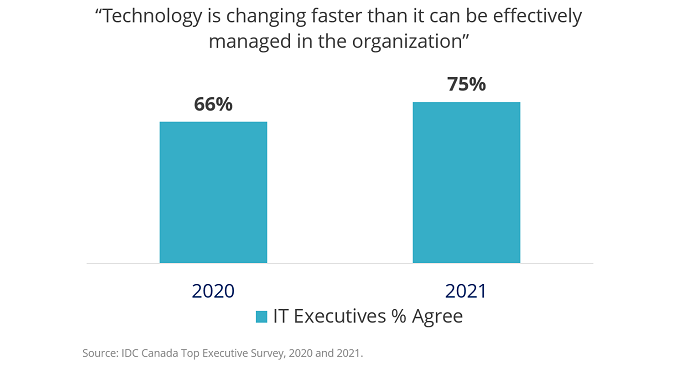 4. Skills Shortages and Talent Management
Three years ago, the estimated IT skills gap was 47,000 FTEs in Canada. The pandemic hit and drove demand for digital skills up sharply. Today the business community is feeling the pain of the labour market constraints: "As the economy recovers, this scarcity of workers is reaching worrying heights, putting economic growth at risk and compromising the competitiveness of Canadian businesses," said Pierre Cléroux, chief economist at BDC. In July Canadian top executives told IDC that matching workforce skills to organization needs is the second most common concern of CEOs. With technology weaving its way into every functional area, the skills shortage is not just the CIO's problem. However, CIOs who have the voice and platform in the organization can play a pivotal role in solving this challenge. Modernized training programs, the cross-pollination of digital skills into other departments, and diversity and inclusion programs will be crucial in attracting, reskilling and retaining talent. CIOs also need to take a hard look at what skills need to remain in-house versus those that can be outsourced to trusted partners.
5. Adjusting Plans for Hybrid Work
Return to office (RTO) plans are well underway for many Canadian organizations, but the path forward is anything but clear when it comes to how many and how frequently employees will come back to the offices across Canada. TD Bank, Desjardins Group, and CIBC are just a few large companies that have delayed their plans and are now looking at 2022 for RTO for most of their employees. Our Top Executive survey indicated that some combination of redesigned office spaces, hot-desking, and positions becoming permanently remote were being considered by the majority of senior decision-makers. Only 16% said they were not likely to make any changes. In addition to RTO being a moving target, the challenge for CIOs is ensuring that critical applications and services are not interrupted especially as workloads and work locations change. This puts additional pressure on CIOs and IT teams to get the foundations right, including network architectures, application performance management, and cloud security. Not to be overlooked are the design requirements for successful hybrid collaborative meetings where users may attend from the office, home or another location and expect a consistent and engaging experience.
The Balancing Act
This is no easy set of tasks for CIOs and their teams. But the past year and a half has shown us that Canadians are resilient and adaptable. The most successful CIOs will tackle these challenges with an optimistic perspective, taking a collaborative approach, leaning on their trusted advisors and working with their LOB peers across the organization to prioritize and solve the most pressing challenges. I look forward to seeing what they can accomplish in 2022!
Interested in Hearing More Perspectives from Canadian CIOs?
Join us on the afternoon of November 4th for IDC Connections 2021 Canada, as I host our all-Canadian CIO panel to explore their respective experiences with these challenges. During the virtual event, we'll also hear from my colleagues, Meredith Whalen, Dave Pearson and Nigel Wallis as they provide more guidance on how to navigate the crosswinds of digital change to help your organization succeed in 2022 and beyond. Register today!

About the Author
Tony Olvet
GVP, Research
IDC Canada