Flatten the Curve with Digital Resiliency
With vaccines being slow to roll out, uncertainty about a potential third wave, countered by optimism about economic recovery in the second half of the year, all serve to make digital transformation planning difficult for Canadian organizations. However, IDC's research shows that digitally transformed companies can quickly flatten the recovery curve, enhance digital resiliency, and better position for success post-COVID. In 2021, you will hear the term digital resilience much more frequently.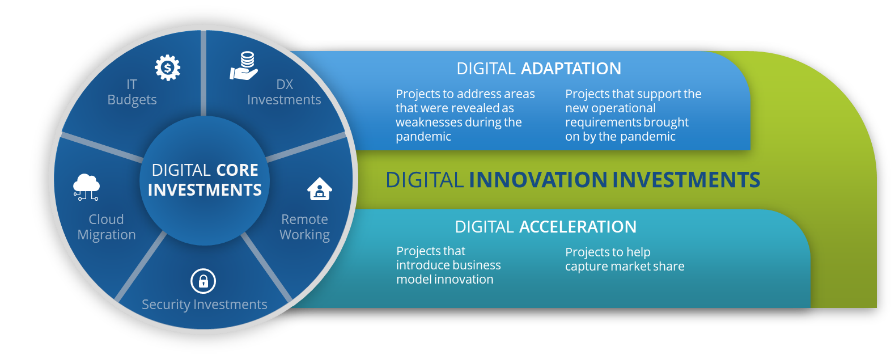 Defining Digital Resilience
First, what is Digital Resiliency? It is the ability for an organization to rapidly adapt to business disruptions by leveraging digital capabilities to restore business operations and capitalize on the changed conditions. To enable resiliency, IDC breaks tech investments on two fronts: digital core investments and digital innovation investments. The digital core does not go away, but it becomes more about operational efficiency. On the innovation side, it is about defense and offense – businesses are both adapting and accelerating digital programs to meet new requirements. On the defense side, the pandemic exposed many weaknesses, and they will need to be addressed. But on the acceleration side, it is about business model innovation and capturing new market share. By this, we mean targeted investments in digital transformation tools. These are not investments just in the IT department; these are changes to how we conduct business at the front line. The crisis has broken old paradigms and forced Canadian C-level executives to confront the fact that their legacy processes were not state-of-the-art.
Industry Examples are Everywhere
A compelling example of this is how Manulife's pre-pandemic investments in digitization helped smooth the frantic months following the lockdowns. While the insurance company's Asian operations acted as a canary in the coal mine, alerting head office executives of the severity of the crisis, the $600 million that had been invested in digital initiatives between 2018-2020 enabled the company to continue its operations virtually. That was the crucial foundation for Manulife's COVID-19 rush to digital. As CEO Roy Gori said at the time, "Manulife has done more to advance digitization in the past five months than in the previous five years, and more than 90% of products can now be sold digitally." In fact, by the summer of 2020, 97% of Manulife's products in Canada and Asia could be sold and delivered online. Almost 81% of their transactions are being completed without human intervention and 93% of claims are submitted digitally. This is not a one-time event. As Manulife CEO Roy Gori said "We will see a huge lift in using digital as a way of interacting in our industry. A lot of what we have seen emerge in recent months will definitely stick. I don't see a massive reversion away from digital."
It's not just financial services that are preparing for a new way of delivering their products and services. Think of Walmart Canada's recent $3.5B billion-dollar announcement to build the "stores of the future" featuring digital shelf labels, shelf scanners, robotics, computer vision cameras, and new checkout experiences. Stores need to be rethought. Walmart is aiming to turn them into both micro-distribution centres for local delivery, but also reduce labour costs while reinventing the customer experience.
Likewise, another example of Digital Acceleration in retail is Ocado's first Canadian automated distribution centre, shipping groceries for the retailer Empire (better known as Sobeys). Ocado's Smart Platform combines a software management layer, wireless connectivity, and a robotics grid for picking and packing. The robots' grid is the top of a giant three-dimensional lattice—a modular cage packed with groceries. Each time a robot stops, it drops a claw-like attachment into the bowels of the lattice ("the hive," as human workers call it), descending as many as three stories down. The warehouse is located in Vaughan, Ontario, and is serving customers across the Greater Toronto Area. The new location will support Empire's online grocery home delivery service, Voilà by Sobeys. Empire is doubling-down on the concept by adding another Ocado centre near Montreal to offer e-commerce and local delivery in that area as well. Effectively the technology platform (i.e. software, hardware, and connectivity) underpins their business expansion.
Why am I bringing this up? Well, retail and warehousing businesses are now taking the learnings from robotics start-ups to compete with each other – like Amazon's $700 million purchase of Kiva Robotics – but also with other incumbents to compete on operational efficiency. This investment is part of Sobey's plan to catch up to Loblaw's first-mover advantage in eCommerce groceries.
Let us look at a different vertical market - manufacturing. COVID-19 is driving manufacturers to embrace contactless factory floors and faster deployment of robots and cobots. Even agriculture is seeing this, as cannabis processing plants need to deal with compliance requirements. Using robotic processes accelerates the ability to do so consistently and at a lower cost. Of course, most companies cannot start with a new greenfield factory. Still, they can embrace automation through individual functions such as warehouses, quality assurance, inventory counts, or predictive maintenance.
We are not saying that robots completely replace humans; we are only in the early stages of deployment. Canadian manufacturers lag other OECD nations in deploying industrial robots. We have roughly 165 robots for every 10,000 workers – whereas Germany has 346 and Korea 855 robots per 10,000 employees. Our point is, lagging productivity is a more significant competitive threat to Canadian jobs than deploying more robots. And that is not even mentioning service robots at all. Think of your organization - are they deploying robots, considering it? If not, how will you assist them to analyze the options for enhancing productivity and stay competitive in an environment that five years from now is characterized by digital automation and robotics?
Regardless of industry, there are examples worldwide of bleeding-edge firms restructuring and deploying new tech in new ways. The future is already here; it just isn't evenly distributed, as famed sci-fi writer William Gibson said.

COVID-19 Accelerated Digital Transformation and There's No Going Back
COVID-19 accelerated all the tech buying patterns that already existed. eCommerce and omnichannel fulfillment, cloud, unified communications & collaboration, robotics, Robotic Process Automation, Artificial Intelligence, and Machine Learning, service bots, to name a few. However, accelerated it only for those whose prior technology decisions are now enabling rapid deployment of new digital technologies. Others are struggling with legacy tech as cash flow tightens.
The forces leading up to this crisis are not going away. If anything, they will drive a virtuous circle for those willing to explore, invest, and operationalize. IDC believes that the winning enterprises will invest in automation, hyper-connectivity, omni-experience, and intelligence everywhere, based on a secure backbone throughout. Canadian business decision-makers need to think about how digital investments can act as a flywheel for our businesses. The average Canadian firm spends about 2% of revenues on technology – but that 2% can alter the company's fate. Accelerating spending on Digital Innovation drives resiliency, provides options and the ability to adapt to a changing environment rapidly.

Are You Doing All You Can to Build Digital Resiliency at Your Organization?
As Canadian business leaders, we need to ask ourselves, are we doing everything we can to build digital resiliency? Some questions to ask:
What new COVID-19 related customer behaviours and processes are permanent versus short-term?
How well do I understand my organization? Do I know my customers?
Is my organization equipped to adapt to further changes? Are we investing in the capabilities to anticipate future changes and adapt?
Are we doing everything we can to assist our employees and customers through the volatility while also preparing them for growth and the next normal?

Interested in Hearing More Canadian Perspectives?
Please join our IDC CIO Roundtable | Reality Check: The Digital Transformation Dilemma webinar on March 25th at 2 pm ET to learn more about adapting to a changing world and driving digital resiliency. The pandemic has been a major catalyst in accelerating the digital transformation agenda for organizations, as well as for "re-writing" the meaning of digital. Businesses have been hit with weak macro socio-economic factors and geo-political issues along with weakened buying behavior of consumers – both underlying sentiments and buying appetite have undergone a significant shift.
Many business leaders today are trying to solve the same problems:
Customer engagement has become a critical priority, driving innovation to provide the best possible customer experience - including enabling a fully digital experience - how do we do that and keep the human connection?
The future of most industry ecosystems will re-define who customers are, in some cases driving us to new levels of co-opetition. How do we take advantage of high-value ecosystem changes, and still keep competition at bay?
Our traditional focus on risk has been to cyber, fraud prevention and operational cost - how do we overlay risk management to address new industry expectations of sustainability?
This CIO roundtable will focus on what organizations can do to meet some of these goals optimally, yet comprehensively. We'll explore the stories we've seen around us where Canadian organizations have successfully adjusted their digital business models, while being cost consciousness and innovative. Register today!
About the Author
Managing Director, IDC Canada