The Critical Importance of IT Products and Services
Based on the recently published CIO Sentiment Survey results (see #US48237321), 32% of IT leaders identify IT Products and Services as their top transformation priority over the next twelve months. This increased focus on integrated and continuously evolving capabilities underscores the need for acceleration and leverage for delivery strategies to be successful.
Buffet's Law says bad economics will always overwhelm good management. That maxim is often interpreted to say getting in the wrong boat will not be overcome by rowing harder. The future CIO needs to move delivery strategies beyond annual planning cycles and tactical investments driven by individual projects. Future-facing IT leaders need to ensure that strategic and investment decisions are getting the organization into the right technology boat.
Until recently, transformation was business driven, with the focus on growth, profit or customer engagement. IT leaders were often challenged to deliver the required IT products and services by kludging together parallel technology investments. CIOs can no longer succeed by offering a static service catalogue and planning for service transformation only as part of specific project requirements. Traditional planning cycles can cause planning for IT products and services to be disconnected from more agile business transformation roadmaps. Strategic "product" portfolios need to support resilience, and offerings need to respond to changing needs and enable new business models across the ecosystem.

What are the Critical Elements to Productize?
Based on the IDC MaturityScape: Future IT 1.0 (see IDC #US47174621), the transformational imperative is to proactively enable the future-facing products and services required to deliver people-centric information technology. The IDC maturity framework identifies five key dimensions for IT product and service leadership:
Agile human-machine workspaces: Adaptive and intelligent workspaces that enable synergy between people and machines to increase productivity, improve decision-making, and engage and serve both customers and workers.
Customer/User experience: Products and services that can be commoditized to attract, engage, and retain customers and help build a superior, enduring workforce.
Digital resilience: Going beyond recovery from adverse events, instead enabling a business environment that can reconfigure and re-conceptualize business and operating models to adapt to crises as well as more pervasive changing realities.
LOB relationship management: The ability to guide and influence LOB executives by building trust, delivering on promises, and helping to solve problems.
Integral stakeholder-focused services: Moving beyond the IT service catalog to build out new forms of support including configurable self-service platforms that can respond to diverse and evolving stakeholder needs.
Digitally Mature Organizations Act Differently
Based on the IDC's recent sentiment survey, digitally mature organizations cite a materially different product and service focus than digital resistors (see IDC #US48237521).
As organizations mature their digital transformation capability, there are three critical shifts in behavior across the IT product and service dimensions:
A collective and significant increase in focus on core capabilities, including AI and automation, customer and user experience and resilience fundamentals
A significant de-prioritization of static stakeholder-focused strategies, as they are often business-case driven one-off investments rather than contributing to a strategic roadmap, and
Firming up of the commitment to relationship management as a way to drive the strategic roadmap based on alignment with the highest value transformation leverage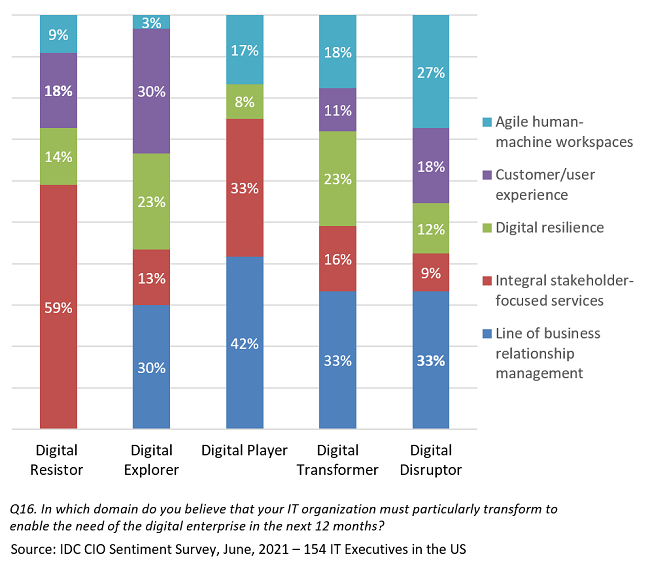 What Makes the LOB Relationship Management So Important?
In organizations with mature transformation strategies, the sentiment survey indicates that LOB relationship management is the most significant priority. This can be attributed to increased LOB influence and control over technology budgets. Vendors and service providers need to be more mindful of business leaders' opinions as they will influence technology decisions. CIOs must reposition their capabilities toward guiding and influencing preferences to support the overall digital strategy. IT products and services provide the context and leverage for CIOs to deliver to the business needs while concurrently building trust and enabling speed to value for LOB strategies.
How to Build IT Product and Services Maturity
The Future CIO has the opportunity to re-invent delivery by capitalizing on force multipliers across the ecosystem. By looking beyond traditional supplier relationships, and thinking outside internal delivery constructs, an ecosystem view supports three actionable strategies for future-focused products and services:
Investments focused on high value strategies, with a bias for automation and AI
Products and services that are aligned with a set of productized offerings, to focus and optimize options
An actionable roadmap for IT product and service delivery, demonstrating commitment to the highest value offerings and enabling measurement and reporting on specific improvements
A future-ready roadmap for IT products and services ensures that transformation strategies start in the right boat to enable speed and trust. Productization of IT products and services will position progressively high-value offerings, avoid non-strategic development, and prioritize what is strategic rather than what is 'up next'.
Watch for our more in-depth analysis of what the CIO Sentiment Survey tells us for Future IT Planning. Coming soon, The Future CIO – A Leadership Model for Today's CIO provides more depth on IT Products and Services as well as addressing industry priorities and maturity development in Leadership and Governance, the Trusted and Secure Enterprise, Digital Infrastructure and Innovation and Intelligence.

What Else Do Canadian Tech Executives Need to Know?
Join us on the afternoon of November 4th for IDC Connections 2021 Canada, as we host our all-Canadian CIO panel to explore their respective experiences on productizing their IT offerings, as well as how they are overcoming other new tech challenges. During the virtual event, we'll also hear from IDC's Meredith Whalen, Dave Pearson and Nigel Wallis, as well as several guest speakers, as they all provide more guidance on how to navigate the crosswinds of digital change to help your organization succeed in 2022 and beyond. Register today!