A Partnership for a Unified Wearables Platform
At its I/O meeting in May 2021, Google announced a new unified smartwatch platform in partnership with Samsung. This partnership is expected to cause a change in the market dynamics while improving consumers' experience with improved hardware and software features.
Google and Samsung's announced partnership is expected to inject some momentum into the somewhat stagnant wearables market. In this partnership, Google is hitting the reset button on its Wear OS, combining with the assets of its recently acquired Fitbit and Samsung's engineering experience to help fill in the gaps for the new 'Wear.' The unified platform will be focusing on 30% increase in performance, improved battery life, better third-party applications, and enhanced health features. The Samsung Galaxy 4 watch, expected to land end of August, will be one of the first smartwatches to showcase the new OS experience resulting from this partnership. Moreover, Google is also expected to launch its very own smartwatch by early 2022.
This partnership puts all the involved companies - Google, Samsung, and Fitbit - in a better position to compete with the overall market leader, Apple. Moreover, the anticipated watches making use of the new OS could be good news for Android users that are looking for a better integrated experience.

Examining the Canadian Market Implications
From an OS (operating system) perspective, the new unified platform is expected to touch on all the Tizen and WearOS weaknesses. Samsung devices will have access to Google's app store, improvement and innovation to the health features, and a smoother consumer experience. On the other hand, Google is assumed to have the biggest share of the new 'Wear' unified platform. This allows Google to make a strong and challenging appearance to the market and motivate it to finally announce a smartwatch in the works. Moreover, this unified platform has set up a strong foundation to build for the future which could potentially increase Google's partnerships with strategic manufacturers.
From a Canadian perspective, IDC Canada forecasts the new OS to hold 43% of the wearables market by the end of 2025; a close total of Tizen, WearOS, and FitbitOS current market shares. This forecast total is without factoring in any further positive impact that could potentially increase the market share, we're waiting for more details on the partnership to make any further material changes to our forecast. In turn, this preliminary forecast total is expected to intensify the competitive pressure on Apple that has been the market leader with little/no competition in the past couple of quarters.
Pending supply issues that could impact most of the market, Google and Samsung will be the stars of 2021, keeping everyone on their toes, whether from the model launch aspect or the promised improvement in features perspective. If successfully implemented, this partnership will add value to both partners and will force a change in the market dynamics, that has been quite stagnant for the past couple of quarters.
For more information on the Canadian perspective of this partnership, subscribers can reference the IDC Market Note, Google's WearOS Update in Partnership with Samsung — A Canadian Perspective. For more information about our wearables market forecast, subscribers can reference: Canadian Wearable Computing Device Forecast, 2021–2025.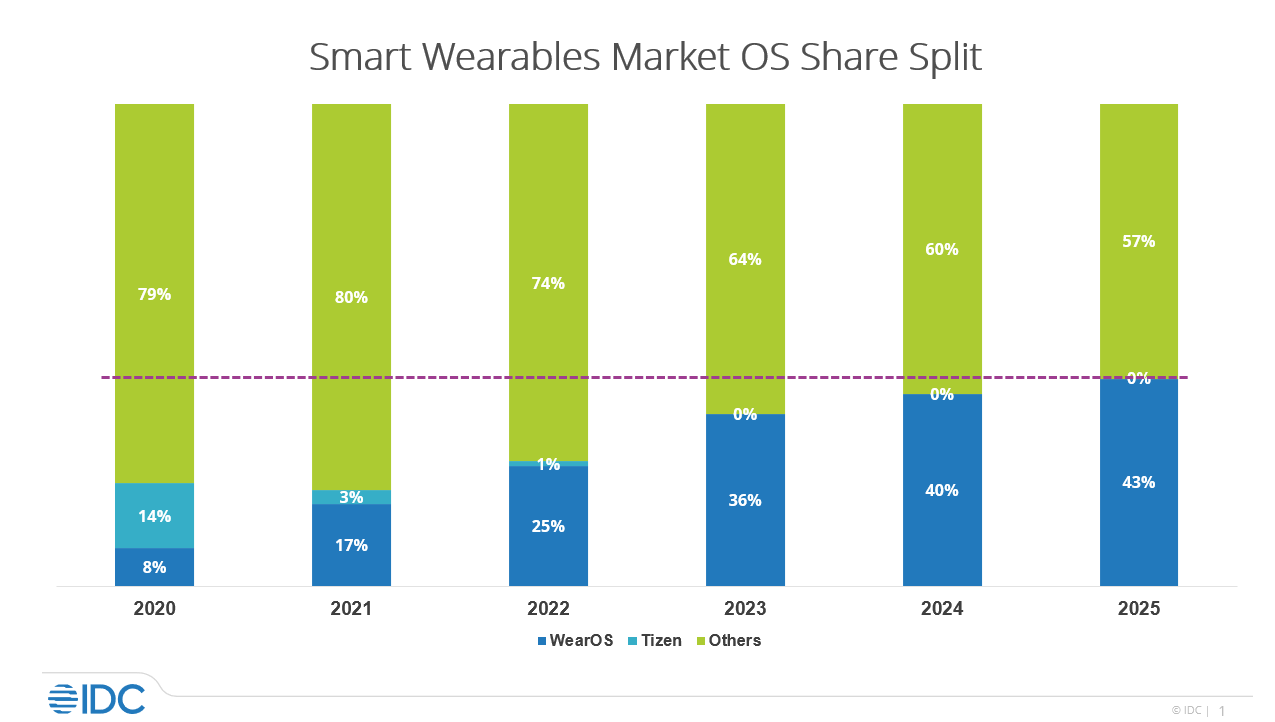 What's in it for the Consumer?
If the promises made are followed through, the new 'Wear' could be good news to Tizen and WearOS consumers by offering a smartwatch with competitive features and performance. Firstly, with the inclusion of Samsung and Fitbit on the platform, the new OS will widen its price range offerings with different features and capabilities, and a clearer view on product features and price tiering. Secondly, next generation watches are expected to combine the best features of Samsung, Google and Fitbit on one device. This combination will allow consumers to wear a watch that offers world-class health and fitness capabilities with strong advancements in offerings and hardware performance.
However, there is still uncertainty accompanied with the new OS; the lack of specifics on the promised improvements and Google's continuous tendency to reiterate versions along with its lack of consistency in advancements, resulting in an average consumer experience. Google's tendency to start over made consumers and manufacturers wary of adopting its platform. As a result, Google will need to establish some sort of stability in consumer experience and OS advancements that allow both consumers and manufacturers to trust it once more. Another noteworthy concern is the merging of platforms that could potentially combine different parts/features that do not work together in harmony, harmfully affecting the consumer experience. Lastly, specifically for Samsung users, this partnership eliminates the possibility of a single ecosystem for mobile devices – mobile phones and smartwatches- which is a strong competitive advantage for Apple, the seamless integration between all devices on a single ecosystem.
Key Takeaways
This recently announced partnership touches on various vital features and improvements that have been long awaited for in both brands. Now 'Wear' is promising users access to a unified platform with improved performances, increase in third-party applications, and enhanced health features. In turn, offering Android users, a strong line of models that provide comparable features and consumer experience with a promising future in advancements. From a market implications perspective, this partnership is expected to intensify competition and challenge the stagnant smartwatches market share split.
There is a lot to take in and even more expectations from this new partnership. However, jury is still out on how well Google and Samsung will implement the promised advancements and how well the new platform resonates with app developers. Finally, as mentioned, Google still has some work to do in offering consistent advancements for manufacturers and stability in consumer experience to regain the market faith.
Stay up to date with the latest advances in Canadian tech research and upcoming IDC events. Subscribe to Analyze This: IDC Quarterly Tech Brief and receive a quarterly digest with the latest trends and advice from IDC's industry-leading analysts.
International Data Corporation (IDC) is the premier global provider of market intelligence, advisory services, and events for the information technology, telecommunications, and consumer technology markets. To learn more about IDC Canada, please visit www.idc.com/ca or follow on Twitter at @idccanada and LinkedIn.