Using AI to Drive Operational Efficiencies
In our research, IDC finds Canadian healthcare AI implementation typically targets operational and administrative efficiency as well as treatment and clinical care. Big data deep learning and neural network healthcare AI projects grab headlines for their future potential – if supporting big data infrastructure can be developed.
Workflow and process specific AI solutions drive quantifiable benefits in dollars right now utilizing existing healthcare IT infrastructure. IDC thinks COVID-19 realities will drive Canadian healthcare IT investment toward operationally feasible and attractive workflow and process solutions.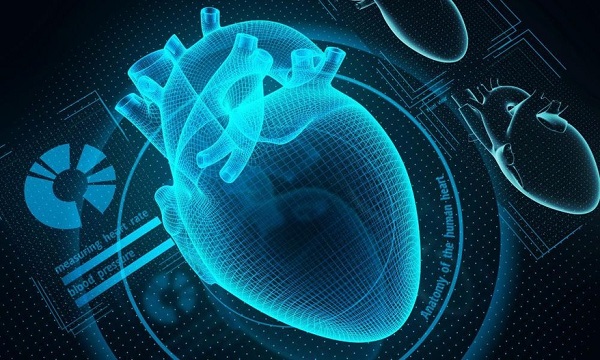 Artificial Intelligence Deployment
In a 2019 IDC Canada survey of healthcare organizations, survey respondents were asked to describe where AI is being implemented in their organizations. While patient service and experience was identified as the primary individual implementation area, overall AI implementation in supporting areas and administration is higher.
The specific objectives for these AI deployments all tie to a dollar quantifiable benefit. Whether in operations, patient care, foundations and donors, or security, finance and HR there is always a dollar demonstrable ROI.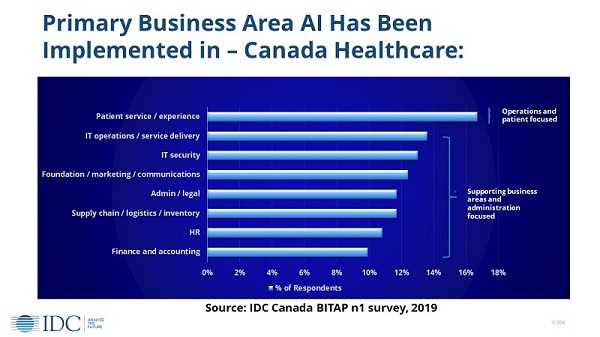 Business Objectives for AI Implementations
Below is list of primary business objectives for existing AI implementations by area:

Operations and Patient Care
Cost reduction/operational efficiency
Process automation/employee productivity
Improved patient service/experience
Risk analysis, assessment and management
Foundation/Donors
Increasing donations from existing donors
Acquiring new donors
Security, Finance and HR/Staffing
Fraud detection and management
Better employee recruitment and retention
COVID Cost Pressure and AI
The reality of Canadian healthcare today is huge cost pressure. Pressure that's many times more extreme than it was before COVID-19. Basic costs for frontline healthcare provision and long-term care are set to explode if our governments are serious about being prepared for further virus waves and new pandemics. Funding and budget priorities will concentrate on frontline and long-term care staffing (such as eliminating temporary, multiple facility jobs from long-term care), facilities (such as providing room for adequate physical spacing and isolation), and basic equipment (such as ventilators) out of necessity for improvement.
Where does this leave AI if great, innovative companies like the BlueDot's and DarwinAI's (see Part 1) of the world are most likely to generate only limited amounts of healthcare AI spending? As we're seeing from our research there is a significant AI opportunity in Canadian healthcare, but it's pressure for operational efficiencies and productivity that's more likely to drive it than high profile big data AI projects.
Learn what the Future of Intelligence means for your organization in our recent eBook, The Future of Intelligence: The Business Leader's Guide to Mapping Your Organization's Enterprise Intelligence. Get the eBook here