The Future of Work in the "Next Normal"
Register for IDC Connections 2020: Future Enterprise Strategies, a live virtual event on October 15th at 12:30 PM/EST, to watch Future of Digital Workforce to gain a deeper understanding on the future of work and how to leverage future of work technologies and innovations to stay agile in the next normal.
We believe that this "next normal," typically referred to as a post-COVID-19 state, will continue to see rapid innovation and agile development of technologies to allow for continuous digital transformation. In this context, most of what we previously knew will be impacted: education as a concept and practice, the location of work and offices, and the ways organizations and their ecosystems collaborate. While human work will be augmented and replaced in some situations, human skills such as compassion, adaptability, and problem solving will be more valuable than ever.
The future of work, pre-COVID-19, was already rapidly changing due to the ever-evolving possibilities of technology. COVID-19 generated a shift in our value systems, priorities, investments, processes, access, and understanding of what is and is not possible.
The technology focus of Canadian organizations has shifted since provinces implemented lockdown measures. Previously, organizations were focused on work culture and how to attract, retain, and reskill the right talents. In the current context, we have seen an acceleration of innovation in Canada in the first half of 2020 in order for organizations to remain agile and respond to the continuously evolving health and safety guidelines mandated by the various levels of government.
What Have Canadian Companies Prioritized?
In July 2020, a survey of small, medium, and large organizations revealed that Canadian companies were investing heavily in technologies to help automate specific business processes. Intelligent Process Automation, which is the application of several different technologies, like artificial intelligence, computer vision, machine learning, robotic process automation, received a considerable boost in adoption amid the crisis. The goal of these groups of technology is to improve productivity and customer experience while reducing human error; with the net result being less time and money being invested. Both line-of-business and IT were making considerable investments in the technology, as companies have seen the result of having legacy systems in place with limited capacity during the crisis.
There has been a great deal of debate surrounding the impact automation will have on the workforce in Canada. It is believed that the application of automation technologies will inevitably lead to knowledge-worker job losses. Although we agree with this statement, we also see the potential for a great number of new specialized jobs being created to take advantage of new skill-sets that are designed to help manage these new systems. We recently surveyed Canadian IT decision-makers and asked questions centered around what will be the most important IT skills organization will need to build/re-build/hire in their first wave of economic recovery. Within the top 10 results were Process Automation, Data Analytics, Artificial Intelligence, and Digital Innovation. These are all skills that will be driven by the adoption of new technologies. Beyond automation, Canadian organizations have invested heavily in technologies to help support their employees' transition to remote working during the crisis. Initial investments were focused on cloud-based solutions around collaboratio with data security and employee engagement being of paramount importance. Remote working investments were not made as a short-term response to the pandemic, rather, Canadian employers are expecting the hybrid working model to remain in place for many employees for the foreseeable future.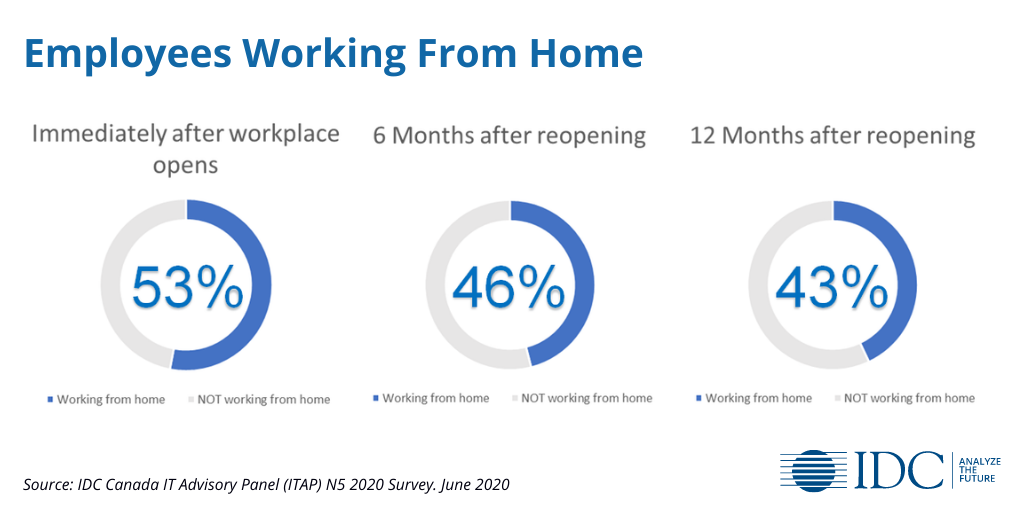 We Are Not Robots
To paraphrase John Merrick in David Lynch's Elephant Man; we are not robots, we are human beings!
The rapid adoption of new technology that automates and augments workplace tasks should motivate business leaders to change their managing style to focus on the human-to-human connection. This style of leadership is called empathic leadership and focuses on the connection between employee needs and business outcomes while proving the means to achieve those outcomes. Prior to COVID-19, sympathetic and compassionate leaders have been proven to generate more loyalty and engagement from their teams. According to the Harvard Business Review, "Empathy involves making an extra effort to be kind. Walk over the bridge to where the other person is, try to see the world from their point of view, and then help them see yours." This compassion has become particularly important amid the global health crisis.
One of the key areas of focus for Canadian leaders is understanding the needs of their employees, while also being able to measure their performance to help drive motivation, empathy, empowerment, and agility. From our pre-COVID-19 research, we noted the vast majority of Canadian managers were tracking employee performance through the traditional means (feedback from managers, customers, self-assessment), while 1/5th had begun using key behavioral indicators (KBIs). These KBIs are tracking employee motivation, loyalty, satisfaction, etc. KBIs have received a renewed focus in the COVID-19 era, as employees have been forced to adapt to working remotely with new mobile technologies and solutions. KBIs can provide reporting and intelligence that are driven by a deeply integrated IT stack that can inform both managers and employees of actions that can be taken in real-time to improve team unity, project completion, and overall efficiency.
One thing we can all agree on is that our current situation brings a fair share of uncertainty and unknows. The uncertainty offers a great deal of room for reimagining what work is. Whatever form that reimagining takes will involve a lot of trial and error. Once we have managed to secure our people, partners, and workplace, then we can build on that foundation, and reassess how to stay in business and offer value to stakeholders. Organizations may need to reconcile transformation as not only an aspirational goal but a reality that informs the way forward.
What's Next for the Future Digital Workforce in Canada?
IDC Canada's Jean Philippe Bouchard Vice-President, Future of Work and Mobility Research will explore the outlook for the Future of Work in his upcoming Future of Digital Workforce presentation at IDC Connections 2020: Future Enterprise Strategies that looks at trends in the Grocery subsector, what digital transformation means for this subsector, and the technology and innovation strategies that are being applied to meet the needs of the consumer for the next new normal in grocery.
Join us on October 15th at 12:30 PM/EST at IDC Connections 2020 to learn actionable takeaways on IDC's "Future Enterprise Strategies" in this fully reimagined 2-hour virtual experience connecting leaders across industries and bringing together IDC's leading analysts to share expert insights as Canadian organizations move forward.