Status of Cloud Adoption in Canada
The year 2020 is history and its historical significance will be felt for many decades to come. The COVID-19 pandemic revealed that organizations that had moved early into digital transformation to deliver digital products and services or use digital processes fared much better in the economy than their peers that shifted slowly to digital. In the early days of the pandemic, IDC found that public cloud adoption had become mainstream after years of growing adoption. In March 2020, we surveyed Canadian organizations (with more than 100 employees) and found:
90% of them had adopted at least one SaaS product
half of them had adopted PaaS,
and one-third of them had adopted IaaS
The pandemic drove new adoption of cloud services to ensure organizations' applications and data were accessible anytime and anywhere in a secure and scalable manner. In September 2020, we asked Canadian organizations how their cloud strategy had changed because of COVID-19 and found:
35% of them were moving applications to the cloud for better security and reliability
28% of them were investing in cloud data management for enhanced utility and insight, and
26% of them were using cloud as a platform for digital innovation.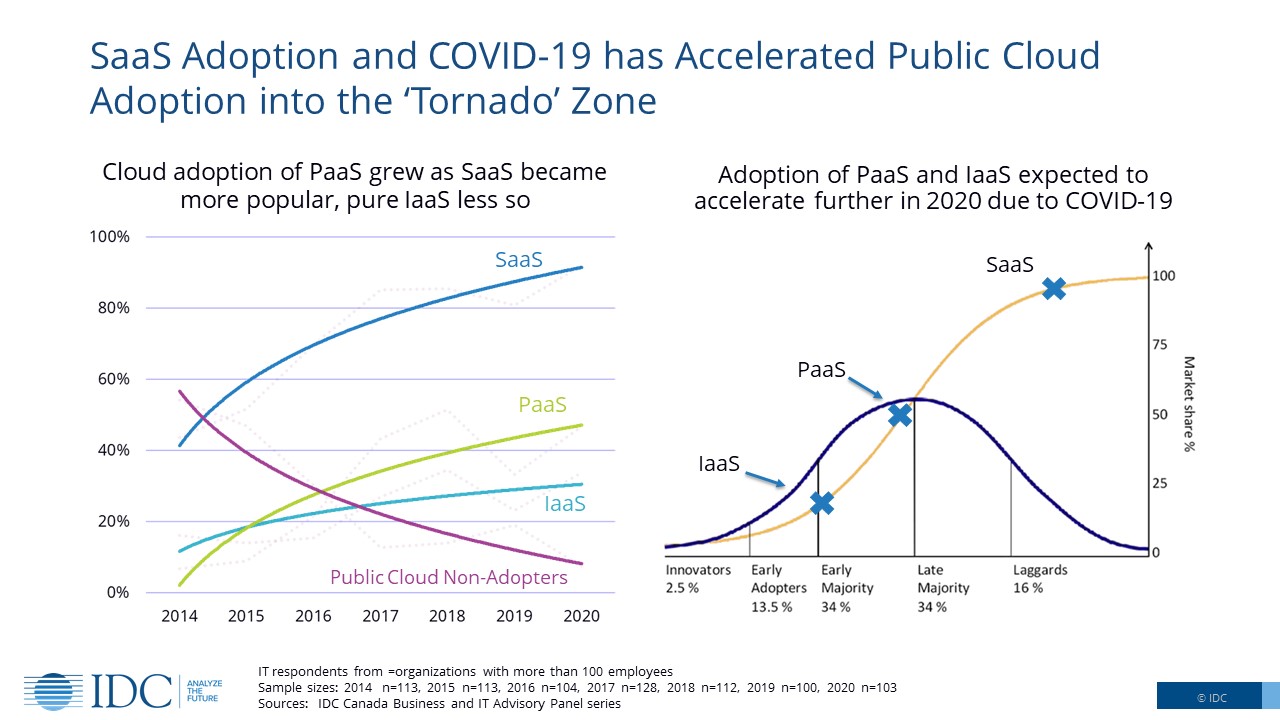 Cloud Adoption is Growing, but Cloud Maturity is Not
While cloud adoption has steadily grown, cloud maturity among Canadian organizations has not kept pace. At the beginning of the pandemic, 52% of Canadian organizations with more than 100 employees were still in the two lowest levels of IDC's cloud maturity model, 26% had matured to the third level (out of a total of five levels), and 22% had achieved the highest two levels. Interestingly, since IDC started monitoring cloud maturity among Canadian organizations in 2014, 40–50% of Canadian organizations consistently aspired to reach the highest levels of cloud maturity in three years. However, they never achieved their aspirations. We believe major factors underlying this situation were internal cloud skills and technical debt of IT investments. Before the pandemic, our research found that roughly one in three Canadian organizations with more than 500 employees had strong internal skills in assessing which workloads to move to the cloud, skills in migrating those workloads to the cloud, and managing those cloud workloads effectively. In addition, technical debt of refactoring or re-architecting enterprise workloads for cloud deployment often prevented organizations from moving to the cloud.
Accelerate Your Cloud Maturity by Learning from Others
We conducted 14 interviews with IT executives in Canadian organizations regarding their use of cloud professional services to learn lessons from their experiences accelerating cloud maturity. The results of the research are presented in IDC PeerScape: Lessons Learned from Using Cloud Professional Services in Canada, (IDC #CA46275521, March 2021). The IDC PeerScape report is designed for CIOs and other senior IT decision makers to explain how they should solve a problem by learning from their peers. In this case, the problem is how to accelerate their cloud maturity – which COVID exposed is a critical issue for many organizations. IDC PeerScape studies are a great way to learn from the successes or pitfalls of peer organizations in Canada and around the world. We have published more than 100 IDC PeerScapes over since 2018, giving a wealth of insights to help your organization.
Interested in Hearing More Canadian Perspectives?
Please join us on the afternoon of April 22 for IDC Directions 2021 Canada, as IDC Canada's thought leaders present their expert insights, intelligence and guidance for finding success in the next normal. This virtual event is focused on the Canadian tech market and explores how digital transformation and the pandemic are changing both businesses and customers in Canada. Key topics to be addressed include: the future enterprise, digital resiliency, digital innovation, and the future of digital infrastructure. We also explore the status of Canadian organizations on the road to recovery, look at shifting priorities and provide an update on the status of spending in the Canadian tech market. There will also be a CXO panel focused on real-life examples of Canadian companies using tech to transform themselves and become more resilient for what lies ahead. In addition, we've added a popular feature from our past events in a new virtual format - there will be a Live AskIDC Q&A panel at the conclusion of the event, where you can pose questions about the Canadian tech market to our expert analysts. Don't miss your chance to join us!
With 65% of global GDP digitalized by the end of 2022, let IDC help ensure that you are positioned to help organizations achieve the digital resiliency required to not just survive business disruptions, but to thrive. Did you know that the majority of large Canadian businesses are already thinking beyond the pandemic? Join us on April 22 to better understand what's happening in the Canadian market and how you can help your customers succeed in 2021 and beyond. This year's IDC Directions 2021 Canada Virtual Event is being offered complimentary to all registrants (a C$200 value). Register Today!