European companies are concerned about risks around financial sustainability
With almost every European country imposing lockdowns and many businesses struggling to survive, the top concern for European companies is disruption to cash flow. Poor cash flow will have a direct impact on budgets and ultimately on technology investments, although the financial impact will different by industry, with many verticals affected more than others. ​
The large-scale quarantines combined with increasing social distancing and self-isolation measures are having an impact on consumer and business spending. The second and third most significant risks affecting European businesses are also economic in nature and include declining sales, rising costs, and falling profits.​
Most companies have responded to the necessity for social distancing with smart working policies, but difficulties in remote collaborative work ranks fourth on the risk scale, as many businesses lack solid IT infrastructure and hardware to properly support remote working. Fewer companies are concerned about diminished staff morale, impaired customer services, or legal implications. ​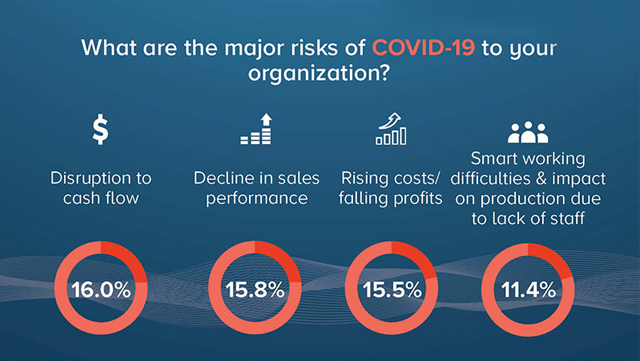 COVID-19 will have a negative impact on revenue growth in half of European companies
Half of the surveyed companies expect Covid-19 to have a negative impact on 2020 revenue growth, outlining significant business struggles for European companies in the months ahead, which will vary across industries and countries.​
Only approximately 15% of companies expect COVID-19 to have a positive impact on their revenue growth plan. This reflects an increase in consumer and business demand for specific products or services in response to the outbreak and resulting measures.​
IT Spending vs. COVID-19
While 50% of European companies expect COVID-19 to have a negative impact on their revenue plans, only 38% of companies expect that the outbreak will cause a decrease in their IT spending. This could reflect the fact that, despite revenue declines, many companies will need to deploy certain technologies to respond to critical business issues.
Similarly, while 15% of respondents think they will increase their revenue plan due to COVID-19, 21% of respondents expect their IT spending for 2020 to increase. Many companies will leverage technology to equip employees with tools to support smart working, to increase digital marketing efforts, and to automate manufacturing processes (using AI and RPA, for example).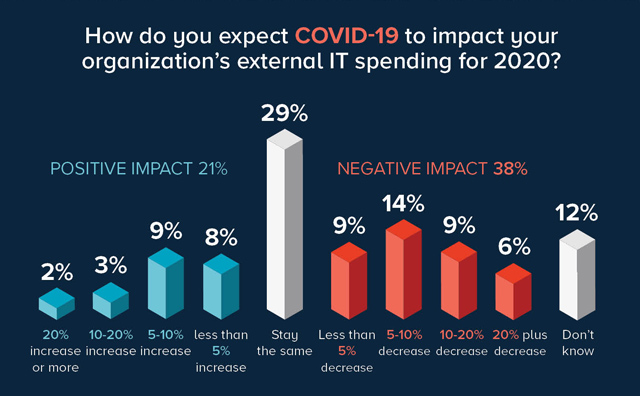 Collaborative Technologies Are a "Bright Spot"
Companies are looking to technology to minimize the impact of social distancing measures and lockdowns on their business. ​European companies have advanced their smart working policies, and we are witnessing a sharp increase in adoption of collaboration tools and videoconferencing technologies. In fact, respondents cited that investing in collaboration technologies is the most effective way to help their organization minimize workload disruption caused by COVID-10. ​
Increasing investments in digital marketing will help businesses to step up their capabilities to engage remotely with customers. With many businesses struggling to survive, maintain projects or customer bases, they will focus on digital marketing to keep a "distanced customer relationship" — sending regular newsletters or enhancing social media engagement.​
In manufacturing, automation of processes through emerging technologies such as artificial intelligence, blockchain, and RPA is thought to be a way for European manufacturers to mitigate the impact of the outbreak. The use of AI-based solutions can help minimize disruptions in the supply chain and improve inventory visibility through predictive demand analysis, automated inventory visibility, and AI-supported supply and logistics. ​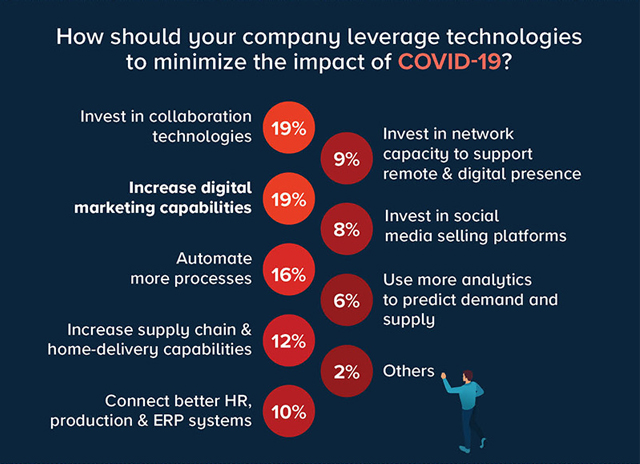 Companies Are Forced to Adopt New Ways of Working
European companies are increasing their flexibility to allow smart working while seeking to safeguard employee safety. In some countries and for many professions, working from home is the only way to continue operations with lockdowns in place. ​
Providing employees with the necessary tools to carry out work remotely remains the biggest challenge across European organizations. This goes beyond just gearing employees with devices such as notebooks, tablets, or smartphones, and ensuring that a full digital infrastructure is in place, including messaging systems, mobile applications, VPN access, and meeting/collaboration applications.​
Concerns related to employee productivity is the third most frequent concern across European companies, as smart working implies reduced managerial supervision. Managers must maintain communication to ensure that remote employees are working the appropriate hours, in order to help prevent drops in productivity and oversights such as non-compliance with standards. ​
Working from home can cause side effects ranging from improperly configured network connections to a lack of cybersecurity and increased vulnerability to phishing attacks. This will drive investment in security solutions and steer resources to the creation of a secure environment for remote employees.​