Current:

IDC Unveils the Strategic Predictions that will help Asia/Pacific Organizations Become a Digital Native Enterprise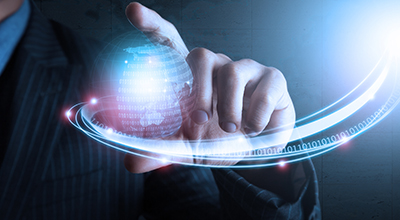 02 Nov 2017
IDC Unveils the Strategic Predictions that will help Asia/Pacific Organizations Become a Digital Native Enterprise
IDC reveals how key predictions on Digital Transformation (DX), Future of Commerce and Artificial Intelligence, among others will affect Asia/Pacific organizations in the next three years.
SINGAPORE, November 3rd, 2017 – IDC announced today its top predictions for Asia/Pacific at IDC FutureScapes 2018, one of ICT's most anticipated annual events, held at the Mandarin Orchard Singapore. On its 10th year of tracking 3rd platform technologies, IDC reveals that at least 60% of the Asia/Pacific GDP will be digitalized, with growth in every industry driven by digitally-enhanced offerings, operations, and relationships over the next three years. Furthermore, IDC expects that by 2020, investors will use platform/ecosystem, data value, and customer engagement metrics as valuation factors for all enterprises. This tipping point in the DX economy is described by IDC as becoming "Digital Native Enterprises."
IDC predicts that organizations slow to adopt a digital-native operating model will compete for a rapidly shrinking piece of the global economy. 62% of Asia/Pacific enterprises are digitally stuck, and to lead in this DX economy, organizations must become a digital native enterprise (DNE). A DNE is one that is able to scale its operations and innovate at a pace that is an order of magnitude greater than traditional businesses. It is driven by a customer-centric and empowered workforce that embraces risk taking as it seeks to continuously innovate. Technology and data are its lifeblood, fueling more efficient operations, new revenue streams and customer loyalty," says Sandra Ng, Group Vice President of Practice Group, IDC Asia/Pacific.
According to Ng, the top predictions that will impact the ICT industry and both technology buyers and suppliers in Asia/Pacific in the next 36 months are:
#1: Data-centricity: By 2020, revenue growth in half of A1000 firms from information-based products and services will be triple the growth rate in the balance of the product/service portfolio.
#2: Digital business: By 2018, 60% of CIOs will put experimental engagement, data monetization, or digital business at scale at the top of their agenda.
#3: AI everywhere: By 2019, 40% of digital transformation initiatives will use AI services. By 2021, 75% of commercial apps will use AI, over 90% of consumers will interact with customer bots, and over 50% of the new industrial robots will leverage AI.
#4: HD interfaces: By 2020, human-digital (HD) interfaces will diversify, as 20% of field-service techs and over 20% of infoworkers use augmented reality, nearly 30% of new mobile apps use voice as their primary interface and 30% of consumer-facing A1000 will use biometric sensors to personalize experiences.
#5: Digital assistants: By 2019, personal digital assistants and bots will execute only 5% of transactions, but they will influence 15%, driving growth among the organizations that have mastered utilizing them.
#6: DX platforms: By 2020, 50% of all enterprises will have fully articulated an organization-wide digital platform strategy, and will be in the process of implementing that strategy.
#7: Cloud 2.0: Distributed and specialized: By 2021, enterprises' spending on cloud services and cloud-enabling hardware, software and services will reach US$75 billion, leveraging the diversifying cloud environment that is one-third at the edge, over 15% specialized (non-x86) compute, and 80% multicloud.
#8: Risk and trust: By 2019, 60% of CIOs will refocus cybersecurity around authentication and trust to manage business risks, initiating the retirement of systems that cannot ensure data protection.
#9: Open API ecosystems: By 2021, more than half of the A1000 will see an average of 40% of their digital services interactions come through their open API ecosystems, up from 5% in 2017 - amplifying their digital reach far beyond their own customer interactions.
#10: Blockchain and digital trust: By 2021, at least 25% of the A1000 will use blockchain services as a foundation for digital trust at scale. By 2020, 25% of banks, 40% of supply-chain and 20% of healthcare organizations will use blockchain networks in production.
These top 10 strategic predictions for the Asia/Pacific market are presented in full in the following reports: IDC FutureScape: Worldwide IT Industry 2018 Predictions —APeJ Implications; IDC FutureScape: Worldwide Digital Transformation (DX) 2018 Predictions – APeJ Implications; and IDC FutureScape: Worldwide CIO Agenda 2018 Predictions – APeJ Implications.
To learn more about other IDC FutureScape documents on the latest technology and industry predictions for WW and the Asia/Pacific region, please visit FutureScapes Library.
IDC has prepared a FutureScape webinar series, which provides a crisp guidance to all executive parties on how to lead one's Digital Transformation strategy on various technology and vertical topics. To register for these webinars, click HERE
For sales inquiries on an IDC FutureScapes document, please contact your IDC account manager or Sheryl Fuertez at sfuertez@idc.com. For media inquiries, please contact Tessa Rago trago@idc.com or Alvin Afuang aafuang@idc.com.
- Ends -
About IDC FutureScapes
IDC FutureScapes are used to shape IT strategy and planning for the enterprise by providing a basic framework for evaluating IT initiatives in terms of their value to business strategy now and in the foreseeable future. IDC's FutureScapes are comprised of a set of decision imperatives designed to identify a range of pending issues that CIOs and senior technology professionals will confront within the typical 3-year business planning cycle.
About IDC
International Data Corporation (IDC) is the premier global provider of market intelligence, advisory services, and events for the information technology, telecommunications, and consumer technology markets. With more than 1,100 analysts worldwide, IDC offers global, regional, and local expertise on technology and industry opportunities and trends in over 110 countries. IDC's analysis and insight helps IT professionals, business executives, and the investment community to make fact-based technology decisions and to achieve their key business objectives. Founded in 1964, IDC is a wholly-owned subsidiary of International Data Group (IDG), the world's leading media, data and marketing services company that activates and engages the most influential technology buyers. To learn more about IDC, please visit www.idc.com. Follow IDC on Twitter at @IDC  and LinkedIn.
Coverage