Current:

IDC Names the 10 Digital Transformation Initiatives in Asia/Pacific as Best of the Best in the first-ever IDC Digital Transformation Awards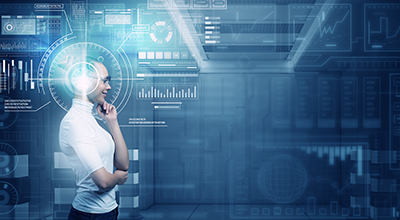 28 Nov 2017
IDC Names the 10 Digital Transformation Initiatives in Asia/Pacific as Best of the Best in the first-ever IDC Digital Transformation Awards
Singapore's Changi Airport Group and Hong Kong's MTR Corporation hailed as the Digital Transformers of the Year in Asia/Pacific
SINGAPORE, November 28th, 2017 – IDC Asia/Pacific announced today the winners of the first-ever regional IDC Digital Transformation Awards (DXa) 2017 at the Asia/Pacific DX Summit held at Flower Field Hall, Gardens by the Bay in Singapore. Ten outstanding DX initiatives across Asia/Pacific were hailed as the best of the best, with Singapore's Changi Airport Group and Hong Kong's MTR Corporation equally distinguished as the "Digital Transformers of the Year." Other winners include China's Chunyu Doctor, Postal Savings Bank of China, Taiwan's Taishin Bank, Hong Kong's Jardine Restaurant Group,
India's HDFC Bank, Singapore's M Social Hotel and Urban Redevelopment Authority all chosen on the basis for their DX initiatives displaying great mastery in at least one DX dimension*.
"As digital transformation becomes the new oxygen for Asia Pacific organizations, it's fitting to recognize those who have not only paved the way towards change, but also made the leap to transform how their businesses and people operate. The inaugural winners of IDC's DX awards exhibit strong capabilities and creative use of technologies to thrive in the DX economy," says Daniel Zoe Jimenez, Research Director for Digital Transformation Practice, IDC Asia/Pacific.
IDC Digital Transformation Awards 2017 Regional Winners (from left to right): Christina Lee, Taishin Bank (Taiwan), Christy Shyy, Taishin Bank (Taiwan), Goh Siow Chong, Urban Redevelopment Authority of Singapore, Lee Richards, Millennium Hotels and Resorts (Singapore), Ryan Lau, MTR Corporation (Hong Kong), Rajnish Khare, HDFC Bank (India), Kelvin Wai Kim Man, MTR Corporation, Annie Leung Ching Man, MTR Corporation, Lana Lo Suk Yee, MTR Corporation, Ravel Lai, Jardine Restaurant Group (Hong Kong), Howard Wong, Jardine Restaurant Group, Steve Lee, Changi Airport Group (Singapore), Neal Cross, DBS (Singapore), Li Guanghui, Chunyu Doctor (China). Not included in the photo: Postal Savings Bank of China.
Here is a short description of the winning entries of our 2017 IDC DX Awardees:
• Changi Airport Group (CAG) is named Asia Pacific Digital Transformer of the Year: Changi Airport Group's Digital Master Plan (DMP) is a business transformation program for the airport that has transformed Changi's passenger experience and laid the foundation for Changi to be a Smart Airport of the future. The DMP helped Changi create a unified digital identity and presence by communicating to its passengers through streamlined, omni-channel content delivery and providing a revamped Changi mobile experience. Changi leverages big data to deliver a personalized Changi experience for each of its passengers. By digitalizing core operations processes and gaining deep understanding of key operating imperatives, Changi has achieved improved operational anticipation and reaction, data-enabled resource planning, and a data-driven platform for collaboration and problem-solving.
• MTR Corporation from Hong Kong also named Asia Pacific Digital Transformer of the Year: MTR's Digitalization Roadmap for Rail Gen 2.0 leverages disruptive digital technologies and strategically integrates them into their established business processes in order to be able to proactively enhance Hong Kong's railway transportation service and meet the shifting customer needs MTR established an IT Center of Excellence (iCoE) to promote and drive continuous digital transformation across business functions through the promotion and sharing of successful technology cases that are transforming the business.
• China's Chunyu Doctor named Asia Pacific Digital Disruptor of the Year for its Open Platform for Online Medical Consultation: Chunyu Doctor is the first online medical consultation platform in China that provides real-time communication between doctors and patients. It brings convenient, accurate, and economical medical services to 125 million users, while bringing economic benefits and better brand recognition to 500,000 registered doctors. A pioneer in China's healthcare industry, it has become one of the most mature service models in the field of mobile health. The company has alleviated China's traditional medical problems such as uneven distribution of medical resources, inefficient medical systems, and poor medical experiences. The platform continues to scale up, which now handles more than 1 million online medical inquiries every day.
• DBS Bank named Asia Pacific DX Leader for L3D Mastery: Digitalization is a key part of DBS's strategy to thrive in the digital economy where productivity, scalability, and agility are the key characteristics of a successful organization. With DBS's longstanding 49-year history and 24,000 employees in the highly-regulated Banking, Financial services, and Insurance (BFSI) industry, DBS considered cultural and organizational changes brought about by this strategy. Its leadership team composed of Piyush Gupta (CEO), David Gledhill (CIO) and Neal Cross (Chief Innovation Officer) have fundamentally changed the operations and culture within DBS by identifying how processes are changed through internal hackathons within various business units; and mass adoption of new technology to re-architect its technology structure.
• Taishin Bank (Taiwan) named Asia Pacific DX Leader for Information Visionary for its Comprehensive Customer Portrait Database: Taishin Bank's CRM department developed and established a Comprehensive Customer Portrait Database (CCPD), allowing customer characteristics, customer behavior, and the relationships between the two to be viewed at the single customer, customer segment, and branch levels. The CCPD allows marketers and managers to formulate strategies more rapidly, making it an effective data analysis solution. Taishin Bank's CCPD resulted in improved efficiency with a comprehensive portrait of the customer can be extracted in one second; more accurate customer segmenting which decreased marketing contact costs and increased response rates; business applications for multiple perspectives, and rapid deployment in the front-end, giving tellers and customer service representatives a quick in-depth understanding of customers for better communication.
• Jardine Restaurant Group (Hong Kong) named Asia Pacific DX Leader for Information Visionary for its Pizza Hut Social CRM and Mobile App: Pizza Hut Social CRM is an advance initiative that is designed to prepare the organization for a dynamic form of engagement with customers, aimed towards promoting customer loyalty, driving sales and ultimately own a bigger slice of the market share. Launched in June 2015, the social CRM platform with its new mobile app changed the customer behavior from using a plastic card to using their smartphones as touch point. The new mobile app has three innovative features: mobile queue ticketing (features an express ticket for dine-in), points sharing between friends and families, and an interactive surprise promotion e-couponing. In its first 6 weeks, the mobile app had over 150,000 downloads and the total company sales grew from 27% in 2014 to over 45% in Aug 2017.
• HDFC Bank (India) named Asia Pacific DX Leader for Omni-Experience for its HDFC Omni-Experience Transformation Initiative: HDFC Bank's Digital Innovations unit has created an omni-experience initiative with three services: Missed Call Commerce, HDFC Bank OnChat, and HDFC Bank LITE App. It leverages traditional and digital forms of communication to drive an enhanced banking experience, while simultaneously enabling 'non-digital' consumers to transact and interact with the bank via mobile phones. Missed Call Commerce allows users to recharge their mobile phones by giving a missed call to a number after a one-time SMS registration process. OnChat provides social commerce services on and runs on natural language processing; customers can recharge prepaid phones or pay utility bills by just providing mobile number and customer account number, or book a cab from Ola and Uber after a one-time link to their accounts. The HDFC Bank LITE App does not require an internet connection to be used as communication takes place over SMS or the Missed Call Banking Platform, providing access to customers in remote areas. To date, services like Missed Call Recharge and LITE App have empowered financially-excluded segments who do not have access to the internet and Mobile Banking services, with more than 55% (around 227,000) of recharge transactions initiated from rural and semi-urban areas.
• M Social Hotel (Singapore) named Asia Pacific DX Leader for Operational Transformation: To address the increasing labor shortage problem in Singapore's hospitality industry, M Social Singapore, a subsidiary of Millennium and Copthrone International Limited (MCIL), has introduced Singapore's first Front-of-House Autonomous Service Delivery Robot, or AURA. In partnership with StarHub, Singapore's leading info-communications service provider in the hospitality industry, alongside the Singapore Productivity Centre, M Social's AURA has been integrated with various subsystems in the hotel, such as networks, elevators, and telephony. Project AURA has enabled organization excellence by making business operations more productive, as it addresses manpower shortage through robotics solutions. The Singapore Productivity Centre has also verified high customer satisfaction levels after AURA encounters. Following commercial implementation, MCIL has unveiled plans to deploy AURA to all their hotels in Singapore.
• Postal Savings Bank of China named Asia Pacific DX Leader for Operational Transformation for its Blockchain-hosted Business System: It is the first successful application of blockchain technology in a core banking business system in China's banking industry. Through innovation, research, and development based on the enterprise-class open source blockchain platform Hyperledger Fabric, Postal Savings Bank of China developed an asset-hosted blockchain system that includes four mechanisms: (1) shared ledger, (2) intelligent contract, (3) privacy protection and consensus mechanisms, and (4) realized interaction and sharing of hosted business information and supervision of asset usage. Postal Savings Bank of China's blockchain-based asset-hosted management system reduces original business links by about 60 to 80 percent and improves risk management. The innovation proves that blockchain technology can be used in real business environments of banks and successfully solve trust problems in financial activities and problems in specific business scenarios, as well as enhance trust, simplify processes, increase processing efficiency, and improve risk management level of the whole industry.
• Singapore's Urban Redevelopment Authority (URA) named Asia Pacific DX Leader for Talent Acceleration: URA has developed a three-year Digitalization Plan to digitalize planning processes, using advanced digital technologies and big data analytics. The plan facilitates integrated planning at the Whole-of-Government level, giving URA better planning insights and driving productivity gains. The Digitalization Plan uses six strategies including Data Digitization; Data Integration; Systems Integration; Work Process Redesign; Visualization and Analytics; and Modelling and Simulation. This includes building digital planning tools, collaboration platforms and analytics skill that transform planning processes. It involves and empowers staff at all levels to contribute ideas and find solutions. It also allows URA to engage their stakeholders including agencies and customers to share data, and integrate business processes and systems. The three-year plan actively feeds into URA's organizational development and HR initiatives, ranging from comprehensive planning tools and analytics skills training, and capability building. This equips staff with skills for the new digital economy and allows the organization to be future-ready. The focus on data analytics and commitment to talent development are the key reasons why URA has also been named Best in Information Visionary and Talent Acceleration in Singapore.
The regional IDC DX Awards winners were selected through three rounds of panel judging and scoring on IDC's DX MaturityScape Benchmark Assessment. To enforce the highest level of transparency and impartiality in the evaluation process, each submission was reviewed and deliberated on by IDC Asia/Pacific senior executives.
"With over 250 submissions received this year, it's thrilling to see this level of innovation from Asia Pacific and we look forward to seeing more DX success stories in the years to come," ends Jimenez. IDC expects the digital transformation (DX) spending across Asia Pacific excluding Japan (APeJ) organizations to reach USD 412 Billion by 2018.
For more information about the IDC DX Awards (DXa) and how you can nominate your organizations for IDC DX Awards (DXa) 2018, please contact Daniel Zoe Jimenez dzjimenez@idc.com and Kar Leong Tew kltew@idc.com. For media queries, please contact Alvin Afuang aafuang@idc.com or Tessa Rago trago@idc.com.
- Ends -
About IDC
International Data Corporation (IDC) is the premier global provider of market intelligence, advisory services, and events for the information technology, telecommunications, and consumer technology markets. With more than 1,100 analysts worldwide, IDC offers global, regional, and local expertise on technology and industry opportunities and trends in over 110 countries. IDC's analysis and insight helps IT professionals, business executives, and the investment community to make fact-based technology decisions and to achieve their key business objectives. Founded in 1964, IDC is a wholly-owned subsidiary of International Data Group (IDG), the world's leading media, data and marketing services company. To learn more about IDC, please visit www.idc.com. Follow IDC on Twitter at @IDC.
*The IDC Digital Transformation Awards (DXa) recognizes organizations for their discernible and measurable excellence in their DX efforts across the five DX masteries and significant efforts to transform or disrupt the market. The 5 DX masteries include: Leadership; Omni-Experience; Information; Operational Model; and Worksource.
Coverage