Current:

Thriving in the Future of Commerce with Business Model Innovations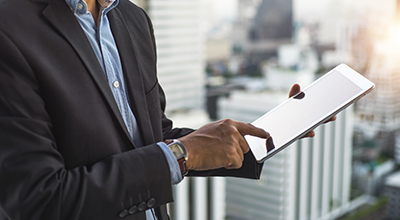 06 Dec 2017
Thriving in the Future of Commerce with Business Model Innovations
SINGAPORE, December 6th, 2017 - We are at an inflection point in the evolution of commerce. Organizations regardless of industry and geographic presence have been/are digitally disrupted, albeit at different pace. Digital disruptors can scale its operations and innovate at a pace that is an order of magnitude greater than traditional businesses. They are driven by a customer-centric and empowered workforce that embraces risk taking as it seeks to continuously innovate. Technology and data are its lifeblood, fueling more efficient operations, new revenue streams and customer loyalty.
According to IDC's 2017 C-Suite Barometer Research, the inability or limited ability to create new business models is one of the top three challenges CEOs are facing today. To compete against digital disruptors, organizations must become digitally-native, and evolve with digitally-enabled business models. IDC expects the confluence of new business models enabled by 3rd Platform technologies, and innovation accelerators such as augmented/virtual reality (AR/VR), artificial intelligence, and the Internet-of-things (IoT) is bringing about fundamental changes in commerce. We term this evolution the "future of commerce". IDC expects by 2019, all digitally transformed organizations will generate at least 45% of their revenue from "Future of Commerce" business models.
"Tomorrow, the next customer's delightful 'wow' will come from anticipating their needs, before they even ask for it. An intelligent assistant which pre-populates your shopping basket, or a virtual assistant who not only advise you on the most suitable medication through a simple conversation, but also one that is packed with humor and laughter," says Lawrence Cheok, Senior Research Manager for Digital Commerce, DX Practice, IDC Asia/Pacific. "DNEs such as Alibaba, Netflix, Airbnb, and Grab are reshaping consumers' value perception, and transforming the nature of commerce. To compete, organizations must shift toward outcome-based value propositions, and make changes in their business models."
IDC defines The Future of Commerce as the application of 3rd Platform technologies and IAs to fundamentally change the way commerce is done between individuals, organizations and things; and deliver outcome-based products and/or services through business model innovation.
IDC identified nine business parameters and grouped them into three main categories of business innovation. This allows organizations to focus on key business parameters depending on their business strategy and desired outcomes as follows:
Information-driven value-chains. This involves integrating and leveraging crowdsourced assets, workforce, and/or information as part of its value chain. It also includes development of new partnerships to extend information-based ecosystems for more extensive data sourcing and sensing. This leads to increased organizational awareness and responsiveness to demand and supply fluctuations. This also enables organizations to improve customer experience by shifting inward-looking activities toward externally-driven activities.
Information-based products and services. Using information to augment products and services, to meet consumers' needs for personally pertinent outcomes. For organizations, this can create entirely new revenue streams, or augment sales of existing products and services. By embedding digital products and services into consumer life activities, organizations can also deepen customer insights and increase advocacy.
Dynamic monetization. Dynamically adjusts pricing structures in accordance to changes in consumer behavior and, or outcomes. Pricing based on consumer outcomes and behaviors has the potential to turn the buyer-seller relationships into partnerships, thus deepening customer relationships.
Future of commerce business models can and will evolve. IDC's accompanying research in Consumer Digital Transformation (DX) across seven lifestyle segments shows that new categories and use cases are emerging, and extending across industries at an accelerating rate. Each of these lifestyle segments correlates back to key industries and verticals, signifying every organization can benefit from Future of Commerce models.
The future of commerce models are direct and indirect monetization models that will shape businesses, industries, and nations/countries as the consumption behavior and engagement approach changes with new technology capabilities. Organizations which desire to win and lead in the DX economy will therefore need to create an environment/platform including people, processes, governance, success metrics/key, performance indicators, and data to accelerate the creation, testing, and commercialization of future of commerce business models.
To learn more about the Future of Commerce, please contact Lawrence Cheok lcheok@idc.com. Future of commerce research is part of the IDC APeJ Digital Transformation (DX) Strategies CIS research program. For media inquiries, please contact Tessa Rago trago@idc.com  or Alvin Afuang aafuang@idc.com.
-Ends-
About IDC
International Data Corporation (IDC) is the premier global provider of market intelligence, advisory services, and events for the information technology, telecommunications, and consumer technology markets. With more than 1,100 analysts worldwide, IDC offers global, regional, and local expertise on technology and industry opportunities and trends in over 110 countries. IDC's analysis and insight helps IT professionals, business executives, and the investment community to make fact-based technology decisions and to achieve their key business objectives. Founded in 1964, IDC is a wholly-owned subsidiary of International Data Group (IDG), the world's leading media, data and marketing services company. To learn more about IDC, please visit www.idc.com. Follow IDC on Twitter at @IDC.
Coverage