Current:

Bajaj Allianz wins "Digital Transformer of the Year" for India at the 2018 IDC Digital Transformation Awards (DXa)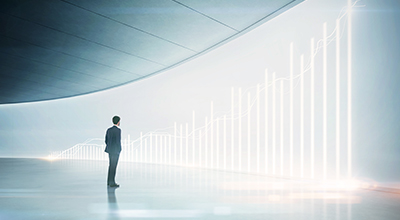 16 Sep 2018
Bajaj Allianz wins "Digital Transformer of the Year" for India at the 2018 IDC Digital Transformation Awards (DXa)
Policy Bazaar, Transport Corporation of India and other companies also recognized by IDC for excellence in their digital transformation (DX) efforts
NEW DELHI, September 14th, 2018 – IDC India announced the winners of its second IDC Digital Transformation Awards (DXa) 2018 and named Bajaj Allianz as the 2018 "Digital Transformer of the Year". IDC DXa recognizes organizations that have significantly disrupted the market or have transformed it, using digital and disruptive technologies. Other winning companies include Air Vistara, Dainik Bhaskar Corporation (DB Corp.), Policy Bazaar, and Transport Corporation of India Limited, who all distinguished themselves for their discernible and measurable excellence in their digital transformation (DX) efforts across the five DX masteries and significant efforts to transform or disrupt the market.
"Indian organizations are rapidly adapting digital transformation (DX) to stay competitive in the market. In India, the most progressive organizations that possess a strong digital mindset have disrupted the landscape, as consumers become increasingly tech-savvy in the face of borderless competition. Our winners for India have shown that DX is no longer just a buzzword," says Amit Malhotra, Managing Director at IDC India and South Asia.
These are the winning India organizations of the 2018 IDC DX Awards and their outstanding DX initiatives that distinguished them:
• Bajaj Allianz's AI based BOT named as Digital Transformer of the Year: Crafting authentic and immersive engagements is key to the insurance sector – both internally as well as externally. For a sector that is predominantly high on manual intervention at moments of truth, technology becomes a critical factor in orchestrating transformation. Bajaj Allianz leveraged AI and Machine Learning to deploy BOTs to transform the way the traditional insurance interacts with its internal and external customers; by delivering – conversational support to customers, instant information and overall ease and convenience. With a BOT based 24x7 support, Bajaj Allianz enabled end to end customer service and support across various facets of insurance and claims.
• Jasjit Sethi of Transport Corporation of India named as DX Leader of the Year for its Digital Transformation-Customer Order Vs. Fulfillment: Digital Transformation-Customer Order Vs. Fulfillment Project aims to address the organization's growing challenges on customer dissatisfaction and order tracking. Jasjit Sethi, President & CEO lead the formation technical and functional leaders to execute their Digital Transformation project. A key focus of the project was to establish operational excellence and ensure 100% fulfillment of orders which was completed in 6 months and lead to business excellence.
• Air Vistara's Manthan 1.0 named as Information Visionary of the Year: Manthan 1.0 is a follow up project of the airline's initial infrastructure foundation based on 100% Cloud (only airline in the world). This new operational intelligence layer connects flight operations, engineering, finance, IoT, Blockchain, Kafka, WDT (Threat Detection), and software defined networks (partial). This layer brings together information from diverse sources (aircrafts, components, revenue management, rostering, etc.) and agencies (airports, regulators, SITA, ARNIC, BRS, etc.) at different frequencies, different quality, different sizes and formats while minimizing operating cost, improving turnaround time and maintaining profitability. The solution leverages on use bigdata which provides a baseline data for example profitability, disruption management, system of records – cost, revenue, customer, aircrafts and engineering. It also uses an AI based array of systems which solves problems ranging from attrition, prediction, route profitability, customer sentiments, customer retention and employee culture.
• Policy Bazaar's Self Inspection Video Feature for Expired Motor Insurance Renewals Project named as Omni-experience Innovator of the Year: Self Inspections Video Feature for Expired Motor Insurance Renewals is an industry first initiative to solve the problem of renewals of expired motor insurance. Launched by Policybazaar.com, it's a self-controlled convenient process that allows the consumer to save time and cost. Customers who desire to renew their motor insurance policy are not required to undergo physical car inspection anymore, instead customers can take a 360-degree video of the car in the prescribed manner and share it with the insurers along with the requisite document.
• Dainik Bhaskar Corp's Matrix App for Editorial named Operating Model Master of the Year: The Matrix App for Editorial is designed to help the editorial labor force, especially real time reports by enabling them to write stories, upload and share content seamlessly through a digital platform. The app features voice typing, multimedia gallery (photo and video) and a transcribing feature, which allows real time reporting on field to be done through smartphones.
• Liberty General Insurance Limited's Lean Front Office named as Talent Accelerator of the Year: Lean Front Office (LFO) mobile app helped reduce the time to market of the organization by approximately 90%. Traditionally, it takes anywhere between three to four months to operationalize a branch. Now its customers can access services by downloading the App from the Play Store. The solution empowers the frontend employees to focus on their core job and utilize their on-field time efficiently. LFO is a complete end to end solution which integrates frontend and back-office seamlessly.
IDC's DX Awards follows a two-phased approach to determine the country and regional winners. Each nomination is evaluated by a local and regional IDC analyst against a standard assessment framework based on IDC's DX taxonomy.  All country winners will qualify for the regional competition, which will be decided by a regional panel of judges comprised of IDC Worldwide analysts, industry thought leaders, and academia.
Winners from all around Asia Pacific will join the Singapore winners at IDC's DX Summit and Digital Transformation Awards (DXa) Gala Night, where the regional winners will be announced for the categories of Digital Transformer of the Year; Digital Disruptor of the Year; DX Leader, Omni-experience Innovator, Talent Accelerator, Information Visionary, and Operating Model Master.
The regional awarding ceremony will happen on the 25th October 2018 at JW Marriott Singapore. For more information on the awards and judging criteria, please visit the IDC DX Awards website HERE .
For media inquiries, contact Shabi Hussain sshussain@idc.com and Shambhavi Tiwari stiwari@idc.com
- Ends -
About IDC
International Data Corporation (IDC) is the premier global provider of market intelligence, advisory services, and events for the information technology, telecommunications, and consumer technology markets. With more than 1,100 analysts worldwide, IDC offers global, regional, and local expertise on technology and industry opportunities and trends in over 110 countries. IDC's analysis and insight helps IT professionals, business executives, and the investment community to make fact-based technology decisions and to achieve their key business objectives. Founded in 1964, IDC is a wholly-owned subsidiary of International Data Group (IDG), the world's leading media, data and marketing services company. To learn more about IDC, please visit www.idc.com. Follow IDC on Twitter at @IDC.
Coverage