Current:

Student Loan Fund, Ministry of Finance wins 2020 Top Awards at the 4th IDC Digital Transformation Awards Thailand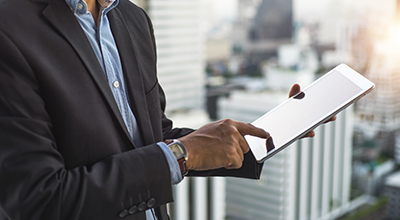 12 Oct 2020
Student Loan Fund, Ministry of Finance wins 2020 Top Awards at the 4th IDC Digital Transformation Awards Thailand
Indorama Ventures PCL and four other companies also recognized by IDC for excellence in their digital transformation (DX) efforts
THAILAND, October 12, 2020 – IDC announced today the Thailand winners of the IDC Digital Transformation Awards (DXa) 2020 which named Student Loan Fund, Ministry of Finance as the 2020 Digital Transformer, 2020 DX Leader and 2020 Information Visionary respectively for Thailand. Now on its fourth year, IDC's DX Awards celebrates the tech-enabled resilience of enterprises as they reimagine their business in the new normal. This year's best-in-class have been chosen as DX champions for being able to successfully implement digital initiatives that address the CEO's new agenda on meeting new customer requirements, developing new capabilities, ensuring new critical infrastructure, and participating in new industry ecosystems.
Other winners for Thailand include Indorama Ventures PCl, Krungsri Finnovate, PTT Trading, RS Public Company Limited, and The Mall Group, who all distinguished themselves with notable and measurable success in the execution of their organization's digital transformation (DX) initiatives across the five DX masteries and significant efforts to transform or disrupt the market.
Figure 1: 2020 Thailand IDC Digital Transformation Awards Winners
"With a prolonged pandemic impacting ASEAN businesses, IDC is noting a heightened acceleration of DX initiatives across all countries. More than 40% of ASEAN businesses are moving towards targeted investments by the end of 2020, and this is expected to help them re-organize technology goals to intersect with business requirements in 2021," says Sudev Bangah, Managing Director for IDC ASEAN.
These are the top winners of the 2020 Thailand IDC Digital Transformation Awards, and the outstanding digital transformation initiatives that distinguished them:
Student Loan Fund, Ministry of Finance named as 2020 Digital Transformer, 2020 DX Leader and 2020 Information Visionary for Thailand:
The Student Loan Fund (SLF), which operates under Thailand's Ministry of Finance, is a circulating fund that provides loans to students who require financial support, have good academic performance and standing, and are currently enrolled in SLF's supported fields of study. Previously, disconnected systems caused a lot of complicated, time-consuming actions and loan processes were prone to human error. To address this situation, SLF launched its Digital Student Loan program to digitally transform the organization in February 2019. Digital Student Loan is a new digital platform that the organization has put in place to support its mission to become completely digitized and automated. It emphasizes borrower centricity by transforming the way data and documents are collected, organized, and analyzed. Key processes and information involve the borrowing, loan/debt management, litigation, and enforcement management systems. Through a centralized database, all internal and external data from sources such as the Department of Provincial Administration, the Revenue Department, and Legal Execution Department which pertain to student loans are easily matched to drive the decision-making process. Supplemented by tools and technologies like big data and analytics, mobile app for e-KYC, e-document/e-contract, and e-payments, and automated credit scoring, DSL has increased revenues by 15%, improved productivity by 50%, and recorded a 20% boost in customer loyalty.
The Student Loan Fund (SLF), which operates under Thailand's Ministry of Finance, is a circulating fund that provides loans to students who require financial support, have good academic performance and standing, and are currently enrolled in SLF's supported fields of study. Dr. Nantawan Wongkachonkitti, Deputy Manager of the SLF, oversees an information technology (IT) portfolio of more than THB 56 billion and more than 5.4 million customers. Her responsibilities include developing a strategy that informs financial and channel planning, monitoring Enterprise Risk Management policies, practices, and tools, curating an overall IT governance strategy, building high-performance teams to manage, implement, and streamline complex IT designs, and leading technology innovation with a focus on understanding and evaluating industry trends among others. With Nantawan Wongkachonkitti at the helm, SLF implemented a paperless loan application process, piloted the use of a National Digital ID, created a Data Governance Policy and Framework, and identified strategic opportunities to diversify its borrower base among others as part of its evolution in becoming SMART SLF.
The Mall Group named as 2020 Omni-Experience Innovator for Thailand:
The Mall Group is Thailand's leading department store and shopping center developer. With the advent of the digital economy, The Mall Group has embraced technologies to build new shopping experiences and to complete its transformation to becoming an omnichannel retailer. As part of its efforts, it adopted an all-in-one cloud-native data and artificial intelligence platform to better understand and adapt to the rapidly changing purchasing habits of its extensive customer base. It is leveraging digital transformation as a step forward in augmenting the highest number of selling channels, from offline to online, to achieve maximum customer satisfaction and enable seamless shopping experiences. As a testament of its forward-thinking strategies, The Mall Group is the first retail chain in Thailand to adopt the use of AI. Because of this comprehensive solution, The Mall Group employees can understand emerging behaviors and trends, derive real-time insights, and work seamlessly across different devices anytime, anywhere – all of which are vital processes in consistently delighting their customers. Furthermore, the adoption of this solution is expected to significantly improve the speed of the data analytics capacity of The Mall Group by 60 times – a feat that will enable the organization to respond more quickly and accurately to its growing customer base.
PTT Trading named as 2020 Operating Model Master for Thailand:
PTT Trading is the procurement, import, export, and international trade engine of Thailand's largest oil and gas company, PTT Group. PTT Trading put its strategic focus on utilizing cutting-edge technologies to capture new business opportunities through its five trading offices at major business hubs in Bangkok, Singapore, Shanghai, London, and Abu Dhabi. Its digital transformation objectives also include improving its speed to market, enabling real-time decision-making, and supporting business continuity. PTT Trading has prioritized three areas in its DX strategy: leveraging data for 360-degree insights, adopting process improvements to enable lean and accurate operations, and driving agile and dynamic working environments. As such, it has deployed artificial intelligence (AI) and robotic processing automation (RPA) to automate high volumes of repetitive, rules-based tasks. It also rolled out analytics, machine learning, and a whole ecosystem of capabilities including Optical Character Recognition (OCR) to simplify and streamline end-to-end business processes. Benefits from PTT Trading's digital transformation include the reduction of total manual handling time by 75% from intelligent workflows and savings of approximately USD530,670 within the next three years from operations efficiency.
Indorama Ventures named as 2020 DX CEO for Thailand:
Indorama Ventures Public Company Limited (IVL) is one of the world's leading petrochemicals producers, with a global manufacturing footprint across Africa, Asia Pacific, Europe, and the Americas. Aloke Lohia, Vice Chairman and Group CEO, spearheaded the exploration of Industry 4.0 capabilities and the push for IVL's realization of its intrinsic value through digital transformation. He leveraged machine learning and mathematical optimization and identified 250+ digital value creation opportunities across 12 sites. Given the unique challenges posed by 2020, Aloke Lohia guided IVL in becoming an agile, flexible, and customer-oriented organization by committing to develop its people, processes, and portfolio. He initiated the creation of the Indorama Management Council (IMC) consisting of IVL's most senior and experienced executives and the Indorama Business Council (IBC), where the next generation of IVL leaders are provided with a platform to further develop a winning mindset and grow their capabilities. He believes IVL is at its turning point in its organizational history and is well-positioned to navigate the challenging horizons ahead by introducing structural changes while amplifying successful initiatives. Because of IVL's digital investments, it saves billions annually from cost reductions in areas such as finance, supply chain, marketing and sales, operations, and human resources.
RS Public Company Limited named as 2020 DX Gamechanger for Thailand:
The RS Group has been inspiring the Thai entertainment culture since 1982, with businesses in television, radio, and lifestyle platforms. The RS Group has harnessed its media industry expertise to pioneer Entertainmerce and develop its multi-platform commerce venture. Using storytelling as the key differentiator, the Group delivers unique and memorable shopping experiences directly to consumers. Now running its own virtual RS Mall, the RS Group has pivoted from being a leader in the traditional media business to a multi-channel digital business. The Group's digital transformation strategy leverages all media channels to facilitate cross-promotion, marketing, and sales initiatives of new products and services. By leveraging data of over 1.4 million clients from existing media channels such as TV and radio, along with its new digital platforms, the RS Group uses additional insights on customer lifestyle and demand. In response, it has transformed viewers and listeners into repeat buyers through increased and targeted brand visibility of RS products and partners, achieving higher sales. Because of its robust response to the emerging digital economy and its inherent competitive advantage, RS Mall achieved record-breaking sales in the first quarter of 2020, with a revenue of THB 586.2 million. As an exemplary case of change and innovation amid fast-paced market disruption, RS Group remains committed to being a customer-centric, data-driven organization.
Krungsri Finnovate named as 2020 Special Award for Resiliency for Thailand:
Krungsri Finnovate is the corporate venture arm of Krungsri Group whose mission to support and promote startups in Thailand and other Southeast Asian countries. With the pandemic primarily affecting small businesses, Krungsri Finnovate looked for a way to support them in this time of need. Thai entrepreneurs demonstrate high potential and many capabilities, but obtaining funding remains the primary obstacle. To give Thai startups a boost amid the COVID-19 pandemic, Krungsri Finnovate launched the Meet the Angels forum. In this forum, Krungsri Finnovate connected angel investors with startup founders via virtual pitching to help catalyze the pandemic-stricken economy. By leveraging its extensive network of established investors, Krungsri Finnovate linked high-potential ideas with funding opportunities to accelerate businesses and receive real-time feedback from experts. Introduced in April 2020, the Meet the Angels forum features over 100 Thai startups, where the top five teams will receive support and consulting from esteemed business leaders. Because of the success of Meet the Angels, it serves as the company's prototype for its future Venture Capitalist (VC) fund which will be offered to the bank's customers.
IDC's DX Awards follows a two-phased approach to determine country and regional winners. Each nomination is evaluated by a team of local and regional IDC analysts against a standard assessment framework based on IDC's DX taxonomy. All country winners will qualify for the regional competition to be decided by a panel of judges comprised of IDC analysts, industry practitioners, thought leaders, and academia around the globe.
All the winning Thailand digital transformation projects were selected as part of almost 1300 high-quality entries received from more than 640 end-user organizations across Asia/Pacific. Country winners will then be pitted other country winners for the same category to ultimately determine the region's best of the best.
The regional winners will be announced on the 23rd of October 2020 in IDC Arena, IDC's new integrated content hub that takes IDC thought leadership events online, and exclusive analyst essential guidance videos on-demand. To get a preview of this game-changing virtual events platform for the ICT industry, click HERE. For more information on IDC DX Awards, please visit www.idcdxawards.com.
IDC defines Digital Transformation (DX) as the approach where organizations drive changes in their business models and business ecosystems by leveraging 3rd Platform technologies (e.g. Cloud, Mobile, Big Data/Analytics, Social and IoT) and competencies. IDC's Asia/Pacific Digital Transformation Strategies research program studies the transformation efforts of organizations across five critical dimensions (leadership, omni-experience, data, operating model, and worksource) in their use of 3rd Platform technologies. This program examines organizations' maturity, key market trends, competitive landscape, and end-user buying behavior from an IT and LOB standpoint. Users can expect both quantitative data and qualitative insights as well as strategies for revenue growth in the marketplace. By combining both supply and demand perspectives, this research helps vendors identify key areas of growth across countries and industries. To learn more about IDC's Asia/Pacific Digital Transformation Strategies and research, visit HERE.
For more information about IDC DX Awards and media inquiries, contact Akash Tiwari atiwari@idc.com
- Ends -
About IDC
International Data Corporation (IDC) is the premier global provider of market intelligence, advisory services, and events for the information technology, telecommunications, and consumer technology markets. With more than 1,100 analysts worldwide, IDC offers global, regional, and local expertise on technology and industry opportunities and trends in over 110 countries. IDC's analysis and insight helps IT professionals, business executives, and the investment community to make fact-based technology decisions and to achieve their key business objectives. Founded in 1964, IDC is a wholly-owned subsidiary of International Data Group (IDG), the world's leading media, data and marketing services company. To learn more about IDC, please visit www.idc.com. Follow IDC on Twitter at @IDC.
Coverage