Current:

UOB and Singtel Joins 9 Other Winners at the IDC Digital Transformation Awards 2020 Asia/Pacific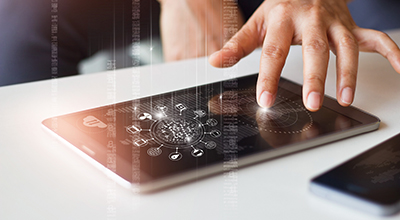 21 Oct 2020
UOB and Singtel Joins 9 Other Winners at the IDC Digital Transformation Awards 2020 Asia/Pacific
SINGAPORE, October 22nd, 2020 – IDC Asia/Pacific revealed today 11 winners at the 2020 Asia/Pacific IDC Digital Transformation Awards (DXa) led by Union Bank of the Philippines (Regional Digital Trailblazer), Piramal Glass (Regional Digital Transformer) and Ather Energy (Regional Digital Disruptor). Singapore-based organizations like UOB and Singtel are also part of the prestigious list of regional winners along with Bank Danamon, Haier Group Corporation, New Zealand Inland Revenue Department, OpenRice Limited, Shinhan Bank, and National Health Insurance Administration, Ministry of Health and Welfare - Taiwan.
Now on its fourth year, IDC's DX Awards celebrates the tech-enabled resilience of enterprises as they reimagine their business in the new normal. This year's DX champions were chosen based on their successful implementation of digital initiatives that address new customer requirements, development of new capabilities, deployment of new critical infrastructure, and pursuit of new industry ecosystems.
Figure 1: 2020 Asia/Pacific IDC Digital Transformation Awards Winners
"Heading into 2020, we knew that the digital economy was upon us. Organizations across the region were equipping themselves with new insights, capabilities, business models, and partnerships, so they could establish themselves as leaders in their respective markets. We saw the digital determination of organizations and their leaders, as they prepared their businesses for a new decade filled with new possibilities. But none of us were truly prepared for what 2020 has brought so far—for organizations in the region, this meant picking up the speed and fast-tracking their digital transformation initiatives to overcome the challenges of a global crisis. This year's DX Awards winners have been tried and tested—and as they endure and emerge more resilient, they have become true digital champions, and examples for their peers across Asia/Pacific," says Sandra Ng, Group Vice President for ICT Practice at IDC Asia/Pacific.
These winners showed exceptional transformative initiatives that helped them rise above more than 1200 nominations in this year's competition.
Union Bank of the Philippines (Philippines) and Edwin R. Bautista named as 2020 Asia/Pacific Digital Trailblazer and 2020 Asia/Pacific DX CEO:
Union Bank of the Philippines (UnionBank) embraces the future of banking and is committed to be the Philippines' leading digital bank to best serve the growing needs of Filipinos everywhere. The bank has always been among the first to embrace technological innovations to empower its customers. UnionBank's digital transformation (DX) strategy reinforced its commitment to deliver a superior customer experience (CX) and promote inclusive prosperity in the Philippines.
Edwin R. Bautista is among the few leaders in the Philippines bold enough to transform the organization immediately. When he started as CEO, he made a promise to not leave anyone behind while delivering superior financial results, which is backed by the bank's two years of record income. He has led the bank's transformation and shared its success story across Asia. Meanwhile, he is a strong advocate of the use of digital technologies in the country as a key to inclusive prosperity through supporting government initiatives and working with partner organizations. UnionBank's transformation led by Mr. Bautista has permeated the organization as UnionBankers remain committed to the organization's purpose, predicated on the fact that the world will continue to evolve and transform to leave no one behind.
Piramal Glass (India) named as 2020 Asia/Pacific Digital Transformer for its Real-Time Manufacturing Insights initiative:
Piramal Glass is a global specialist in glass packaging design, production, and decoration for businesses in the pharmaceutical, cosmetics and perfumery, and specialty food and beverage industries. The company offers complete end-to-end glass packaging solutions in over 50 countries, with its design, production, and decoration footprint in the United States, India, and Sri Lanka having an overall capacity of 1,375 tons daily and using 12 furnaces and 60 production lines. With glass container production a continuous complex manufacturing process with over 150 variables, Piramal Glass has custom-developed Real-Time Manufacturing Insights (RTMI), a smart manufacturing platform, to gain live visibility into operations and analyze defects and losses at various stages. This initiative is at the core of the company's overall digital transformation (DX) to transform itself into an insights-driven organization, led by customer centricity and operational excellence and imbibed with a digital-as-a-fabric perspective. The company has also built a partner ecosystem that provides best-in-class solutions by leveraging analytics, Internet of Things (IoT), cloud, and security and constantly introducing upskilling programs and initiatives for employees, making them future-ready. To date, Piramal Glass has analyzed over 200 million data points from 4,000 sensors and equipment, achieving production efficiency.
Ather Energy (India) named as 2020 Asia/Pacific Digital Disruptor for its Ather 450X: Smart, Connected, Electric Intelligent Scooters:
Founded in 2013 by Tarun Mehta and Swanpnil Jane, Ather Energy is an electric vehicle start-up based in Bangalore. Driving in India can be tricky, with roads cratered with potholes, nameless streets, chronic traffic congestion, and confusing city layouts. To bring cost-effective mobility solutions to India's fast-growing economy, Ather Energy developed Ather 450 and Ather 450X, two intelligent scooters, and established AtherGrid, an electric vehicle charging network. Powered by artificial intelligence (AI) and cloud Internet of Things (IoT) solutions, Ather Energy's scooters provide users structured electricity plans, predictive maintenance, and route optimization information, ensuring long-term transportation cost savings. Cloud software and architecture solutions have also enabled the company's team to deploy microservices in real time constantly, delivering more frequent monthly platform updates to maximize the connected scooters. Innovative updates include "guide me home" lights and real-time ride/energy efficient indicators. Meanwhile, the scooters' aggregated data while on the road has given the Ather Energy team essential intelligence to develop future models based on customer habits and requirements. Ather Energy has since launched its AtherSpace experience center and over 50 charging points and plans to increase its production output to 100,000 units annually.
Joe Yau of OpenRice Limited (Hong Kong) also named as 2020 Asia/Pacific DX CEO:
OpenRice is the most popular and award-winning dining guide in Hong Kong, providing comprehensive dining information, value-added services, user-written restaurant reviews, and ratings in one place, enabling food lovers to find the right dining experience. Shifting from a dining guide to a foodtech ecosystem in the beginning of 2017, OpenRice began by redeveloping its table booking system into a native app and website, connecting consumers, restaurants, and partners in the food and beverage (F&B) and non-F&B sectors. Led by CEO Joe Yau, this new initiative includes transformation of a table booking system into a one-stop merchant platform called OpenRice Biz to support restaurants' dining business journey and the availability of market insights solutions for merchants, as well as agile and digital business operations. Enabling technologies, particularly big data and analytics and artificial intelligence (AI), are adopted to empower the initiative. The OpenRice foodtech ecosystem strives to redefine users' total dining experience and service merchants in marketing and sales, data analytics, as well as business operations, and solutions, bringing both tangible and intangible benefits to stakeholders in the ecosystem. A 24 x 7 online table booking is one of the most used services on OpenRice Biz. As of February 2020, over 1.8 million unique users have booked through OpenRice, with more than an average of 7,000 daily bookings.
Lucheng Chen, Chairman and General Manager of Haier Group's COSMOPlat Internet of Things Ecosystem Technology, Haier Group Corporation (China) named as 2020 DX Leader for Asia/Pacific:
Established in 1984, Haier Group Corporation is a world-leading provider of solutions to better life. In the Internet of Things (IoT) era, Haier Group has transformed from a traditional manufacturing enterprise into an IoT community ecosystem, building the world's leading IoT ecosystem brand. Lucheng Chen, chairman and general manager of Haier COSMOPlat, made sure Haier's Rendanheyi model was observed to encourage continuous innovations within the organization. Furthermore, Haier has penetrated the technical fields of artificial intelligence (AI), blockchain, cloud computing, data technology, edge computing, facial recognition, and 5G (ABCDEFG), digitized all business processes, and repeatedly attained increased user, enterprise, and ecosystem value through its COSMOPlat industrial internet platform. Under his leadership, this platform has supported Haier Group in the upgrade of its seven major nodes comprehensively and implemented a mass customization model with the successful participation of users in the processes of its 15 intelligent interconnected factories. With COSMOPlat, Haier Group has also empowered more small and medium-sized enterprises (SMEs) to realize the value of digital transformation (DX) and high-quality development through its "1 + 7 + N" experiential cloud platform. To date, the mass customization model has been replicated in 15 industries, 12 regions, and more than 20 countries.
Bank Danamon (Indonesia) named as 2020 Asia/Pacific DX Gamechanger for its Danamon Digital Transformation initiative:
Established in 1956, Bank Danamon is one of Indonesia's largest financial institutions, serving consumers, micro, small, and medium-sized enterprises (MSMEs), and enterprise banking segments. It also offers Sharia banking services and provides financing for automotive and consumer goods through its subsidiary, Adira Finance. The bank operates an extensive distribution network spread out across Indonesia, with 910 branches and subsidiary service outlets. In 2018, Bank Danamon established its digital strategy, accelerated by the strategic investments of the Mitsubishi UFJ Financial Group (MUFG) and MUFG Innovation Partners in partnership with Indonesia's prominent digital players. The strategy focuses on the three pillars of a digitally enabled integrated network, high-touch services, and a digital core and has shifted the bank's traditional risk approach, marking its move into the digital lending arena. Bank Danamon launched its API Central in 2018. Notable strategic partnerships have also been established with GoPay, Tokopedia, and Carsome. It has also partnered with Investree and signed its first loan channeling agreement to cater to SMEs. Bank Danamon has also launched the D-Bank app for online account registration and D-BisMart app for business owners involved in the supply chain community.
New Zealand Inland Revenue Department (New Zealand) named as 2020 Asia/Pacific Information Visionary for its Inland Revenue Business Transformation Program:
The New Zealand Inland Revenue Department (IRD) plays a critical role in contributing to the economic and social well-being of New Zealanders. Its comprehensive multiyear transformation project features a well-integrated digital transformation (DX) strategy and road map that is constantly evolving with information management at the DX strategy's core. Information transformation is infused into all stages of the road map with the objective of removing information silos and barriers to enable better services to stakeholders. The transformation program includes IRD's new technology platform, START, a modern, resilient, and configurable platform that integrates tax and social policy products. In addition, a new data and intelligence platform (DIP) has enabled vast and varied data collection to facilitate quicker responses in emerging trends and inform decisions, complementing analytical capabilities available in START to tailor-fit proactive interventions for customers. Other new tools include information and knowledge management capabilities, advanced analytics and approaches, and improved business intelligence and reporting. The program also includes a focus on creating an inclusive culture that is customer-centric, agile, and intelligence-led, with IRD supporting customers and staff through significant training and communications programs to articulate the benefits of IRD's modern revenue technology program. For the fiscal year that ended in June 30, 2020, IRD collected US$76.1 billion — over 80% of Crown Revenue. IRD has successfully transformed New Zealand's revenue system by changing every aspect of the way the system operates while maintaining consistent and uninterrupted services in collecting tax and paying entitlements.
Shinhan Bank (Korea) named as 2020 Asia/Pacific Omni-Experience Innovator for its Establishment of the R-Offering System for Real-Time Customer Management of Omni Channel:
Shinhan Bank, South Korea's second-largest commercial bank, has a long history in the country. To further cement its legacy, it pioneered the use of digital technologies, strengthening customer centricity in its business model. Previously, the company's collection of digital journey results and insight application, which was derived punctually, lacked linkage. Hence, the bank rolled out the Real-Time Offering (R-Offering) system, a real-time event detection and processing platform, to provide customers and employees with offers and information, analyze customer behavior patterns and trends, and resolve customer needs as they occur. To this end, R-Offering analyzes 120 million pieces of data daily from 25 million customer situations throughout 21 contact points in branch counters, apps, internet banking websites, and chatbots, as well as detects events generated by customer bank transactions in real time. Because of its advanced features, the platform supports processing activities by detecting missing employee and customer information and augments sales processes by uncovering new opportunities. With R-Offering in place, clients and personnel can access relevant deals and data points in as quick as one minute throughout 12 channels.
Singtel named as 2020 Asia/Pacific Operating Model Master for its Singtel Operating Model Transformation Program:
The Singtel Group is Asia's leading communications group, providing a diverse range of services, including fixed, mobile, data, internet, TV, ICT, and digital solutions. Headquartered in Singapore, Singtel has 140 years of operating experience, playing a pivotal role in the country's development as a major communications hub. In 2019, it launched the Singtel Operating Model Transformation Program (SOMTP) to transform the organization's operating model for developing and enhancing its digital products and services. The program provides the framework to develop innovative digital business models and ecosystems. In doing so, SOMTP enables the company to penetrate new markets. Its key pillars include incorporating rigorous user experience (UX) design practices into product development to meet high usability standards and customer needs, reengineering core systems and processes for seamless and consistent high-quality experiences across devices and channels, reconfiguring digital capabilities to make them reusable and shareable with other Singtel products, and accelerating time to market by adopting agile and DevOps best practices. Since the program's implementation, the company has seen a significant increase in its digital services' adoption, growing in all stages of the customer journey — from discovery and sales to customer care. For instance, the My Singtel app's transactions increased by 40% in 2019. Furthermore, SOMTP has enabled Singtel to accelerate and monetize innovative services for nontelecommunications verticals, such as insurance, wellness, and food and beverage (F&B).
United Overseas Bank named as 2020 Asia/Pacific Talent Accelerator for its UOB Enterprise Data and Analytics Transformation:
United Overseas Bank Limited (UOB) is a leading bank in Asia with a global network of more than 500 offices in 19 countries and territories in Asia Pacific, Europe and North America. UOB's Enterprise Data and Analytics Transformation strategy is accelerating the adoption and usage of data and analytics to drive business transformation across UOB Group. Underpinning the Bank's strategy is its holistic approach that focuses on enhancing people and data capabilities, processes, and technology. In 2019, UOB's Data Management Office and the Bank's Human Resources function created a Group-wide learning and development programme called Better U to help the bank's more than 26,000 employees deepen their digital and data skills. Better U is the first in-house designed digital, data, and soft skills training programme to receive accreditation by the Institute of Banking and Finance Singapore. UOB is also a leader in nurturing a pipeline of future talent in data analytics through traineeships and scholarships, such as the Master of Science in Accounting (Data and Analytics) scholarship at the Singapore Management University.
National Health Insurance Administration, Ministry of Health and Welfare (Taiwan) named as recipient of the 2020 Special Award for Resiliency in Asia/Pacific for its Elevating the Network of MediCloud System:
Since its launch in 1995, the National Health Insurance Administration (NHIA) under the jurisdiction of Taiwan's Ministry of Health and Welfare has provided convenient and integrated medical services to ensure equality in healthcare access with the National Health Insurance (NHI) system. Capitalizing on novel technologies, NHIA created a people-centered healthcare model that featured digital health competence, innovative community services, and smart medicine. Because of its early digital investments, the NHIA was equipped with the organizational flexibility to develop a real-time alarm system called NHI MediCloud System for travel history, occupation, contact history, and cluster history (TOCC) tracking, and telemedicine. This system proved to be instrumental in NHIA's response to the COVID-19 pandemic because it sent timely and relevant messages to healthcare institutions and helped minimize transmissions. This early preparedness endeavor restricted vulnerabilities in the prevention and control program, minimized the pandemic's threat, and became the new norm of pandemic prevention and control in the international community. For post-pandemic reconstruction, NHIA operates with digital technology incorporation and cross-agency digital integration by facilitating public–private partnerships, connecting with NHIA's big data network, enhancing NHI database functions, developing a smart healthcare system, promoting precision healthcare applications, loosening regulations to empower physicians, and rooting telemedicine models.
IDC's DX Awards follows a two-phased approach to determine country and regional winners. Each nomination is evaluated by a team of local and regional IDC analysts against a standard assessment framework based on IDC's DX taxonomy. All country winners will qualify for the regional competition to be decided by a panel of judges comprised of IDC analysts, industry practitioners, thought leaders, and academia around the globe.
All the winning digital transformation projects were selected as part of almost 1300 high-quality entries received from more than 640 end-user organizations across Asia/Pacific*. Country winners will then be pitted other country winners for the same category to ultimately determine the region's best of the best.
IDC's new integrated content hub that takes IDC thought leadership events online, and exclusive analyst essential guidance videos on-demand. To get a preview of this game-changing virtual events platform for the ICT industry, click HERE. For more information on IDC DX Awards, please visit www.idcdxawards.com.
IDC defines Digital Transformation (DX) as the approach where organizations drive changes in their business models and business ecosystems by leveraging 3rd Platform technologies (e.g. Cloud, Mobile, Big Data/Analytics, Social and IoT) and competencies. IDC's Asia/Pacific Digital Transformation Strategies research program studies the transformation efforts of organizations across five critical dimensions (leadership, omni-experience, data, operating model, and worksource) in their use of 3rd Platform technologies. This program examines organizations' maturity, key market trends, competitive landscape, and end-user buying behavior from an IT and LOB standpoint. Users can expect both quantitative data and qualitative insights as well as strategies for revenue growth in the marketplace. By combining both supply and demand perspectives, this research helps vendors identify key areas of growth across countries and industries. To learn more about IDC's Asia/Pacific Digital Transformation Strategies and research, visit HERE.
For more information about IDC DX Awards, contact Celeste Narvaez cnarvaez@idc.com or Paula Jalosjos pjalosjos@idc.com. For media inquiries, contact Tessa Rago trago@idc.com or Alvin Afuang aafuang@idc.com.
- Ends -
About IDC
International Data Corporation (IDC) is the premier global provider of market intelligence, advisory services, and events for the information technology, telecommunications, and consumer technology markets. With more than 1,100 analysts worldwide, IDC offers global, regional, and local expertise on technology and industry opportunities and trends in over 110 countries. IDC's analysis and insight helps IT professionals, business executives, and the investment community to make fact-based technology decisions and to achieve their key business objectives. Founded in 1964, IDC is a wholly-owned subsidiary of International Data Group (IDG), the world's leading media, data and marketing services company. To learn more about IDC, please visit www.idc.com. Follow IDC on Twitter at @IDC.
Coverage