Current:

Borderless Connectivity Fundamental to Successful Digital Transformation in the Next Normal, says IDC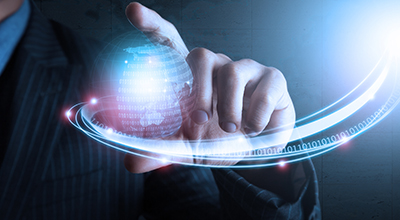 24 Nov 2020
Borderless Connectivity Fundamental to Successful Digital Transformation in the Next Normal, says IDC
SINGAPORE, November 25th, 2020 – In the era of COVID-19 and the New Normal, connectivity has come to the fore as the glue which binds the digital economy. Businesses are focused on the delivery of continuity, resiliency, scalability, and anywhere and anytime access for their customers, partners, and employees. IDC reports that connectivity is now recognized by CEOs as one of the top three strategic elements in their digital transformation strategy. IDC predicts that through 2022 in Asia/Pacific*, 45% of enhanced digital customer experiences continue to fail due to underinvestment in intelligent, dynamic network architectures and technologies required for modern applications.
"Data lubricates the digital economy. All enterprises operate within the global economy and need to have visibility into the state of their business. This visibility alongside data and analytics-driven insights allow for the making of sound business decisions. The expansion of the data landscape to include increasing numbers of people and things is going to accelerate digital connection and in turn, unveil the Future of Connectedness. These connections are the sinews of how we live, work and play," says Hugh Ujhazy, Vice President for Telecom and IoT research at IDC Asia/Pacific.
In light of these realities, IDC has created the Future of Connectedness Continuum framework comprised of three separate but interdependent layers. The delivery of effective business outcomes is dependent on the cooperation between applications, processes, people and thing as they operate within a data cycle moving from data creation to data consumption.
Looking ahead, IDC defined the shape of the Future of Connectedness: first, as the timely movement of data across people, things, applications, and processes to create seamless digital experiences; and second, by decomposing this future into the considerations when thinking about connectivity and the role it plays in the Future Enterprise.
The Future of Connectedness will require more strategic planning, greater oversight, and additional investment. The latest forecast for telecom services spending is more optimistic than the one published a few months ago, primarily due to better-than-expected results reported by telecom operators in the Asia/Pacific region – especially in China. With the Chinese economy's fast recovery, it brought a new wave of optimism and boosted demand for telecommunication services. Furthermore, India – the third largest market in the Asia/Pacific region – also witnessed unexpected positive movement. With this in hand, organizations will be able to develop seamless engagement models to interact with their specific ecosystems. Connectedness will be the underpinning of it all.
To further guide technology and business leaders on their preparation for the tectonic shifts in the Next Normal, we're giving you the opportunity to #AskIDC analysts about their technology predictions on the 9 CEO agenda that will dominate the next 18 months and beyond. Join us at our #AskIDC Predictions Webinars: A First Take on the Future. Comprised of nine topics these interactive sessions will take a closer look at technology themes that align with changing C-Suite priorities to accelerate digital innovation. For more information on these webinars, visit bit.ly/ askIDC -future.
The IDC report, Future of Connectedness: Defined (IDC #US46806820), provides a framework for connectedness in the future enterprise and provides guidance to organizations as they look to become connected players in the new digital era. To learn more about IDC's Future of Connectedness framework, please read Carrie MacGillivray's blog post HERE. For media inquiries, please contact Theresa Rago at trago@idc.com or Alvin Afuang at aafuang@idc.com.
-Ends-
About IDC
International Data Corporation (IDC) is the premier global provider of market intelligence, advisory services, and events for the information technology, telecommunications, and consumer technology markets. With more than 1,100 analysts worldwide, IDC offers global, regional, and local expertise on technology and industry opportunities and trends in over 110 countries. IDC's analysis and insight helps IT professionals, business executives, and the investment community to make fact-based technology decisions and to achieve their key business objectives. Founded in 1964, IDC is a wholly-owned subsidiary of International Data Group (IDG), the world's leading tech media, data and marketing services company. To learn more about IDC, please visit www.idc.com. Follow IDC on Twitter at @IDC and LinkedIn. Subscribe to the IDC Blog for industry news and insights: http://bit.ly/IDCBlog_Subscribe.
Coverage