Current:

IDC Reveals Asia/Pacific* Manufacturing Predictions for 2021 and Beyond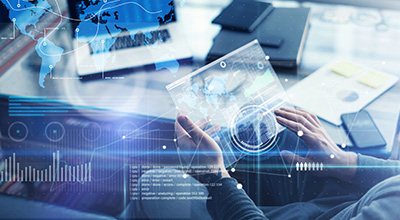 11 Mar 2021
IDC Reveals Asia/Pacific* Manufacturing Predictions for 2021 and Beyond
IDC Predicts 60% of All Manufacturing Supply Chains will have Invested in the Technology and Business Processes Necessary for True Resiliency by the end of 2021
SINGAPORE, March 12, 2021 – In 2020 and with the onset of the COVID-19 pandemic, Asia/Pacific excluding Japan (APEJ) manufacturing is one of the hardest-hit sectors because of challenges from both supply and demand uncertainties. To help manufacturers get a clearer picture on the technology investments required to address the future disruptions, IDC Manufacturing Insights Asia/Pacific's has released the document IDC FutureScape: Worldwide Manufacturing 2021 Predictions – Asia/Pacific (Excluding Japan) Implications outlining the 2021 Top 10 Technology trends for the Asia/Pacific manufacturing sector.
"2021 will continue to be volatile and unclear in terms of revenue guidance though majority of the organizations will be taking decisive steps and make investments to increase their digitalization footprint," says Sampath Kumar Venkataswamy, Research Manager at IDC Manufacturing Insights Asia/Pacific.
According to IDC's COVID-19 Survey waves 2020, the primary choice in terms of technology enablers is a cloud-based platform which aids in centralized decision-making routines; thus, IDC expects total spending towards hosted applications to continue. Robotic process automation (RPA), is another critical area of focus, allowing organizations to automate various functionalities (e.g., order management, procurement, compliance management, payment approvals, and contract renewals) and bridging the divide between legacy systems and modern capabilities. Several initiatives, such as direct-to-customer and manufacturing postponement, are also considered to reduce the go-to-market (GTM) time and increase product reach and operational scale.
Supply chain challenges were highlighted dramatically for many manufacturers as the pandemic took hold in 2020. IDC is expecting spending on smart warehousing and supplier network management to reach US$21.5 billion by 2024, indicating a growing focus on both process and technology investments targeted at embedding intelligence across the overall supply chain. Along with improving resiliency, these investments will bring an element of agility and flexibility helping organizations to react and pivot their offerings and operations more effectively.
"The pandemic has put supply chain risk on the agenda. Risk mitigation through ecosystem partnerships and platform unifications are some of the key initiatives that organizations will need to further invest on to increase their ability to flex and adapt to changing market conditions," adds Venkataswamy. Extended collaboration enables companies to achieve higher resiliency levels in their operational processes and addresses the need for increased supply chain visibility. The supply chain network's transformation from a lean, efficient transaction-driven system, to a collaborative, agile, and customer-driven ecosystem provides competitive differentiation points in delivering effective and alternative business models.
Some of the key Manufacturing predictions that will impact both technology buyers and suppliers in Asia/Pacific* are:
Prediction #1: By 2026, 50% of A2000 companies will have used AI to develop guidance and insights for risk-based operational decision making, compared with less than 5% of A2000 companies today.
Prediction #2: By 2023, to support autonomous operations, organizations will have increased their investments in data governance, digital engineering organizations, and digital operations technologies by 50%. 
Prediction #3: By 2026, 50% of A2000 organizations will have developed industry ecosystem digital operation centers to monitor capacity, expertise, market, and environmental conditions, for 60% faster time to market.
Each year, IDC releases its Top Predictions through its IDC FutureScape reports to give a crystal ball view of what is ahead for the rapidly changing ICT industry. These predictions have been used to shape the strategies and business objectives of technology leaders and business executives in the next 1-5 years. For more information about the upcoming IDC FutureScape reports, please click HERE.
The full set of manufacturing predictions for Asia/Pacific are found in the document IDC FutureScape: Worldwide Manufacturing 2021 Predictions – Asia/Pacific (Excluding Japan) Implications. To know more about this report, please contact Sampath Kumar Venkataswamy at svenkataswamy@idc.com or Stephanie Krishnan at stkrishnan@idc.com.
IDC Manufacturing Insights: Asia/Pacific Manufacturing Digital Transformation Strategies research advisory service provides the latest trends and developments in information and communication technology (ICT) and digital strategies for the manufacturing sector. This service delivers fact-based research and analysis from IDC Manufacturing Insights' expert analysts to help manufacturers make better-informed business decisions by developing cost-effective ICT strategies and tactics to compete and thrive in the global economy. It is imperative that organizations monitor and assess their supply chains continuously and bring in incremental improvements that can provide them the much-needed agility to react faster and stay operationally resilient. To learn more, contact Stephanie Krishnan at stkrishnan@idc.com or click HERE.
For sales inquiries on an IDC FutureScape document, please contact Tessa Rago at trago@idc.com or Sheryl Fuertez at sfuertez@idc.com. For media inquiries, please contact Alvin Afuang at aafuang@idc.com or Charles Tamayo at cjtamayo@idc.com.
*Note: Asia/Pacific excluding Japan
-Ends-
About IDC Manufacturing Insights
IDC Manufacturing Insights assists businesses and IT leaders, as well as the suppliers that serve them, in making more effective technology decisions by providing accurate, timely, and insightful fact-based research and consulting services. Staffed by senior analysts with decades of industry experience, our global research analyzes and advises on business and technology issues facing the manufacturing industries.
About IDC
International Data Corporation (IDC) is the premier global provider of market intelligence, advisory services, and events for the information technology, telecommunications, and consumer technology markets. With more than 1,100 analysts worldwide, IDC offers global, regional, and local expertise on technology and industry opportunities and trends in over 110 countries. IDC's analysis and insight helps IT professionals, business executives, and the investment community to make fact-based technology decisions and to achieve their key business objectives. Founded in 1964, IDC is a wholly-owned subsidiary of International Data Group (IDG), the world's leading tech media, data and marketing services company. To learn more about IDC, please visit www.idc.com. Follow IDC on Twitter at @IDC  and LinkedIn. Subscribe to the IDC Blog for industry news and insights: http://bit.ly/IDCBlog_Subscribe.
Coverage