Current:

Future Enterprises in Asia/Pacific Leverage Digital Infrastructure for Resilient Business Operations, says IDC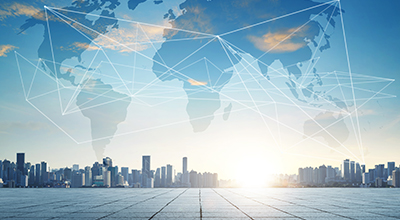 28 Mar 2021
Future Enterprises in Asia/Pacific Leverage Digital Infrastructure for Resilient Business Operations, says IDC
SINGAPORE, March 29, 2021 – Future Enterprises will require modern digital infrastructure that is highly resilient, flexible, agile, and infinitely scalable to deliver digitally enabled products, services, and pervasive experiences. Cloud-centric platforms and technologies which can deliver autonomous IT service capabilities with ubiquitous experience across deployment models will be the keystones of customer's digital infrastructure journey over the next several years, according to IDC. IDC recently published IDC FutureScape: Worldwide Future of Digital Infrastructure 2021 Predictions — Asia/Pacific (Excluding Japan) Implications report which provides predictions for Future of Digital Infrastructure for 2021 and beyond. The report is intended to provide strong advisory for technology buyers to build highly resilient, scalable and agile infrastructure that meets the most challenging digital business KPIs, today and tomorrow.
"Asian businesses intending to thrive and succeed in the digital paradigm will need to make strategic investments in bullet-proofing their IT infrastructure with modern, innovative, and disruptive technology solutions which deliver infinite scale, highest levels of agility, and extremely flexibility," says Rajnish Arora, Vice President for Enterprise Infrastructure research at IDC Asia/Pacific.
IDC's Future of Digital Infrastructure research framework is built around three key strategic elements which are: using cloud-native technology to power infrastructure that spans from the core to the edge and encompasses private and public cloud deployments; AI/ML-powered tools for automated provisioning of resources based on business KPIs and SLAs; and delivering a consistent experience of deployment across myriad locations and consumption models.
Businesses across vertical industries are transforming and modernizing their IT infrastructure at an accelerated pace across Asia/Pacific*. which will enable them to run modern data-driven cloud enabled workloads as well as many of the traditional business-critical workloads on a common architecture. Asian enterprises are leveraging cloud-enabled architectures which ensure seamless mobility of applications and data across different destinations using software-defined intelligence for automated provisioning, orchestration, and management of IT resources using software-defined intelligence and AI/ML-powered technologies. Enterprises will rely on key infrastructure KPIs and metrics tied to optimization, resiliency, and ongoing enhancement to drive C-Level decision making.
To accelerate their data-driven innovation agenda, organizations must build a single cohesive data management strategy that spans across lines of business and business functions. Data security, governance and trust, data access quality, and data analysis capabilities across all deployment locations will be the underpinning catalysts of enterprise-wide data management strategy.
The following three predictions out of the top 10 predictions for Future of Digital Infrastructure are expected to have profound impact on technology buyer decisions around infrastructure modernization and transformation over the next several years.
Prediction 4: By 2023, 65% of digitally transformed enterprises rely on key infrastructure metrics tied to optimization, resiliency, and ongoing enhancement to drive C-Level decision making.
Prediction 8: By 2024, 75% of the enterprises prioritize infrastructure agility and operational efficiency leading to a 5X increase in the adoption of cloud-native architectures for core business applications.
Prediction 9: By 2024, recurring infrastructure failures that inhibit business resiliency and security across all locations drives 60% of enterprises to mandate the use of automated digital infrastructure
Each year, IDC releases its Top Predictions through its IDC FutureScape reports to give a crystal ball view of what lies ahead for the rapidly changing ICT industry. These predictions are used to shape the strategies and business objectives of technology leaders and business executives in the next 1-5 years. For more information about the upcoming IDC FutureScape reports, please click HERE.
The full set of Future of Digital Infrastructure predictions for Asia/Pacific* are found in the document IDC FutureScape: Worldwide Future of Digital Infrastructure 2021 Predictions — Asia/Pacific (Excluding Japan) Implications . To know more about this document, please contact Rajnish Arora at rarora@idc.com.
If you are interested to learn more about IDC predictions around the 9 CEO agenda topics, tune in to the #AskIDC First Take on the Future series. This series centers around IDC's predictions on the Future of Digital Infrastructure, Operations, Trust, Intelligence, Work, Digital Innovation, Customers and Consumers, Connectedness, and Industry Ecosystems. To access this webinar series, visit www.idcarena.com/askidc-futurescape-2021.
For sales inquiries on an IDC FutureScape document, please contact Tessa Rago at trago@idc.com or Sheryl Fuertez at sfuertez@idc.com. For media inquiries, please contact or Alvin Afuang at aafuang@idc.com or Charles Tamayo at cjtamayo@idc.com.
*Note: Asia/Pacific excluding Japan
-Ends-
About IDC FutureScape
IDC FutureScape are used to shape IT strategy and planning for the enterprise by providing a basic framework for evaluating IT initiatives in terms of their value to business strategy now and in the foreseeable future. IDC's FutureScape are comprised of a set of decision imperatives designed to identify a range of pending issues that CIOs and senior technology professionals will confront within the typical 3-year business planning cycle.
About IDC
International Data Corporation (IDC) is the premier global provider of market intelligence, advisory services, and events for the information technology, telecommunications, and consumer technology markets. With more than 1,100 analysts worldwide, IDC offers global, regional, and local expertise on technology and industry opportunities and trends in over 110 countries. IDC's analysis and insight helps IT professionals, business executives, and the investment community to make fact-based technology decisions and to achieve their key business objectives. Founded in 1964, IDC is a wholly-owned subsidiary of International Data Group (IDG), the world's leading tech media, data and marketing services company. To learn more about IDC, please visit www.idc.com. Follow IDC on Twitter at @IDC  and LinkedIn. Subscribe to the IDC Blog for industry news and insights: http://bit.ly/IDCBlog_Subscribe.
Coverage