Current:

Three Companies Offering Application Programming Interfaces in BFSI Sector in India Named IDC Innovators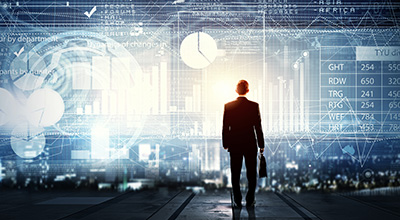 08 Jun 2021
Three Companies Offering Application Programming Interfaces in BFSI Sector in India Named IDC Innovators
NEW DELHI, June 8, 2021 – International Data Corporation (IDC) has published a new IDC Innovators report profiling three companies that provide Application Programming Interfaces (APIs) in the banking, financial services, and insurance (BFSI) sector in India. IDC has evaluated multiple Indian startups based on their offerings, existing client's feedback, security, and features provided. After comprehensive evaluation and analysis of capabilities, IDC has identified three start-ups that are addressing the need for APIs, and helping BFSI companies meet their customers' financial needs, as IDC innovators. The three companies are Artivatic, Crediwatch, and Setu.
"Leveraging data for enhanced customer experience is among the top priorities for the Indian organizations and in that context, APIs have become essential for the financial institutes in driving the innovation for a seamless experience for the customers. Meeting current and the future customers' demands is pivotal and by deploying APIs, banks can connect with the customers but also enhance the possibilities of reaching out to a larger customer base," says Rishu Sharma, Principal Analyst, Cloud and AI, IDC India.
India is gradually getting recognized as a home for technology startups serving multiple industries. Investors and global players are showing interest to invest, collaborate and create innovative solutions with the emerging vendors in the ecosystem. Banking and financial services industry in India is at the forefront when it comes to experiment and benefit from newer technologies like AI, analytics, and cloud. With open banking initiatives gaining momentum since the launch of Unified Payment Interface (UPI) by the National Payments Council of India (NPCI) in 2016, the BFSI sector is evolving into an Application Programming Interface (API)-based collaborative model. Open Banking with the support of APIs is proving to be one of the key advancements in the overall BFSI industry.
"The launch of UPI in 2016 completely disrupted the traditional banking practices with key banks in India launching APIs thereafter. With multiple banks now offering such services, this acted as an opportunity for start-ups to come up with innovative APIs and boost the overall open banking ecosystem. In a race to meet constantly changing needs of the customers and ensure safety, top banks in India now adopt to innovations faster than ever," says Swapnil Shende, Senior Market Analyst, AI at IDC India
COVID-19 pandemic has served as a veritable catalyst and came with a silver bullet resulting in an accelerated approach of banks for technology adoption as the way forward. Open Banking proved to be the opportunity for the solution providers with APIs ecosystem prepared for the next phase of growth. The APIs by these innovators have helped BFSI players to perform a multitude of operations such as accelerated policy issuance to customers, payments, lending, risks, and others. Taking this ahead, banks partner with fintech players and technology start-ups who are agile and showcase a strong technology background to bring innovations in the ecosystem and better serve their customers.
"Banks are bracing themselves to the inevitable structural changes accelerated by open banking. To adapt to this new reality, banks need to aggressively deploy APIs for expanding their circle of engagement and influence in increasingly competitive digital ecosystem," says Ganesh Vasudevan, Research Director, Financial Insights.
The report, IDC Innovators: APIs Transforming BFSI in India, 2021 (IDC # AP47682721 ), profiles three emerging vendors that offer APIs for banking and financial services in India. The three API solutions providing companies are:
Artivatic API suites include 5 categories: Distribution, Intelligence, risk assessments, service, and decision. It provides personalized insurance products based on customer requirements in nearly 60 seconds using data, technology, and process.
Crediwatch is a Digital Trust Platform that deploys scalable ML and AI tools, provides actionable credit intelligence and monitoring as a service to financial institutions. Crediwatch provides more than 30 different APIs to financial customers for onboarding, underwriting, and monitoring applications.
Setu's platform serves as an infra layer for building fintech products and provides an open API-based approach that reduces the time needed to build new digital journeys.
About IDC Innovators
IDC Innovators reports present a set of vendors – under US$100 million in revenue at time of selection – chosen by an IDC analyst within a specific market that offer an innovative new technology, a groundbreaking approach to an existing issue, and/or an interesting new business model. It is not an exhaustive evaluation of all companies in a segment or a comparative ranking of the companies. Vendors in the process of being acquired by a larger company may be included in the report provided the acquisition is not finalized at the time of publication of the report. Vendors funded by venture capital firms may also be included in the report even if the venture capital firm has a financial stake in the vendor's company. IDC INNOVATOR and IDC INNOVATORS are trademarks of International Data Group, Inc.
For more information about IDC Innovators research, please contact Jennifer Melker at jmelker@idc.com. For information about IDC India's research services, please contact Shivani Anand, Senior Marketing Specialist at sanand@idc.com. You can also follow IDC India's Twitter  and LinkedIn  pages for regular updates.
About IDC
International Data Corporation (IDC) is the premier global provider of market intelligence, advisory services, and events for the information technology, telecommunications, and consumer technology markets. With more than 1,100 analysts worldwide, IDC offers global, regional, and local expertise on technology and industry opportunities and trends in over 110 countries. IDC's analysis and insight helps IT professionals, business executives, and the investment community to make fact-based technology decisions and to achieve their key business objectives. Founded in 1964, IDC is a wholly-owned subsidiary of International Data Group (IDG), the world's leading tech media, data and marketing services company. To learn more about IDC, please visit www.idc.com. Follow IDC on Twitter at @IDC and LinkedIn. Subscribe to the IDC Blog for industry news and insights: http://bit.ly/IDCBlog_Subscribe.
Coverage