Current:

IDC Future Enterprise Award 2021 Winners Announced for Australia and New Zealand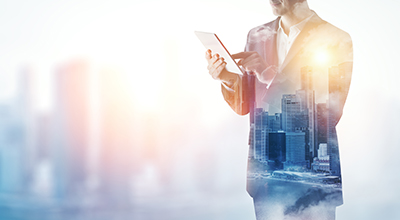 14 Oct 2021
IDC Future Enterprise Award 2021 Winners Announced for Australia and New Zealand
IDC PRESS Release
IDC 2021 Future Enterprise Award Finalists Announced for Australia and New Zealand
AUCKLAND, NEW ZEALAND, 15 October 2021 – IDC has announced this year's winners in the Future Enterprise (FE) Awards (formerly DX Awards) for Australia and New Zealand. This year's Future Enterprise benchmarks were chosen based on an organisation's successful implementation of digital initiatives that address new customer requirements, development of new capabilities, deployment of new critical infrastructure, and pursuit of new industry ecosystems.
New Zealand's Earthquake Commission went home with two awards, the overall award for Future Enterprise of the Year and Best in Future of Industry Ecosystems. Auckland Airport also won two awards, taking out the Future of Operations and a special award for Digital Resiliency. Other winners included AGL, BPAY Group, City of Sydney, Cue Clothing, Sydney Local Health District, Todd Energy and Waste Management NZ, who all distinguished themselves for their discernible and measurable excellence in their digital transformation efforts and significant efforts to transform or disrupt the market.
IDC Australia and New Zealand Managing Director, and awards judge, Tehmasp Parekh, said "The extremely high calibre of this year's winners provides a stunning example of how Australia and New Zealand businesses have thrived through transformation in a time of uncertainty and chaos. The importance of digital acceleration and innovation were further amplified in 2021. All the winners have demonstrated an outstanding transformation programme"
Here are this year's Future Enterprise Awards categories and winners, featuring nine new digital agenda items that IDC says will be the new benchmarks for what it takes to lead in the changed world.
The 2021 winners are:
• The Earthquake Commission (New Zealand)
o 2021 Future Enterprise of the Year
o 2021 Best in Future of Industry Ecosystems
• Auckland Airport (New Zealand)
o 2021 Best in Future of Operations
o 2021 Special Award for Digital Resliency
• AGL (Australia) was named as the 2021 Best in Future of Intelligence
• BPAY Group (Australia) was named as the 2021 Best in Future of Trust
• City of Sydney (Australia) was named as the 2021 Best in Future of Digital Innovation
• Cue Clothing (Australia) was named as the 2021 Best in Future of Customers and Consumers
• Sydney Local Health District (Australia) was named as the 2021 Best in Future of Work
• Waste Management NZ (New Zealand) was named as the 2021 Best in Future of Connectedness
• Todd Energy (New Zealand) was named as the 2021 Best in Future of Digital Infrastructure
[Refer below for winner bios]
IDC's Future Enterprise Awards follows a two-phased approach to determine the country and regional finalists and winners. Each nomination is evaluated by a local IDC analyst or a regional IDC analyst against a standard assessment framework based on IDC's Future Enterprise taxonomy.
The winners will go on to represent Australia and New Zealand in the regional awards, where they will be benchmarked against other winners in the same category to ultimately determine the region's best of the best.
For more information on the awards and judging criteria, please visit the IDC Future Enterprise awards website www.idcdxawards.com.
For media inquiries, contact Rebecca Baily rbaily@idc.com.
- Ends -
About IDC
International Data Corporation (IDC) is the premier global provider of market intelligence, advisory services, and events for the information technology, telecommunications, and consumer technology markets. With more than 1,100 analysts worldwide, IDC offers global, regional, and local expertise on technology, IT benchmarking and sourcing, and industry opportunities and trends in over 110 countries. IDC's analysis and insight helps IT professionals, business executives, and the investment community to make fact-based technology decisions and to achieve their key business objectives. Founded in 1964, IDC is a wholly owned subsidiary of International Data Group (IDG), the world's leading tech media, data, and marketing services company. To learn more about IDC, please visit www.idc.com. Follow IDC on Twitter at @IDC and LinkedIn. Subscribe to the IDC Blog for industry news and insights. 
Media contact:
Rebecca Baily
Senior Events Manager
IDC Australia & New Zealand
+64 27 737 9249
WINNERS BIO'S
The Earthquake Commission
The Earthquake Commission (EQC) is a small organisation with a big role. EQC manages NZ's Natural Disaster Fund, invests in natural disaster research, and provides natural disaster insurance for damage to residential properties. Over the past 18 months, EQC has partnered with the insurance industry to implement a new Natural Disaster Response Model; a model that is the first of its kind globally, that puts customers at the heart of the insurance response to natural disasters. Insurers now work directly with customers on EQC's behalf, providing a single customer touchpoint for the end-to-end claims experience, while also leveraging industry expertise and capacity to respond to natural disasters with much greater speed and accuracy.
Past learning from the Canterbury Earthquake Sequence and the Kaikoura Earthquakes in particular provided motivation to implement a strategy to redefine their operating model that delivered a step change in customer experience, scale, and efficiency. The new private-public partnership relies on improved data sharing, facilitated by the implementation of a range of leading-edge technology solutions delivered at scale and pace - including the deployment of a modern, cloud-based data platform acting as an aggregation point for insurance data. This provides Government and industry with a single aggregated view of the insurance recovery following a natural disaster event, strengthening NZ's disaster recovery response.
The unique public-private partnership now in place with the insurance industry, enabled by EQC's digital and data transformation, ensures NZ has the capabilities in place to support people when a natural disaster strikes and provide the streamlined services they deserve.
Auckland Airport
Auckland Airport is a gateway for travel, trade and tourism and New Zealand's connection to the world, welcoming millions of passengers each year. The Total Airport Management system has been created out of necessity, with the pandemic significantly affecting Auckland Airport. A reduction in staff levels, a requirement for continued support of critical freight and repatriation flights and a new split-terminal airport system required significant adjustment. Total Airport Management allows Auckland Airport to predict, plan and respond to issues in real time, providing an improved customer experience.
The Total Airport Management approach has allowed Auckland Airport to utilise data in more meaningful ways. Simple changes can create large results, for example shifting a planned break by 20 minutes can entirely prevent a predicted 900-person queue. The project has replaced aging data infrastructure, jumping to a modern best practice architecture able to support the business, creating a more nimble organisation which receives constant feedback and can act quickly or even pre-empt issues. The Total Airport Management system has helped break down silos within departments and created stronger connections with partners as well as engaging users across the business in new tools and ways of working.
Cue Clothing
Australia retailer Cue Clothing knew it must transform and adapt to thrive in the COVID-19 environment. The fashion retailer developed a five step plan focused on creating seamless, no-friction, personalised interactions with customers online. The plan also concentrated on improving digital stock accessibility, and on gaining real time insight into what customers want.
Cue Clothing deployed AI powered solutions within its supply chain and customer experience. These have has improved its online shopping conversion rate by over 50%. Its innovative Virtual Stylist lets customers have individualised styling sessions online. Cue team members use AI based styling recommendations, and the customer's information and purchasing history. Key to the plan's success was a focus on change management. The company used gamification to train employees and measure their achievements.
The company's five step plan means it understands and is adapting to the changes in consumer preferences and behaviours. Executing its plan has also enabled it to introduce new value and competitive advantage.
AGL
AGL is one of Australia's largest multiproduct energy retailers. With the help of TCS, AGL set out to reshape their IT infrastructure into an intelligent system that is digitally based and data driven. This resulted in the creation of their new analytical framework that makes use of Artificial Intelligence (AI) & Machine Learning (ML) solutions. These solutions enabled classification and extraction of useful information for the creation of customer insights.
The gathering of customer data is now automated and sourced from customer interactions via webchats. This data is then organised and categorised for convenient use by AGL analysts, resulting in actionable insights that have led to improved NPS scores, 30% better service quality levels, and have sped up the data analysis process by 50%. This increased efficiency of workflow has helped to drive down costs for the company while increasing revenue growth by 20%. Through this transformation, AGL have established the future of intelligent customer design while setting a new gold standard for the modern customer experience, showcasing how rethinking customer data can help companies build upon their existing solutions and better address customer needs.
Waste Management NZ
Waste solution company Waste Management NZ has sites and customer touch points across New Zealand. It has undertaken a transformation of its customer experience. This includes improving prioritisation and tracking interactions, and automating low value work, to free up employees for higher value work.
Waste Management NZ took an innovative approach to select its key partner for the project. The company ran concurrent live pilots with two vendors to enable it to select a vendor. With a live production model already developed full cloud-based deployment was fast and lower effort than traditional approaches. Waste Management NZ worked collaboratively with its vendor to integrate its master booking system with its contact centre. It has iteratively added new functionality. For example automated workforce management, and automated real-time customer feedback.
Waste management says its transformation has saved it around ten FTEs. It has improved employee engagement, with employees enthusiastic about their new 'work from anywhere' capabilities.
Sydney Local Health District
Sydney Local Health District (SLHD) is one of the leading Local Health Districts in Australia. Located in the central and inner west part of Sydney, it is responsible for the health and wellbeing of more than 700,000 people. This health district comprises hospitals, health services and associated services and employs around 14,000 staff.
The SLHD's ICT team is responsible for providing the technological support needed for SLHD's operations. Some of the significant feats the team has achieved include the rollout of electronic medicines management across all the district hospitals for improving patient safety, digitizing the entire antenatal journey for pregnant women by deploying the 'PowerChart Maternity' program, and decommissioning of legacy on-premises datacenter and move to hybrid cloud model by using hyper-converged infrastructure and Microsoft Azure.
SLHD ICT team's most significant and challenging work was when COVID-19 hit Australian shores. SLHD was the first to respond to the pandemic by establishing pop-up testing clinics at its facilities and remote locations. The team equipped these clinics with enterprise-grade 4G WiFi routers, computers, printers, scanners, and telephones to connect remote locations with the central hospital systems in a short span of time. They also kitted a van with requisite equipment to act as a mobile clinic. They modified and built existing and new applications to manage patient flow, pathology orders and notification results. This team has been instrumental in delivering value through ICT.
BPAY Group
Being at the heart of digital payment revolution for over two decades, BPAY Group keeps innovating and diversifying its offering portfolio, by bringing under one roof BPAY bill payments system, Osko – the faster way to pay, as well as Sypht - an AI-driven document intelligence platform. BPAY Group strives to simplify connections between their customers, providing them with faster ways to pay without compromising their security. Trusted technology and security have been main pillars of the continuous company's success and reliability, while processing 1.6 million of digital, phone and online transactions daily.
BPAY Group went through its the most transformative period in the organisation's history – a creation of Group Developer Portal and APIs. The BPAY APIs make processes more efficient, help to avoid the need to implement more expensive and complex batch-based solutions, and reduce the overheads of mistaken payments for customers, in another words – simplifying the life of BPAY Group customers in many ways.
The company made a significant investment in replacing its aging infrastructure and overhaul BPAY's technology platforms to allow greater business agility and product flexibility, while maintaining its reputation for delivering reliable and trusted services. All improvements enable the company to provide its customers with a better choice and ability to operate within BPAY Group's risk tolerance with a focus on data protection, service availability and software licensing risk management.
City of Sydney
The City of Sydney is the government authority responsible for the central business district (CBD) and more than 30 suburbs or parts of suburbs. The City of Sydney prides itself on being a people-centered organisation that puts the needs of its residents, businesses and visitors first, and sees digital technology as an enabler for serving its customers and the community best.
The City of Sydney set up a Digital Innovation team and introduced the City of Sydney Innovation Methodology back in 2019 with the main purpose - to become "a world leading City digitally that meets the changing needs of customers and the community". The Methodology has been activated when COVID-19 hit Australia in early 2020. Small businesses in the Sydney LGA were one of the community groups impacted the most, with COVID causing the deepest economic slump on record. A new concept, called "Today in your Village" (TIYV), was unlocked to help aid businesses and community recover faster. TIYV allows to view in real time various events (e.g., new businesses openings, community consultations, local roadworks, sales, events, community programs, markets, local news, public health information, etc.) happening in a particular location, inspiring people to rediscover and reconnect locally. The innovation methodology allowed a transition from an idea to a pilot in seven weeks (opposed to the usual months / years it usually takes) with minimal expense, but with multiple economic and social benefits, exceeded by far initial expectations.
The success of this project based on the innovation methodology is a starting point of a bigger transformation within the City of Sydney's Technology and Digital Services Department.
Todd Energy
Todd Energy is a 100% New Zealand owned and operated natural gas provider focused on delivering reliable and affordable natural gas to the New Zealand domestic gas market.
In 2018, Todd Energy commenced its digital transformation journey as senior executives wanted to future proof and leverage digital solutions across the business, with a vision of creating a secure, connected, and digitally energised business. Underpinning all of this was a need to improve the underlying infrastructure. Building and enforcing a responsive, scalable and resilient cloud based digital infrastructure, allowed staff and contractors to complete complex projects.
Some of the key projects include an enterprise content management (ECM) project that brought together all employee content requirements, improved productivity and collaboration, and increased connectedness; an engineering drawings project making over 90,000 drawings available from one system, available to internal and external stakeholders and an Integrated Operation Centre (IOC), that integrates people process and data in one place, maximizing production and value, increasing safety efficiency and cost effectiveness, and sharing functional knowledge across the organisation.
Coverage