Current:

IDC Names Leaders and Major Players for Worldwide Midterm/Short-term Mine Planning and Scheduling Software in 2021-2022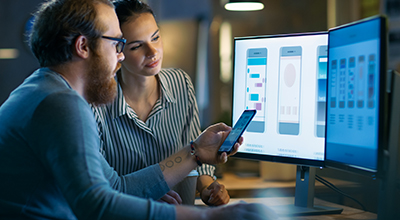 08 Dec 2021
IDC Names Leaders and Major Players for Worldwide Midterm/Short-term Mine Planning and Scheduling Software in 2021-2022
SINGAPORE, December 09, 2021 – According to the IDC MarketScape: Worldwide Midterm/Short-term Mine Planning and Scheduling Software 2021 – 2022 Vendor Assessment, Deswik, IBM, MineRP, and RPMGlobal are identified as "Leaders" in the global mid-term / short-term mine planning and scheduling software market. These mine planning and scheduling system providers demonstrated leadership in the provision of tools capable of multivariable optimisation, tools that were part of a broader mine optimisation suite, tools that integrated other third party mine optimisation tools and with other backend systems, and tools that were hosted on the cloud for enhanced information sharing and increased processing speeds. These tools were provided while providing support to customers through extensive global support networks.
This study utilises the IDC MarketScape framework to assess the major providers of mid-term / short-term mine planning and scheduling systems who provided systems to at least two global regions and had a mine planning revenue of at least US$5 million in 2020. In this study, IDC identified four such service providers as "Leaders" based on the IDC MarketScape vendor analysis model. They are closely followed by "Major Players" in the market, namely (in alphabetical order) Dassault, Datamine, Hexagon, Maptek, Micromine, and Polymathian.
"Developing mid-term / short-term mine plans and schedules is critical to ensure your mining activities are aligned with your maintenance plans and production expectations. Similarly, the plans ensure you remain on track to meet your life of mine organisational objectives," says Ben Kirkwood, Senior Research Manager, Worldwide Mining, IDC Energy Insights. "Utilising tools which optimise for multiple parameters will ensure that your operation will remain competitive throughout its life," says Benjamin Kirkwood, Senior Research Manager, IDC Energy Insights.
This IDC study summarized the capability for the mine planning and scheduling tools in the areas of functionality, mine methods and minerals covered, enterprise and operational system integration, the partnership ecosystem which the provider maintains, and the providers' adjacent optimisation portfolio. The study provides recommendations for assisting mining organisations' target providers who are best placed to deliver the outcomes they require. This is the first evaluation of mid-term / short-term mine planning and scheduling providers and is part of a series of three assessments, the other two targeting life-of-mine (LoM) / long-term mine planning software, and short interval control mine scheduling software providers. The study investigates 21 scoring elements covering functionality, portfolio benefits, pricing model, innovation, customer service delivery, customer satisfaction, strategy, growth, and R&D pace.
IDC's Worldwide Mining Strategies investigates the business environment across the mining sector value chain from exploration through to operations, processing, supply chain, and trading globally. The analysis insight provides actionable recommendations to assist organisations when identifying and developing transformative solutions for their business and operations. This service tracks the IT investment priorities for organizations seeking to scale value creation across their organization and the impact on decision making and best practices relating to technology, process, and organizational change. To learn more, contact Ben Kirkwood at bkirkwood@idc.com or click HERE.
For more information on this IDC MarketScape document, please contact Ben Kirkwood at bkirkwood@idc.com. For media inquiries, please contact Theresa Rago at trago@idc.com or Alvin Afuang at aafuang@idc.com.
-Ends-
About IDC MarketScape
IDC MarketScape  vendor analysis model is designed to provide an overview of the competitive fitness of IT, telecommunications, or industry-specific suppliers in a given market. The research methodology utilizes a rigorous scoring methodology based on both qualitative and quantitative criteria that results in a single graphical illustration of each vendor's position within a given market. IDC MarketScape provides a clear framework in which the product and service offerings, capabilities and strategies, and current and future market success factors of IT, telecommunications, or industry-specific vendors can be meaningfully compared. The framework also provides technology buyers with a transparent foundation to allow companies to independently compare the strengths and weaknesses of current and prospective vendors.
For more information about IDC MarketScape, please contact Karen Moser at kmoser@idc.com .
About IDC 
International Data Corporation (IDC) is the premier global provider of market intelligence, advisory services, and events for the information technology, telecommunications, and consumer technology markets. With more than 1,100 analysts worldwide, IDC offers global, regional, and local expertise on technology, IT benchmarking and sourcing, and industry opportunities and trends in over 110 countries. IDC's analysis and insight helps IT professionals, business executives, and the investment community to make fact-based technology decisions and to achieve their key business objectives. Founded in 1964, IDC is a wholly owned subsidiary of International Data Group (IDG), the world's leading tech media, data, and marketing services company. To learn more about IDC, please visit www.idc.com. Follow IDC on Twitter at @IDC and LinkedIn. Subscribe to the IDC Blog for industry news and insights.
Coverage
Companies Covered
Regions Covered
Topics Covered
Vertical Markets