Current:

IDC Opens Nominations for the IDC Supply Chain Technology Leaders Program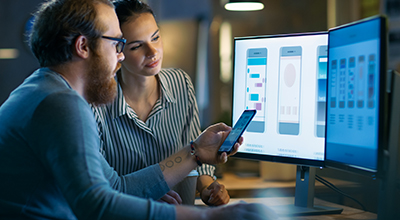 13 Mar 2022
IDC Opens Nominations for the IDC Supply Chain Technology Leaders Program
SINGAPORE, March 14th, 2022 – IDC launched today the IDC Supply Chain Technology Leaders Recognition Program to recognize and celebrate outstanding achievements in the integration and digital transformation of physical, informational, and financial flows between organizations. This recognition program hopes to create a network of organizations that have made continuous transformation a permanent fixture of their company and ecosystem operating culture. The network can then share, learn and create better practices, enabling innovation and helping organizations across the supply chain to transform capabilities through technology adoption, drive sustainable outcomes and drive transformation in their partner ecosystem.
Supply chain is in the spotlight with recent disruptions creating conditions that made headlines. According to an IDC FutureScape document, by the end of 2022, half of all manufacturing supply chains will see the benefits of supply chain resiliency, resulting in a 10% reduction in disruption impact. A lack of supply chain visibility, increased demand variability, longer lead times, and increased transportation costs have combined to create conditions that leave those who use manual supply chain management techniques in the dark.
"Increased global interest in supply chains and concern for organizational impact on the environment has made the acceleration of cross-organizational digital integration a necessity in order to ensure long-term viability," said Stephanie Krishnan, Associate Vice President, Manufacturing and Energy Insights at IDC. "Those organizations recognized by the supply chain technology leader network are those that through digital transformation, have been able to unlock new capabilities that drive business and sustainability outcomes not just for their own organization, but their entire supply chain."
The IDC Supply Chain Recognition Program has four (4) recognition categories, with the innovation* category reserved for those that demonstrate the highest levels of supply chain ecosystem innovation:
1. Supply Chain Operations Transformation: Projects or initiatives enabling physical goods movements with technology that extend beyond the four walls of the organization and integrate supply chains partners.
2. Sustainable Supply Chain: Projects or initiatives that are making green or sustainability a core part of their supply chain strategy and working to achieve measurable sustainability goals with supply chain partners.
3. Supply Chain Orchestration: Projects or initiatives that enable data and financial flows that accelerate transactions and lead to greater visibility, transparency, and agility between supply chain partners.
4. Supply Chain Innovation*: Projects or initiatives that demonstrate the unique use of technology to achieve supply chain objectives across multiple organizations in the supply chain. The innovation could result in new business processes and practices, new business models, or be an innovative technology or technology application.
Nominations start today, 14 March 2022 and end on 6 May 2022. Winners will be announced through the IDC Supply Chain Technology Leaders website on 3 June 2022 with selected Technology Leaders to be invited as a speaker at the upcoming IDC Live Industry Day on 23 June 2022. NOMINATE HERE .
Any end-user organization can nominate their supply chain ecosystem technology project or initiative, or be nominated by a 3rd party organization (e.g., agencies, associations, IT suppliers etc.) in order to gain recognition in the execution of the initiative in one of the categories.
All entries will be evaluated by a judging panel comprised of Dr. Raymon Krishnan, President of The Logistics and Supply Chain Management Society; Keith Carter, Associate Professor at National University of Singapore (NUS); Wolfgang Lehmacher, Former Director Supply Chain and Transport Industries at the World Economic Forum; and Simon Ellis, Program Vice President of IDC Manufacturing Insights.
For more information about the IDC Supply Chain Technology Leaders Recognition Program and IDC Live, reach out to our Program Lead Vanessa Ong at vong @idc.com for any IDC Supply Chain Technology Leaders Recognition Program related questions and Blanche Lim, our Conference & Content Producer at bmlim@idc.com for IDC Live related queries. For media inquiries, please contact Theresa Rago trago@idc.com  or Alvin Afuang aafuang@idc.com.
-Ends-
About IDC
International Data Corporation (IDC) is the premier global provider of market intelligence, advisory services, and events for the information technology, telecommunications, and consumer technology markets. With more than 1,100 analysts worldwide, IDC offers global, regional, and local expertise on technology and industry opportunities and trends in over 110 countries. IDC's analysis and insight helps IT professionals, business executives, and the investment community to make fact-based technology decisions and to achieve their key business objectives. Founded in 1964, IDC is a wholly-owned subsidiary of International Data Group (IDG), the world's leading tech media, data and marketing services company. To learn more about IDC, please visit www.idc.com. Follow IDC on Twitter at @IDCAP and LinkedIn. Subscribe to the IDC Blog for industry news and insights.
Coverage