Current:

Malaysia's HCP Grows by 11.9% in 2Q22 Despite Laser Market Experiencing Slower Project Demand, Says IDC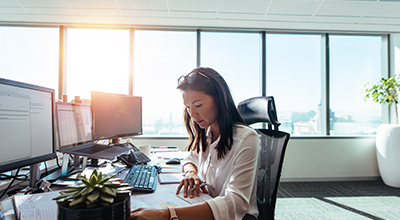 30 Aug 2022
Malaysia's HCP Grows by 11.9% in 2Q22 Despite Laser Market Experiencing Slower Project Demand, Says IDC
KUALA LUMPUR, August 30, 2022 – According to the International Data Corporation's  (IDC) Worldwide Quarterly Hardcopy Peripherals Tracker   the overall 2Q22 market including inkjet, laser and SDM categories recorded a decline of 7.8% year-on-year (YoY) and 11.9% quarter-on-quarter (QoQ) growth. Following a shift in 1Q22 from home-printing towards office-printing due to recovering business activity in Malaysia, the market situation in 2Q22 has shown a trend reversal as growth for this quarter was primarily from replenishments in the home-printer segment whereas the office segment sees a slower performance due to renewed supply challenges and slower project activity after the start of the year.
There was an overall improvement in the market for 2Q22 due to a rebound in the inkjet segment that saw a QoQ recovery of 25.2%. The increased shipment is primarily replenishment for consumer inkjet models following the decisions by vendors to reduce shipments for 1Q22 which led to a QoQ decline of 31.7%. Overall, the market sees a YoY drop of 3.9% as demand for this segment weakened as most Malaysian employees have returned to their offices and consumer spending weakened due to inflationary pressures.
The SDM market saw a similar rebound with a QoQ growth of 131.1%, returning the segment closer to the previous quarterly average. This rebound follows a 50.1% QoQ decline in the previous 1Q22 quarter where the market size was halved due to the deteriorating supply situation. Vendor inventory levels for this segment have seen an improvement in 2Q22, however constraints continue to be felt in this quarter and the segment trend continued to decline even when compared to the period under Malaysia's COVID-19 pandemic restrictions.
Contrary to the inkjet and SDM segments, the laser market experienced a decline of 5.8% YoY and 11.9% QoQ in 2Q22. The laser printer segment declined by 17.7% YoY and QoQ by 25.2%. The smaller market size was due to slower project activity in 2Q22 owing to the festive Hari Raya period in comparison to 1Q22 which saw the fulfillment of more frequent and larger Malaysian tenders, this can especially be seen in the sharp decline of the mono laser printer segment between 1Q22 and 2Q22. Similarly, the copier segment experienced a QoQ decline of 10.0% as most vendors faced deteriorating supply conditions from closures of critical Chinese ports and manufacturing bases due to rising COVID-19 infection rates. However, the market trended higher than last year and recorded a YoY growth of 11.1% as market demand continues to outstrip supply; however, growing inflationary pressures and downsizing by companies have led to a shift in demand towards more affordable and compact high-speed A4 laser printer models.
"Office demand remains healthy even as the laser market posted a decline this quarter. However, renewed pandemic restrictions in China will have a profoundly negative effect on the size of the laser printer market for this year even as demand exceeds supply," says Eugene Lim, Market Analyst at IDC Malaysia.
Overall Printer Market (Inkjet, Laser, and SDM)
Top 3 Home/Office Printer Brands Highlights:
Canon maintained its position as the market leader in the overall home/office printer market for 2Q22 holding a 42.8% share this quarter. The brand saw growth at 36.7% YoY and 19.0% QoQ. Their growth is primarily attributed to their inkjet shipments which showed a QoQ recovery of 37.0% for 2Q22. Canon's laser segment experienced 3.4% YoY growth, however the segment declined QoQ by 15.3% due to weaker project activity in 2Q22. The brand's copier segment saw a strong performance, achieving YoY growth of 37.0% and QoQ growth of 30.7%, driven by strong demand from the financial sector and by having a relatively stable supply situation than other brands.
HP remained the second market leader with 34.0% market share, experiencing an overall YoY decline of 10.7% and QoQ growth of 30.8% this quarter. HP's inkjet shipments saw a 47.0% QoQ growth for 2Q22, while it saw a QoQ decline of 24.1% in the overall laser segment, due to a QoQ decline of 25.9% in their laser printer segment. However, the brand experienced strong QoQ growth of 49.6% in their copier segment due to healthy office demand and a recovering supply situation, although restrictions at China's ports and manufacturing bases are expected to overturn this.
Epson kept its third market leader position with 14.5% market share for 2Q22. This is a decline of their 18.8% market share in 1Q22 as the brand experienced 54.0% YoY of and 14.0% QoQ decline due to shortages in their mainline inkjet models. However, the brand saw significant improvement for their SDM segment, which led to a QoQ recovery of 181.3%. This growth follows a recovery in their stock for the SDM segment, although the brand continues to experience shortages which have benefitted their competitors who have picked up orders they cannot fulfill.
"Canon and HP's strong performance in the laser copier segment signifies that demand remains robust even as corporate downsizing and declining print volume pose challenges to demand," added Eugene.
-Ends-
To learn more about the IDC Worldwide Quarterly Hardcopy Peripherals Tracker, please contact Eugene Lim at eulim@idc.com. For media inquiries, please contact Fenny Tjandradinata at ftjandradinata@idc.com  or Jane Yap at jqyap@idc.com.
About IDC Trackers
IDC Tracker   products provide accurate and timely market size, vendor share, and forecasts for hundreds of technology markets from more than 100 countries around the globe. Using proprietary tools and research processes, IDC's Trackers are updated on a semiannual, quarterly, and monthly basis. Tracker results are delivered to clients in user-friendly excel deliverables and online query tools.
About IDC
International Data Corporation (IDC) is the premier global provider of market intelligence, advisory services, and events for the information technology, telecommunications, and consumer technology markets. With more than 1,300 analysts worldwide, IDC offers global, regional, and local expertise on technology, IT benchmarking and sourcing, and industry opportunities and trends in over 110 countries. IDC's analysis and insight helps IT professionals, business executives, and the investment community to make fact-based technology decisions and to achieve their key business objectives. Founded in 1964, IDC is a wholly owned subsidiary of International Data Group (IDG), the world's leading tech media, data, and marketing services company. To learn more about IDC, please visit www.idc.com. Follow IDC on Twitter at @IDC   and LinkedIn. Subscribe to the IDC Blog   for industry news and insights.
Coverage