Current:

Midea Group Clinched Future Enterprise of the Year at the IDC Asia/Pacific Future Enterprise Awards 2022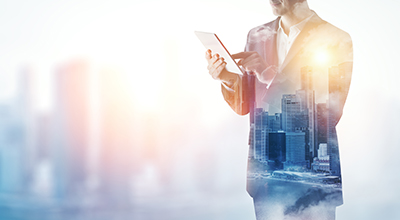 Publication date: 26 Oct 2022
Midea Group Clinched Future Enterprise of the Year at the IDC Asia/Pacific Future Enterprise Awards 2022
Contact
For more information, contact:
Fifteen organizations that employ future-forward digital-first strategies to become viable digital businesses were announced yesterday
SINGAPORE, 27 October 2022 – Future Enterprise Awards (FEA) 2022 winners for Asia/Pacific were announced yesterday at IDC's Digital Transformation (DX) Summit in Singapore. China snagged three out of fifteen awards; Hong Kong, Indonesia, Singapore, and Taiwan received two awards each; India, South Korea, Malaysia, and the Philippines received one each.
"Digital-first is the next evolution of digital transformation. IDC's Future Enterprise Awards 2022 continues to recognize future-forward enterprises that put in place digital-first strategies and harness technology capabilities to compete, as well as create innovation programs that bring optimal outcomes that truly matter to them, at a time of great uncertainty," says Sandra Ng, Group Vice President and General Manager, IDC Asia/Pacific
The rapid acceleration in digital transformation (DX) can be seen in the sixth year of IDC's Future Enterprise Awards winners. FEA 2022 winners have been deemed pioneers and leaders with their transition from purely DX to a digital business approach. This new era is where digital businesses' revenue is expected to reach more than 40% of the total revenue in 2027.
The following organizations are considered to be the best out of 1,071 entries received from 707 unique end-user organizations across Asia/Pacific:
Future Enterprise of the Year | Midea Cloud Empowers the Digital Transformation of Midea's Lighthouse Factory by Midea Group | China
Midea Industrial Internet (MIOT) follows the strategic focus of the company's "technology leadership, direct to users, digitization and intelligence-driven, and global impact" strategy. The MIOT platform actively deploys AI and advanced digital technologies to enhance the user experience with an end-to-end value chain while providing digital empowerment for all employees and partners to create a flexible and labor- and energy-efficient supply chain with shorter delivery times and better quality, enabling partners across the value chain to collaborate digitally. This project reduced the delivery cycle by 56%, increased the inventory turnover of finished products by 125%, and lit up the digital transformation path for other manufacturing enterprises.
CEO of the Year | Budi G. Sadikin, Minister of Health, Republic of Indonesia | Indonesia
Budi Gunadi Sadikin is a professional with banking and IT experience. His expertise is now being applied in the organization's healthcare delivery through the six pillars of healthcare transformation. By bringing transformational change to the healthcare system, he is ensuring the citizens of Indonesia that they will receive equitable access to healthcare and improve their quality of life through promotive and preventive programs. He is preparing the organization to be fully digitally resilient with innovations that focus more on promotive and preventive measurement, developing regulations and privacy policies, partnering with key players in the healthcare ecosystem, and empowering the workforce to make decisions and create self-directed teams. To ensure the sustainability of the agenda, he has built a digital transformation team and launched the Blueprint of Digital Health Transformation Strategy 2024.
CEO of the Year | James Chen of CTBC Bank | Taiwan
James Chen is focused on integrating individual digital technology applications to develop brand new customer journeys. Chen kicked off a key initiative called "EdgE," which refers to the digital end-to-end redesign of customer journeys. With forward-thinking action under Chen's leadership, the bank is working to strengthen its digital technology services, investing over TWD7.67 billion to modernize its information core and transform its technology to better serve digital customers. Furthermore, CTBC Bank built Taiwan's first blockchain technology-based green energy trading platform in January 2021, which provides energy buyers with one-stop green energy trading services with greater speed, transparency, and security. James has recently been promoted to CEO of the CTBC Holding.
CIO of the Year | Maria Beatriz A. Adversalo of Malayan Insurance Company, Inc. | Philippines
Maria Beatriz Adversalo initiated and managed Malayan Digital Transformation Program (DXI). Malayan's DXI strategy consists mainly of web apps, portals, application programming interfaces (APIs), optical character recognition (OCR)/robotic process automation (RPA), analytics and cloud. This has resulted in digitalized policy issuance premiums of PHP475 million in 2021 (up by 796% from 2020); API-based premiums of PHP742 million in 2021 (up by 484% from 2020); 114,000 man-hours saved through robotization leading to manpower reassignment; and PHP9 million annual savings in software subscriptions through low-code adoption, replacement of tools, and modernization
Best in Future of Connectedness | Project Global SASE by Birla Carbon | India
Birla Carbon has carved out its digital transformation (DX) strategy to encompass five focus areas —Digital Business, Digital Experiences, Digital Capabilities, Digital Talent, and Digital Security. This strategy is designed to create new customer experiences, improve operational efficiencies, generate new revenue streams, and respond to changing business conditions in a rapid manner. To do so, it was necessary for Birla Carbon to relook at their network architecture and adopt more cloud infrastructure. The project worked to improve the availability of network connectivity, which increased business transactions and reduced costs with the use of global Direct Internet Access (DIA) links on a SASE Framework. Birla Carbon has been able to observe a drastic improvement in the application performance levels, and it has helped the company derive value for its esteemed customers in terms of performance and cost.
Best in Future of Customer Experience | "Segment of One" Hyperpersonalized Customer Engagement by Bank of China (Hong Kong) Limited | Hong Kong
As BOCHK navigates the new normal, it has been exploring innovative ways to engage with its customers. Through its "Segment of One" Hyper-personalized Customer Engagement program, it serves customers beyond traditional servicing tiers based on not only the asset value level, but also individual financial needs, life stage, risk appetite, digital usage, etc. BOCHK strikes a balance between human and digital connection by leveraging AI, data intelligence, and human interactions to serve customers in the best way, adopting "3C" propositions to customers – customize, contact, and connect. To make the leap to a true "Segment of One" experience, it has ramped up its big data and AI application capabilities, via mobile banking to proactively deliver bespoke recommendations at the customers' zero moment of truth across online and offline channels, and sales tools for frontliners at branches. "Segment of One" Hyper-personalized customer engagement has become one of its keys to providing the best products for customers.
Best in Future of Digital Infrastructure | Digital Retail Program by Presicarre Corporation | Taiwan
Presicarre Corporation is dedicated to improving the shopping environment for customers and has thus built a data-centric technology infrastructure to better serve the needs of customers and improve their user experience. The program reconfigured the core infrastructure from the ground–up by adopting industry best practices for back-end management with innovative cloud solutions and deploying a new e-commerce solution to provide scalability, flexibility, and stability to the platform. With this successful program, its latency performance improved by 70% and costs were reduced by 30%. It also brought a better customer experience, improved the e-commerce store's revenue by 120%, and increased customer acquisition rate by 64% during the pandemic.
Best in Future of Digital Innovation | Harnessing Tacit Knowledge Using Artificial Intelligence to Achieve Breakthrough Performance by Petroliam Nasional Berhad (PETRONAS) | Malaysia
Starting a liquified natural gas (LNG) plant is a challenging process that requires simultaneous control and monitoring from different units. To achieve consistent and optimized plant start-ups, artificial intelligence was employed to capture the invaluable tacit knowledge of experienced operators and generate insights using 3.4 billion data points from 1862 sensors in the past 20 years. The result is an AI-driven live advisory that provides operators with real-time control advisory during plant start-up.
The live advisory has been employed for ten start-ups in the Petronas LNG Complex. The overall start-up duration was reduced by 44% which translated into 16 million USD worth of production opportunities, yielding an impressive return on investment of 3500% in just 15 months. In addition, the shorter start-up duration also led to 17% lower carbon emissions, contributing to the company's sustainability agenda.
Best in Future of Industry Ecosystems | C&D Paper and Pulp Industrial Internet Platform (PaperSource & Epulp) by Xiamen C&D Paper & Pulp Co., Ltd. | China
C&D Paper & Pulp Industrial Internet platform (PaperSource & Epulp) has launched digital overall solutions with transaction, information, logistics, finance, and risk control as the core - providing comprehensive and high-quality supply chain services for upstream and downstream customers in the global pulp and paper industry. Since 2021, this has integrated trading, intelligent process risk control, electronic contract signing, logistics, industry information sharing, supply chain finance, and other relevant services.
Best in Future of Intelligence | Data Analytics: Building a Data Superhighway Toward the Future of Intelligence by Zuellig Pharma Holdings Pte. Ltd. | Singapore
Against the backdrop of low digital maturity and data connectedness in the pharmaceutical industry, Zuellig Pharma's journey toward digital transformation began with the goal of leveraging data analytics to build a data superhighway that would connect all current and future digital and data solutions. Anchored in the mission of making healthcare more accessible, the Data Analytics team was built to offer three main pillars of service — commercial excellence, supply chain analytics, and business intelligence — to deliver actionable intelligence and insights. Zuellig Pharma's Data Analytics team had to implement Agile methodology: to transform offerings from data insights to capabilities and offer business intelligence as a service (BIaaS); and to increase the frequency of team communications to promote a data culture. As a result of improved insights and services, the Data Analytics team has secured collaborative projects with over 30 principals and generated more than US$8 million in revenue in the last 18 months.
Best in Future of Operations | High-Speed Railway 4C Visual Intelligent Analysis System by China Railway Electrification Bureau (Group) Co., Ltd. | China
For the first time, AI was applied at a large scale across the operations and maintenance of high-speed railways in China. The system improved safety using the integration of multiple technologies, including knowledge maps and automatic image pattern matching and classification. In March 2020, the 4C visual intelligent analysis system was officially introduced and trialed on the Beijing–Shanghai high-speed railway and at least 30 other lines across the country. As of August 2021, the system has been adapted in several high-speed railways using different structures. It was approved by the bureau and China State Railway Group Company, which verified on site 13 high-speed railways over three months. So far, 22 high-speed railways have officially adopted the system, which has been widely praised by industry experts.
Best in Future of Trust | Transforming of Security Architecture Using Artificial Intelligence Technology by National Information Resources Service | South Korea
As part of its digital transformation (DX) to prepare for the fourth industrial revolution, NIRS developed an AI security architecture to provide high-quality public services. The architecture was designed to transform NIRS' security system from the passive way focused on handling events to a next-generation control system equipped with automated processing, which covers from analysis to blocking of cyberattacks. NIRS strengthened and differentiated its existing security system by applying AI and security orchestration, automation, and response, the core technologies of the security paradigm shift. As a result, the defense system that focused on known attacks was changed to a system that detects abnormal behaviors and responds to unknown attacks and an advanced security management system that maximizes the efficiency of security control by automating the response process.
Best in Future of Work | Augmented Reality & Drone-Assisted Field Service Powered by 5G and Edge for Safe Operation by HKT | Hong Kong
HKT launched its Augmented Reality (AR) and Drone-Assisted Field Service Powered by 5G and Edge for Safe Operation project in three phases. The first phase involved launching the Edge Compute with 5G mobile core network to minimize transmission latency and jitter, resulting in a seamless navigation experience. Next, it introduced a 4K ultra-high definition (UHD) camera on 5G phones for real-time remote expert video assistance. Lastly, it rolled out an end-to-end solution of field service with a digital assistant powered by AR and drone technologies to enhance health and safety, reduce operational risks, and empower scalable training to junior colleagues. The project saved 30% of the time in operational efficiency of typical field visits. Overall, it has demonstrated the potential of using AR, drone, 5G, and edge computing technologies in enhancing operational efficiency and safety across multiple sectors (e.g. Logistics, Transportation, Public Sector, Utilities, and Manufacturing).
Special Award for Digital Resiliency | eZRx: Building Digital Resiliency Through B2B e-Commerce for Buying and Selling Healthcare Products Amid COVID-19 by Zuellig Pharma Holdings Pte. Ltd. | Singapore
With restrictions that prevented face-to-face interactions, the team needed to reduce the reliance on call centers and customer service representatives. eZRx is a one-stop business-to-business (B2B) e-commerce platform that offers customers and clients a smarter and more convenient way to buy and sell healthcare products. It became a dominant platform that digitalizes orders, tracking, returns, and payments all in one place — reducing manual labor reliance and reaping efficiency, maximizing productivity, and increasing transparency. Within two years since its launch, over 43,000 customers and 400 clients were successfully onboarded, including the world's top 20 pharmaceutical companies. In 2021, over 11.6 million order lines were automated, halving manual orders and contributing to annual productivity gains of over US$1.3 million.
Special Award for Sustainability | 3D Strategy (Diversification, Digitalization and Decarbonization) by Petrosea | Indonesia
Petrosea's sustainability is driven by a 3D strategy (Diversification, Digitalization, and Decarbonization) that acts as an enabler to maximize the value proposition to stakeholders. The 3D strategy is part of their commitment towards implementing sustainability to build stakeholder trust by aligning business, environmental, and social objectives within the company's operations. At one of Petrosea's mining pits in 2020, the initiative saved 782,188 liters of fuel, which avoided 1,595-ton CO2e carbon emission. In 2021, it extended the component lifecycles up to 150% from the standard original equipment manufacturer lifecycle targets. Moreover, accident rates reduced by 81% and achieved zero fatalities in 2020 and 2021.
The regional winners of the IDC Future Enterprise Awards were determined following a two-phased approach. Regional and country analysts evaluated each nomination against a standard assessment framework based on IDC's Future Enterprise taxonomy. A panel of judges composed of IDC analysts, industry practitioners, thought leaders, and academia around the globe determined these organizations as the ones that have closed the digital gap and have gained the greatest business value gains.
The winners were announced during the IDC DX Summit in Singapore held on October 26, 2022. At the event, business and IT leaders, and even artists, came together to discuss future-forward practices such as: moving from digital transformation to digital business; sustainable practices in the future of work; connected data; the role of Gen Z in the future of the marketplace; advantages of 5G deployment; a patient-focused health ecosystem; the marriage of art and technology; and more.
"2022 has been a tremendous year for the IDC Future Enterprise Awards. We're extremely happy that not only did we have more participation this year, but the quality of nominations has also gone up with the digital acceleration we saw in the marketplace. This is proof of the digital maturity with the growing pool of digital-first pioneers and accelerators across Asia/Pacific as these organizations invest in technologies to scale resiliency and deliver growth," ends Ng.
For more information about IDC Future Enterprise Awards, contact Vanessa Ong at vong@idc.com. For media inquiries, contact Michael de la Cruz at mdelacruz@idc.com  or Miguel Carreon at mcarreon@idc.com.
-Ends-
About IDC
International Data Corporation (IDC) is the premier global provider of market intelligence, advisory services, and events for the information technology, telecommunications, and consumer technology markets. With more than 1,300 analysts worldwide, IDC offers global, regional, and local expertise on technology and industry opportunities and trends in over 110 countries. IDC's analysis and insight helps IT professionals, business executives, and the investment community to make fact-based technology decisions and to achieve their key business objectives. Founded in 1964, IDC is a wholly-owned subsidiary of International Data Group (IDG), the world's leading tech media, data and marketing services company. To learn more about IDC, please visit www.idc.com. Follow IDC on Twitter at @IDCAP and LinkedIn. Subscribe to the IDC Blog for industry news and insights.
Coverage