Current:

India Enterprise IT Spending* Growth Moderates to 7.8%, Consumer IT Spending Turns Cautious, Says IDC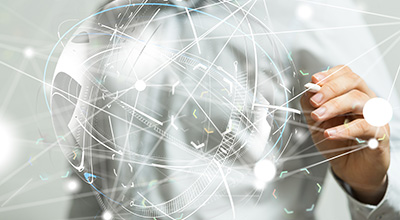 Publication date: 25 Apr 2023
India Enterprise IT Spending* Growth Moderates to 7.8%, Consumer IT Spending Turns Cautious, Says IDC
Contact
For more information, contact:
INDIA, April 25, 2023 – According to the latest data released by IDC's Worldwide Black Book: Live Edition, IT spending* by Indian enterprises and service providers is projected to grow 7.8% in 2023, albeit more slowly than in 2022. Consumer IT spending (dominated by consumer purchases of devices such as mobiles, tablets, PCs, wearables, and peripherals) saw a drastic decline in Q4 2022 and turned cautious due to rising prices, pulling the growth to 2.1% in 2023. Overall, Indian IT spending (which includes spending by enterprises, service providers, and consumers) is projected to grow by 4.7% in 2023 to USD 86.7 billion in constant currency, lower than the 5.8% growth IDC reported for 2023 in its October press release. Enterprises' immediate concerns impacting IT budgets are inflation-driven price increases, staffing shortages, IT supply chain constraints - especially on the networking side, and the impact of the weakening global economy on expected business revenues.
Reserve Bank of India forecasted moderated GDP growth in 2023 due to the expected global economic slowdown and persistently elevated oil prices, with recovery expected in 2024. However, India's GDP remains higher than some peer economies, owing to the importance of a large domestic consumer base and less reliance on global demand.
"Rising inflation and currency devaluations made technology investments costlier. Enterprises focused on immediate needs by either stretching or prioritizing budgets. But with worries around weakening global macroeconomic situation, spending growth has moderated," says Vinay Gupta, Research Director, IT Spending Guides, IDC Asia/Pacific. "Enterprises still face challenges impacting their business and will look at consumption-based models to drive their focus on transformation," he added.
With investments by enterprises and service providers, infrastructure spending (dominated by server, storage, and networking equipment) had a banner year in 2022. However, with a moderating economic outlook, spending growth will slow in 2023. Enterprises aim to drive efficiencies, optimize cost using automation tools and prioritize as-a-service consumption model for infrastructure purchases avoiding significant CAPEX investments.
Domestic IT Services spending is projected to grow 8.7% in 2023, driven by enterprises' need to increase customer engagement and satisfaction, launch new products/services, and improve operational efficiency to drive revenue growth and profitability. Enterprises' increasing adoption of cloud and co-location services drives the managed services market. The managed services market hence resists immediate impact from adverse economic scenarios. Project-oriented services are guided by the need for system integration and IT consulting services but are susceptible to declines in business confidence.
Software spending is projected to grow 15% in 2023, driven by higher adoption of cloud-based solutions. Automation-related platforms and tools, security, workplace solutions (collaboration, content management, virtual meeting, unified communications), data and analytics initiatives/projects, infrastructure, and IT operation optimization initiatives are still focused areas for enterprises despite the moderating economic growth.
Due to high inflation, dwindling retail consumer demand impacted sales of mobiles, PC, notebooks, hardcopy peripherals, and tablets affecting consumer IT spending. Mobile phones constitute the lion's share by value of consumer technology spending in India. Mobile phone shipments declined in 4Q2022, and 2022 had the lowest shipments since 2019. Expectations are that concerns around rising prices and higher inventory in the channel will persist until the first half of 2023, with an elongated recovery after that. The sale of traditional PCs (including desktops, notebooks, and workstations) grew marginally by shipment in 2022, with similar challenges and expected recovery in 2023 as that of mobile phones.
* IT spending includes spending on hardware, software, IT services and excludes telecom spending, business services, and some emerging technologies, which are included in the ICT Spending taxonomy.
In a special edition of IDC's State of the Market webinar, Stephen Minton, IDC's Program Vice President for Customer Insights & Analysis, explains how IT budgets face increased scrutiny as businesses seek to identify areas for potential cost-savings and spending cuts. Watch the State of the Market: IT Spending by Industry 2023 - HERE.
IDC's Worldwide Black Book: Live Edition  is updated monthly with the latest IT spending forecasts for annual growth across 100 countries.
--ENDS--
For more information about IDC's products and research services, please contact Shivani Anand, Senior Marketing Specialist at sanand@idc.com . You can also follow IDC India's Twitter  and LinkedIn  pages for regular updates.
About IDC Spending Guides
IDC's Spending Guides provide a granular view of key technology markets from a regional, vertical industry, use case, buyer, and technology perspective. The spending guides are delivered via pivot table format or custom query tool, allowing the user to easily extract meaningful information about each market by viewing data trends and relationships. For more information about IDC's Spending Guides, please contact Vinay Gupta at vgupta@idc.com
Click here to learn about IDC's full suite of data products and how you can leverage them to grow your business.
About IDC
International Data Corporation (IDC) is the premier global provider of market intelligence, advisory services, and events for the information technology, telecommunications, and consumer technology markets. With more than 1,300 analysts worldwide, IDC offers global, regional, and local expertise on technology, IT benchmarking and sourcing, and industry opportunities and trends in over 110 countries. IDC's analysis and insight helps IT professionals, business executives, and the investment community to make fact-based technology decisions and to achieve their key business objectives. Founded in 1964, IDC is a wholly owned subsidiary of International Data Group (IDG), the world's leading tech media, data, and marketing services company. To learn more about IDC, please visit www.idc.com. Follow IDC on Twitter at @IDC  and LinkedIn. Subscribe to the IDC Blog  for industry news and insights.
Coverage