Current:

Canadian Spending on Digital Transformation Forecast to Grow By 7% in 2020, Despite the Challenges Presented by the COVID-19 Pandemic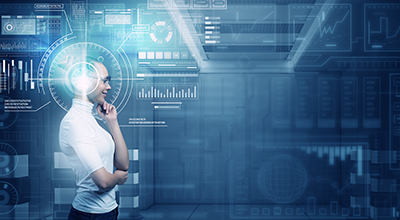 11 Jun 2020
Canadian Spending on Digital Transformation Forecast to Grow By 7% in 2020, Despite the Challenges Presented by the COVID-19 Pandemic
Canadian Spending on Digital Transformation Forecast to Grow By 7% in 2020, Despite the Challenges Presented by the COVID-19 Pandemic
TORONTO, ON., June 11, 2020 — The Canadian spending on digital transformation (DX) is forecasted to reach C$28 billion in 2020 with a growth rate of 7% according to the new IDC Worldwide Digital Transformation Spending Guide, despite the challenges presented by the COVID-19 pandemic. However, the growth is notably slower than 2019 due to the pandemic but expected to recover quickly in the following years (2021-2023) with a five-year CAGR of 13%.
"COVID-19 has impacted the Canadian economy in a number of ways, including how businesses have prioritized spending on existing and new IT projects and technologies" said Jim Westcott, research manager with IDC's Canadian Digital Transformation: Application and Professional Services research program. "Digital transformation has emerged as a valuable solution to the business challenges posed by COVID-19. Canadian organizations have had to create long-term strategies for the post-pandemic era and DX initiatives that are fulfilling these requirements."
The industries that will see the slowest year-over-year growth in DX spending are the ones experiencing the greatest impact from the economic downturn caused by the pandemic. Personal and consumer services will only see a 1% growth in its DX spending this year, partly, as a result of the initial government shut down for all non-essential businesses. The resources industry will also experience a significant drop with growth declining from 18% to -2%, caused by the dramatic collapse in oil prices due to the pandemic's immediate impact on oil and gas demand, and the price war between major global vendors. Professional services on the other hand, will continue to be one of the top industries contributing to DX spending in Canada.
"COVID-19 has wiped off more than C$20 billion of Canadian DX technology investment between 2020-2023 from our pre-COVID-19 forecast," added Meng Cong, research manager with IDC Canada's Market Insights and Analytics team. "Yet despite these losses, pockets of growth opportunities exist across most industries when diving deep into specific use cases that solve specific business problems. A few examples include virtualized labs in education, advanced digital simulation in transportation, remote health monitoring in government, and digital visualization in education."
The top three use cases that will deliver the largest Canadian DX spending in 2020 are robotic manufacturing, intelligent and predictive grid management – electricity, and 360-degree customer and client management. Robotic manufacturing could be used in both industries of discrete and process manufacturing, referring to assembly robots position components in a manufacturing environment. The spend of robotic manufacturing is projected to be $813 million in 2020. Other notable use cases that will see the greatest year-over-year growth are visualized labs, digital visualization and robotic process automation-based claims processing, with CAGR of 83%, 62% and 31% respectively.
Worldwide Semiannual Digital Transformation Spending Guide
, International Data Corporation (IDC) examines current and future spending levels over 200 DX use cases across 19 industries in 8 geographic regions. The results provide new insights into where DX funding is being routed as well as what DX priorities are being pursued. This version (V1 2020) of the IDC Worldwide Digital Transformation Spending Guide provides updated estimates for the impact of COVID-19 across all technology markets as of April 28, 2020.
For more information about this IDC Spending Guide or to arrange a one-on-one interview with Jim Westcott or Meng Cong, please contact Cristina Santander at askidc@idccanada.com.
About IDC Spending Guides
IDC's Spending Guides provide a granular view of key technology markets from a regional, vertical industry, use case, buyer, and technology perspective. The spending guides are delivered via pivot table format or custom query tool, allowing the user to easily extract meaningful information about each market by viewing data trends and relationships.
About IDC
International Data Corporation (IDC) is the premier global provider of market intelligence, advisory services, and events for the information technology, telecommunications, and consumer technology markets. With more than 1,100 analysts worldwide, IDC offers global, regional, and local expertise on technology and industry opportunities and trends in over 110 countries. IDC's analysis and insight helps IT professionals, business executives, and the investment community to make fact-based technology decisions and to achieve their key business objectives. Founded in 1964, IDC is a wholly-owned subsidiary of International Data Group (IDG), the world's leading media, data, and marketing services company that activates and engages the most influential technology buyers. To learn more about IDC, please visit www.idc.com or follow on Twitter at @IDC and LinkedIn. To learn more about IDC Canada, please visit www.idc.com/ca or follow on Twitter at @idccanada and LinkedIn.
Coverage