Current:

Blockchain Spending in the Middle East & Africa to More than Double in 2018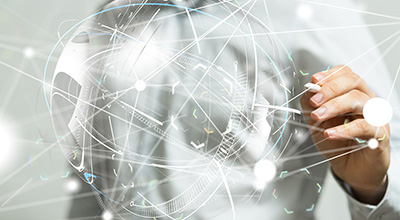 12 Feb 2018
Blockchain Spending in the Middle East & Africa to More than Double in 2018
Dubai – Spending on blockchain solutions in the Middle East and Africa (MEA) is set to more than double this year, according to the latest insights from International Data Corporation. The global technology research and consulting firm's recently launched Worldwide Semiannual Blockchain Spending Guide shows spending in the region totaling $80.8 million for 2018, up 107% on the $38.9 million spent in 2017.
To view the accompanying blockchain spending snapshot, please visit: https://images.idc-cema.com/images/MEA_Blockchain_Snapshot.jpg.
"There is clearly an immense amount of interest around distributed ledger technologies (DLT) in the region," says Megha Kumar, IDC's research director for software in the Middle East, Africa, and Turkey. "This is being driven by the pressing need for organizations to improve their efficiency, agility, security, and integrity. In 2018, we expect more organizations across MEA to move beyond the evaluation and proof-of-concept phase to pilots and even deployments."
Looking further ahead, IDC expects blockchain spending in MEA to reach $307 million in 2021, which represents a compound annual growth rate (CAGR) of 77.4% for the 2016-2021 period. While various industries are evaluating the use of blockchain, IDC research suggests the region's public sector (including government, education, and healthcare) will spend an estimated $120.8 million in this space in 2021, accounting for 39.2% share. It will be followed by the financial services sector at 35.5% and the distribution and services sector at 14.1%.
"In the Middle East, Dubai's government has identified blockchain as a major technology for helping it become a leader in the Smart Cities arena," says Kumar. "Alongside the establishment of the Global Blockchain Council, Dubai's 'Blockchain Strategy' aims to promote efficiency around government services and fuel economic development. At the same time, financial services firms across the region are evaluating the use of blockchain for cross-border payments, trade settlements, and anti-money laundering purposes. In Africa, meanwhile, DeBeers intends to launch an industry-wide blockchain platform for tracing and authenticating diamonds, which highlights the integrity benefits of the technology."
The most popular blockchain use cases in 2021 will be cross-border payment and settlements, assets/goods management and identity management, with IDC expecting these three alone to account for 33.1% of MEA blockchain spend in 2021. "At this stage it's still early days for blockchain, with technology vendors, start-ups, fin-techs, and end users continuing to discover new types of use cases," says Jebin George, IDC's program manager for verticals in the Middle East, Africa, and Turkey. "Some of these may never go mainstream, stalling at the proof-of-concept stage as they fail to bring in the scale of efficiency that was meant to be achieved."
From a technology perspective, IDC's forecast shows services (IT services and business services) accounting for 52.7% of MEA blockchain spending in 2021. Blockchain software platforms will be the biggest and fastest-growing category in the software space over the coming years, while cloud will be the fastest-growing component in terms of hardware.
IDC's Worldwide Semiannual Blockchain Spending Guide  quantifies the emerging blockchain market by providing spending data for ten technologies across 19 industries and 14 use cases in nine geographic regions. Spending associated with various cryptocurrencies that utilize blockchain and DLT, such as Bitcoin, is not included in the spending guide.
To view the IDC snapshot that accompanies this press release, please visit: https://images.idc-cema.com/images/MEA_Blockchain_Snapshot.jpg.
About IDC
International Data Corporation (IDC) is the premier global provider of market intelligence, advisory services, and events for the information technology, telecommunications, and consumer technology markets. With more than 1,100 analysts worldwide, IDC offers global, regional, and local expertise on technology and industry opportunities and trends in over 110 countries. IDC's analysis and insight helps IT professionals, business executives, and the investment community to make fact-based technology decisions and to achieve their key business objectives. Founded in 1964, IDC is a subsidiary of IDG, the world's leading technology media, research, and events company. To learn more about IDC, please visit www.idc.com. Follow IDC on Twitter at @IDC. 
IDC in the Middle East, Africa, and Turkey
For the Middle East, Africa, and Turkey region, IDC retains a coordinated network of offices in Riyadh, Nairobi, Lagos, Johannesburg, Cairo, and Istanbul, with a regional center in Dubai. Our coverage couples local insight with an international perspective to provide a comprehensive understanding of markets in these dynamic regions. Our market intelligence services are unparalleled in depth, consistency, scope, and accuracy. IDC Middle East, Africa, and Turkey currently fields over 130 analysts, consultants, and conference associates across the region. To learn more about IDC MEA, please visit www.idc-cema.com. You can follow IDC MEA on Twitter at @IDCMEA.
Coverage