Current:

IDC:Digital Transformation (DX), Strategic Business Imperative to Embrace Now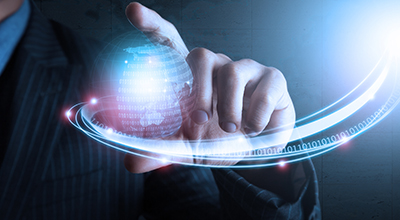 14 Nov 2017
IDC:Digital Transformation (DX), Strategic Business Imperative to Embrace Now
BEIJING, November 13, 2017——IDC China today held its annual FutureScape event under the theme "Embrace the Digital Transformation (DX)", revealing 10 predictions for the information and communications technology (ICT) market in 2018.
Amid the accelerating digital transformation, the world is entering the era of the digital economy, a trend that is particularly evident in China. Against this backdrop, the definition of the "Four New Concepts", namely "new era, new balance, new way of thinking, and new grand goals" was proposed at the 19th National Congress of the Communist Party of China held in October 2017, outlining the direction for China's future economic development. Five key terms were also mentioned in the report: "Cultural Revitalization, Digital Transformation, Innovation-driven Development, Globalization, and People's Well-being," serving as guidelines to the development of China's digital economy for the years to come. IDC predicts that in the next 3 to 4 years, digital economy will reshape the economic landscape of China, and the world as a whole, transforming the way enterprises operate. Furthermore, innovations empowered by new technologies will play a pivotal role in the transformation.
Kitty Fok, IDC China Managing Director, shared the following perspective: "The Third Platform has evolved from the Experimentation phase to the second phase of Innovation Multiplication. The key emphasis will be the deep integration of Third Platform technologies in various industries. Throughout this second phase, strong foundations will be laid out for the technology-driven autonomy-enabled enterprises that will emerge after 2022. Industry users and ICT vendors will work collaboratively to strategize and architect new digital transformation platforms, build new trustworthy ecosystems, deliver new customer experiences, and enjoy new-era growth with digitally enhanced offerings, operations, and relationships
IDC forecasts that China's economy will continue to see steady growth in 2018 at 6.5% GDP growth rate. Cultural Revitalization will stimulate the music, film, games, animation and knowledge sharing industries. Digital Transformation will spur technological advances in information technology, intelligent manufacturing, biological medicine, energy, environmental protection, and the marine and aerospace sectors. Innovation-driven Development will accelerate the growth in smart industrial parks, smart cities and associated technological services. Globalization will witness the advancement of the Belt and Road Initiative and Free Trade Zones. People's Well-being will drive progress in energy saving and environmental protection, health care, recreation, and tourism.
China's broader ICT markets, especially those related to the 4 third-platform technologies and the 6 innovation-accelerators, have been growing faster than China's GDP growth. IDC predicts that, in 2018, China's broader ICT market will grow 7.1%, the third-platform market will grow 5.5%, and the innovation accelerator market will grow 13.5%.
Based on China's overall economic development trends and ICT technology use cases, IDC has made the following 10 major predictions about China's ICT market in 2018:
New Era
(1) Over half of the global economy to become digital. By 2021, over half of global GDP will derive from the digital economy, with the figure expected to reach 55% in China. Digitally enhanced offerings, operations, and cooperative relationships will drive growth in every industry. By 2020, investors will highly focus on using platform ecosystems, value of data, and customer engagement metrics when assessing enterprises. By the end of 2019, global capital expenditure for digital transformation is expected to reach US$ 1.7 trillion, a 42% increase from 2017, and the figure is expected to reach US$ 310 billion in China, a 35% rise from 2017.
(2) Belt and Road Initiative to expedite China's innovation at scale, and its impacts to the world. By 2020, China's top 500 enterprises will derive over 30% of total revenues from overseas business. China's bullet train, ultra-high voltage power transmission, online shopping, mobile payment, robotics, semiconductor chips, biomedicine, aerospace and Internet of Things industries will continue to penetrate global markets, especially in countries along the routes of the Belt and Road Initiative. Policies and business models related to Internet-plus, big data, artificial intelligence (AI) and consumption upgrade, will also influence the world at a large scale.
(3)Cross-industry expansion and cooperation to proliferate, and to drive C-suite leadership role changes. By 2020, over 70% of China's top 1,000 enterprises will explore and implement cross-industry expansion and cooperation with the help of IT platforms and technology enablers, driving towards their business transformation, innovation and growth. Over 60% of start-ups will apply technology advancements to enter traditional industries, practicing new business models and sharing rewards of the digital economy. 60% of global CIOs (and 50% among CIOs in China) will step up as tech-savvy leaders of their enterprises' digital businesses, wining through the organization transformations.
New Digital Transformation Platforms
(4) New Digital Transformation Platforms to Amplify Digital Reach Far Beyond Own Customer Interactions . By 2020, 60% of global enterprises will design and deploy their own digital transformation platforms to develop and manage core IP and data as essential IT platform tools, with integrations to various cloud platforms, industry resources, data sources, development communities, partners and customers. Especially in China, 40% of enterprises will embark this journey. By 2021, over half of the world's top 2,000 enterprises will see on average one third of their digital service interactions come through their open API ecosystems (up from virtually 0% in 2017), giving rise to a growth momentum that is far stronger than their own client-interaction capacity. This is particularly true for the Chinese market.
(5) Cloud Computing 2.0 to accelerate with diversified and specialized cloud environments. By 2021, global enterprises will spend over US$ 530 billion in cloud services and cloud-enabling hardware, software and services (US$ 30 billion in China), doubling the current spending level. The cloud-computing environment will diversify, with 20% at the edge (25% in China), over 15% from specialized compute (non x86, both worldwide and in China), and over 90% on multi-cloud (80% in China) . Specifically in China, Cloud Computing 2.0 will accelerate the commercialization of 5G. By 2020, China will issue its official 5G commercial licenses which will accelerate the technology sectors in autonomous vehicles, 4k/8k UHD, and virtual 3D teleportation, along with many other new "killer apps".
New Trustworthy Ecosystems
(6) Block chain services to support digital trust at scale. By 2021, at least 25% of the world's top 2,000 enterprises will adopt block chain services at scale as the foundation for digital trust. By 2020, 25% of the world's Top Global Transaction banks, nearly 30% of manufacturers and retailers, and 20% of Healthcare Organizations will Use Blockchain Networks in Production. By 2021, at least 20% of China's top 1,000 enterprises will adopt block chain services for their digital trust use cases at a large scale. By 2020, China will see 20% of its banks, 30% of its supply chains, and 10% of its healthcare institutes to fully embrace block chain networks in their operations.
(7) Next-generation security solutions to advance security market. By 2019, 75% of global CIOs will converge their focuses on Cybersecurity Certification and Trust, in order to manage business risks. They will take phases to gradually abandon legacy systems to keep pace with data security requirements. In China, 60 of CIOs will take the same path, and China's IT Security market will be further accelerated by the government's enhanced Cybersecurity policy development, as well as the technology convergence from both civil and military aspects.
New Customer Experiences
(8) AI, in both Enterprise and Consumer sectors, to be fully leveraged for digital transformation. By 2019, 40% of the world's digital transformation initiatives will employ AI technology. By 2021, 75% of commercial enterprise applications will adopt AI, more than 90% of consumers will interact with customer support bots, and over 50% of new industrial robots will leverage AI. In China, AI adoption will see equivalent or more momentum in public services, commercial applications, consumer engagements, and smart homes, given the favorable government policy and fiscal support.
(9) Human-Digital Interfaces Will Diversify and enter new stage. By 2020, 25% of global Field Service Technicians (20% for China) and over 25% of global information workers (20% for China) will Use Augmented Reality. Nearly 50% of new global mobile applications (30% for China) will use voice as their primary interface. And 50% of the world's top 2,000 consumer-facing enterprises (in China, 30% among top 1000) will use biometric sensors to provide customers with personalized experiences. All these will push forward further diversification of Human-Digital Interfaces.
(10) Quantum Computing will enter into commercialization. By 2021, businesses will begin to enjoy the power of quantum computing through cloud services. As computing enters into the quantum era, IDC predicts the global quantum computing market to exceed US$10 billion by 2027.
As Mr. Lianfeng Wu , Vice President and Chief Analyst of IDC China pointed out: "Key aspects of the digital economy and its success, will rely on how business gathers, manages and monetizes data, how consumers are engaged at large scale,and how digital transformation platform is built with a good balance of both open API ecosystems versus core intellectual properties. Industry users and ICT vendors should stay current on the fundamental technology enablers for digital economy, and apply them into the core of their business operations and enterprise cultures. in order to accelerate their transformation into digital native enterprises. This is essential to achieving an all-round transformation and gaining first mover advantage in the era of the digital economy."
- The end -
About IDC
International Data Corporation (IDC) is the premier global provider of market intelligence, advisory services, and events for the information technology, telecommunications, and consumer technology markets. With more than 1,100 analysts worldwide, IDC offers global, regional, and local expertise on technology and industry opportunities and trends in over 110 countries. IDC's analysis and insight helps IT professionals, business executives, and the investment community to make fact-based technology decisions and to achieve their key business objectives. Founded in 1964, IDC is a subsidiary of IDG, the world's leading technology media, research, and events company. To learn more about IDC, please visit http://www.idc.com/. Follow IDC on Twitter at @IDCChina
-# # # -
For enquiries, please contact:
Frank Wang
Associate Vice President, IDC China
Phone: (+86-10) 5889 1588
Email: fwang@idc.com
Juliana Yu
Sr. CSR, IDC China
Phone: (+86-10) 5889 1536
Email: jyu@idc.com
Maggie Xie
Sr. Marketing Executive, IDC China
Phone: (+86-10) 5889 1558
Email: mxie@idc.com
Coverage