Current:

Western European Tablet Market Almost Returning to Growth in 2017Q2, Says IDC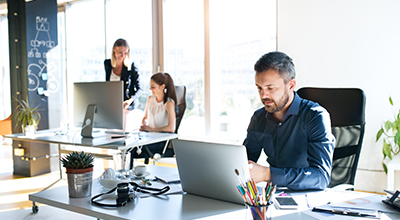 14 Aug 2017
Western European Tablet Market Almost Returning to Growth in 2017Q2, Says IDC
LONDON, August 14, 2017 — According to the latest figures published by International Data Corporation (IDC), the tablet market in Western Europe posted just a 0.5% YoY contraction. In total, 7.0 million devices were shipped in the region, which shows an almost complete recovery of the market in the region. Apple's new tablets and the improvement of the macroeconomic situation in several countries were some of the drivers for 2017Q2 and were key to the further stabilization of the consumer segment. In general, detachables remained positive with 1.0% YoY growth and slate tablets showed resilience with a decrease of just 1.0% YoY.
Overall, the commercial segment performed positively with 2.8% YoY growth. This was mainly driven by Apple and Android-based detachables, which grew 29.3% and 34.9% YoY respectively.
"Detachables are showing particularly strong growth within the corporate business, facilitated by the introduction of more commercially oriented models. These models are geared toward operating primarily as a portable PC with the secondary benefit of a tablet, helping to compete against the growing commercial trend toward the adoption of convertibles," said Liam Hall, research analyst, IDC Western European Personal Computing Devices.
On the other hand, although remaining negative, the consumer segment showed better results after a couple of years of dramatic declines. This was due mainly to the release of the new iPad, which was launched with an attractive price point and pushed users to renew their devices. It led to Apple slate tablets growing 27.0% YoY and stabilized the segment, with the YoY decline at just 1.0%.
"It's clear that Apple played the right cards this quarter and, as expected, outperformed with the release of the new iPad Pro and iPad, targeting both the consumer and commercial segments. In the short term, this may help support shipment volume as older devices might be renewed thanks to the attractive product and price on offer," said Laura Llames, research analyst, IDC Western European Personal Computing Devices.
The back-to-school period in some countries, especially in the Nordics, bolstered the market in the public space, with growth of 37.0%. In the private sector, Android-based devices played well in both SMBs and large enterprises, with total growth of 16.2%.
Company Analysis
Apple ranked first with 27.0% market share and growth of 12.0% thanks to the release of the new iPad and iPad Pro. The price positioning of the new iPad encouraged users to renew devices and that, combined with the innovation of the new iPad Pro, enabled the company to grow strongly.
Samsung ranked second, recording a market share of 23.4% and growing at 8.6% YoY. This was driven by growth of the Galaxy Tab S2 and the new Galaxy Book detachable, but slate tablets made the largest contribution to volume after showing signs of recovery.
Lenovo gained 1.2% market share YoY to reach 8.9%, with solid growth of 15.8% YoY. This was driven mainly by the strong performance of the Android-based slate tablets, especially in the SMB segment.
Amazon.com was in fourth place, due to its portfolio of new slate tablets and by expanding its Alexa service to the U.K. Ahead of Prime Day, growth remained negative (-11.1% YoY) with a market share of 4.4%.
Huawei continued to grow, with market share of 3.9% and 23.5% growth YoY, enabling it to enter the 5 top thanks to its mobile broadband enabled devices.
Top 5 Companies: Western Europe* — 2017Q2 (Finals) (000 Units)

Company

2016Q2 Shipments

2017Q2 Shipments

2016Q2 Share

2017Q2 Share

YoY Growth

Apple

1,699

1,902

24.0%

27.0%

12.0 %

Samsung

1,516

1,647

21.4%

23.4%

8.6%

Lenovo

542

628

7.7%

8.9%

15.8%

Amazon.com

346

308

4.9%

4.4%

-11.1%

Huawei

222

274

3.1%

3.9%

23.5%

Others

2,751

2,278

38.9%

32.4%

-17.2%

Total

7,077

7,038

100.0%

100.0%

-0.5%
Source: IDC Western Europe Personal Computing Device Quarterly Tracker (Tablet), 2017Q2
Note: Tablets are portable, battery-powered computing devices inclusive of both slate and detachable form factors. Tablets may use LCD or OLED displays (epaper-based ereaders are not included here). Tablets are both slate and detachable keyboard form factor devices with color displays equal to or larger than 7.0in. and smaller than 16.0in.
IDC's Quarterly PCD Tracker provides unmatched market coverage and forecasts for the entire device space, covering PCs and tablets, in more than 80 countries — providing fast, essential, and comprehensive market information across the entire personal computing device market.
For more information on IDC's EMEA Quarterly Personal Computing Device Tracker or other IDC research services, please contact Vice President Karine Paoli on +44 (0) 20 8987 7218 or at kpaoli@idc.com. Alternatively, contact your local IDC office or visit www.idc.com.
Contact:
Chrystelle Labesque, +44 (0) 20 8987 7229, clabesque@idc.com
Daniel Gonçalves, +44 (0) 20 8987 7142, dgoncalves@idc.com
Laura Llames, +44 (0) 20 8987 7195, lllames@idc.com
Liam Hall, +44 (0) 20 8987 7204, lhall@idc.com
About IDC
International Data Corporation (IDC) is the premier global provider of market intelligence, advisory services, and events for the information technology, telecommunications, and consumer technology markets. IDC helps IT professionals, business executives, and the investment community to make fact-based decisions on technology purchases and business strategy. More than 1,000 IDC analysts provide global, regional, and local expertise on technology and industry opportunities and trends in over 110 countries worldwide. For more than 50 years, IDC has provided strategic insights to help our clients achieve their key business objectives. IDC is a subsidiary of IDG, the world's leading technology media, research, and events company. You can learn more about IDC by visiting www.idc.com.
Coverage