Current:

Growth Finally Returns in EMEA's External Storage Market, as AFA Are Close to a Third of Sales, says IDC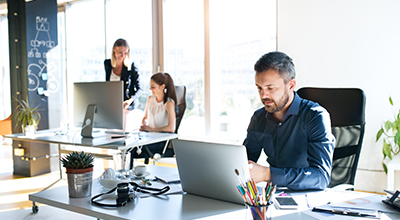 06 Dec 2017
Growth Finally Returns in EMEA's External Storage Market, as AFA Are Close to a Third of Sales, says IDC
LONDON, December 6, 2017 — Total EMEA external storage systems value increased by a staggering 10.3% in U.S. dollars in the third quarter of 2017 (+4.8% in euro terms), according to the International Data Corporation (IDC) EMEA Quarterly Disk Storage Systems Tracker, 3Q17.
The all-flash array (AFA) market value yet again recorded high double-digit growth in U.S. dollars (40.1%), covering 28% of the overall external storage sales, with growth also in hybrid arrays (15.3%), while HDD-only systems continued to contract (-15.9%).
"After ten quarters of uninterrupted decline, the EMEA external storage market has finally returned to growth, with most incumbent players recording a positive quarter, or at least dramatically improving their recent performance.
As data management workloads —of both structured and unstructured types — are the top applications driving storage infrastructure sales in Western Europe (see IDC's Worldwide Semiannual Enterprise Storage Systems Tracker: Workloads, 1H17), European enterprises are investing in more efficient storage solutions, fit to support data growth in both traditional and emerging applications.", says Silvia Cosso, research manager, European Storage and Datacenter Research, IDC.
Western Europe
With total all-flash arrays shipments heading towards 30%, the Western European external storage market recorded the highest YoY increase in the EMEA region, with a healthy 14.2% growth in U.S. dollar terms (+8.4% in euros). Capacity, meanwhile, grew 26.4% to 2,523.2 petabytes.
Across the region, enterprises have increasingly made digital transformation (DX) their top priority, investing in more efficient storage solutions such as flash and converged/hyperconverged solutions. In fact, flash-powered arrays (all-flash and hybrid) accounted for three-quarters of total sales in the quarter.
Growth in Western Europe was mainly driven by a strong German market, while the U.K. remained flat, still enduring harsh competition and adverse macroeconomic conditions, but putting to a halt a long string of yearly declines.
Central and Eastern Europe, the Middle East, and Africa
In line with EMEA developments, after almost three years in a row, the external storage market in Central and Eastern Europe, the Middle East, and Africa (CEMA) overcame the declining trend, with flat performance in the third quarter of 2017. Value grew YoY by 0.5% ($420.8) and capacity increased 10.2% (833.8 terabytes). The driver behind this performance were all-flash arrays (AFA) in Central and Eastern Europe (CEE), posting the highest YoY growth among all WW regions (122.1%), and the surge of the high-end segment supporting the DC infrastructure refreshment and optimization investments in the region.
Similarly to Western Europe, the market in CEE recorded double-digit growth to boost the entire subregion. Most CEE countries, including Russia, recorded stable performances, with almost all vendors on the growth trajectory. The Middle East and Africa (MEA) storage market failed to deliver growth as the high-end segment experienced a strong drop during the quarter and AFA solutions saw slower demand in some of the biggest countries at the expense of hybrid solutions.
"An interesting divergence has been happening in the external storage arena in the last couple of quarters, where all-flash arrays continue to appeal to many new and existing customers, but hybrid arrays managed to retrieve some storage users, especially in the MEA region," said Marina Kostova, research manager, Storage Systems, IDC CEMA. "Focusing more on user expectations, many market players revealed that there is still a lot of potential in hybrid arrays meeting the existing storage environments, prevailing workloads, and price-performance requirements in datacenters. "
Top 5 Vendors, EMEA External Disk Storage Systems Value ($M)

Vendor

3Q16

3Q16 Market Shares

3Q17

3Q17 Market Shares

3Q17 YoY Growth

Dell Inc

$ 443.47

29.80%

$ 429.18

26.14%

-3.22%

Hewlett Packard Enterprise **

$ 247.53

16.63%

$ 270.08

16.45%

9.11%

NetApp

$ 205.41

13.80%

$ 242.90

14.79%

18.25%

IBM

$ 150.72

10.13%

$ 194.58

11.85%

29.10%

Hitachi

$ 144.79

9.73%

$ 149.94

9.13%

3.56%

Others

$ 296.24

19.91%

$ 355.15

21.63%

19.88%

Grand total

$ 1,488.16

100.00%

$ 1,641.83

100.00%

10.33%

** Hewlett Packard Enterprise includes the acquisition of Nimble, completed in April 2017.
About IDC
IDC's Worldwide Quarterly Disk Storage Systems Tracker greatly enhances clients' ability to quickly and effectively respond to today's dynamic storage market. Understanding which global markets and segments are growing and knowing the quarterly adoption curve for new products have become business-critical needs for disk storage vendors, supply chain partners, and the Wall Street financial community.
Coverage