Current:

IDC Forecasts 18.6% Compound Annual Growth for the Artificial Intelligence Market in 2022-2026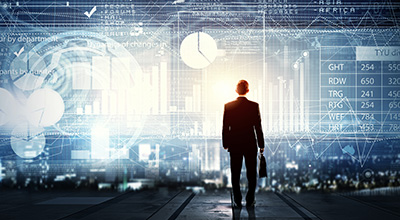 Publication date: 25 Jul 2022
IDC Forecasts 18.6% Compound Annual Growth for the Artificial Intelligence Market in 2022-2026
Contact
For more information, contact:
PRAGUE, July 29, 2022 — International Data Corporation (IDC) estimates that the worldwide artificial intelligence (AI) market, including software, hardware, and services, will post a compund annual growth rate (CAGR) of 18.6% in the 2022-2026 period to reach the $900 billion mark in 2026. This and other data is covered in the IDC Worldwide Semiannual Artificial Intelligence Tracker.
"The COVID-19 pandemic quicky revealed that our current systems are not as resilient as we thought they were," says Martin Nuska, AI analyst at IDC. "We have seen digital transformation become an urgent necessity, disrupted supply chains, a short of workforce and skills, and a critical need for fast and accurate data to support decision-making processes. Artificial intelligence proved to be a solution to many real life problems, which did not go unnoticed among businesses."
This is expected to lead to huge opportunities for AI in the future, spanning used cases such as improved response to unpredictable events (natural disasters, war, etc.), improved shipping and asset management, faster and broader analysis of healthcare systems, and image and video recognition in areas like security and ecommerce. "To get through the current crises that were triggered by Russia's attack on Ukraine — energy, food supply, security, and inflation — building resilient systems is essentail, and these will depend on AI," notes Nuska.
In Europe the Middle East, and Africa (EMEA), the total value of the AI market will exceed $200 billion in 2026.  It will break through the $100 billion mark in 2023 and will then double over the following three years (2024, 2025, and 2026 combined). Services will remain the fastest growing category, with a CAGR of 27.4%. Software grew substantially slower in EMEA, with a CAGR of 17.5%, while hardware's forecast CAGR is 15.4%.
On an individual country basis, Germany's AI markets are projected to have the highest growth rate in the regon over the forecast period, followed by the U.K. and France. Germany's market has the advantage of strong invesmtnet from the government in AI research and development. On the other end of the spectrum, the Russian AI markets are expected to grow much slower, due to impact of sanctions as a response to the war.
In the software segment, public cloud solutions are expected to mature faster than on-premise and private cloud deployments, taking a greater portion of total AI investments. By 2026, AI software in Europe is expected to represent almost 60% of total AI revenues. In the Middle East and Africa, this software will claim just over 50% of AI market value.
The fastest-growing segment in EMEA over the forecast period will be AI platforms, while server and storage will post slower growth, followed by AI system infrastructure software (reduced growth from 2024 onwards).
The IDC Worldwide Semiannual Artificial Intelligence Tracker provides spending data and vendor share for the global AI solutions market on a semi-annual basis. The key technology categories – hardware, software, and services – are built on IDC's comprehensive methodology involving vendor product, market, and workload modeling. AI revenues for over 750 companies are included in the Tracker, ensuring that the competitive landscape is well represented across all the three technology categories. Data is available for 27 countries and five rest-of regions. In the next release, scheduled for July 2022, IDC plans to further expand the Tracker with more market details, especially in the software category.
About IDC Trackers
IDC Tracker products provide accurate and timely market size, vendor share, and forecasts for hundreds of technology markets from more than 100 countries around the globe. Using proprietary tools and research processes, IDC's Trackers are updated on a semiannual, quarterly, and monthly basis. Tracker results are delivered to clients in user-friendly Excel deliverables and on-line query tools.
For more information about IDC's Worldwide Semiannual Artificial Intelligence Tracker, please contact Martin Nuska at mnuska@idc.com.
Click here to learn about IDC's full suite of data products and how you can leverage them to grow your business.
About ID
International Data Corporation (IDC) is the premier global provider of market intelligence, advisory services, and events for the information technology, telecommunications, and consumer technology markets. With more than 1,200 analysts worldwide, IDC offers global, regional, and local expertise on technology, IT benchmarking and sourcing, and industry opportunities and trends in over 110 countries. IDC's analysis and insight helps IT professionals, business executives, and the investment community to make fact-based technology decisions and to achieve their key business objectives. Founded in 1964, IDC is a wholly owned subsidiary of International Data Group (IDG), the world's leading tech media, data, and marketing services company. To learn more about IDC, please visit www.idc.com. Follow IDC on Twitter at @IDC and LinkedIn. Subscribe to the IDC Blog for industry news and insights.
Coverage