Current:

New Executive Study from IDC Examines the Critical Role of Artificial Intelligence in Saudi Arabia's Digital Transformation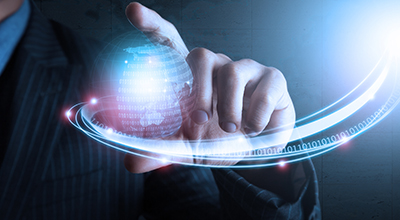 13 Dec 2022
New Executive Study from IDC Examines the Critical Role of Artificial Intelligence in Saudi Arabia's Digital Transformation
Riyadh – Saudi Arabia is on the cusp of an artificial intelligence (AI) revolution. AI is at the core of the Kingdom's massive economic transformation programs, including ambitious futuristic infrastructure projects. Organizations across both the public and private sectors are increasingly embracing AI, with International Data Corporation (IDC) expecting adoption of the technology to grow massively over the coming years.
The Saudi Data and Artificial Intelligence Authority (SDAIA) has been at the forefront of promoting AI adoption across the Kingdom and is contributing immensely toward fostering an environment for the development of a comprehensive AI ecosystem. With this critical goal in mind, the SDAIA organized the landmark second edition of the Global AI Summit in September this year. Hosted in Riyadh, the summit showcased Saudi Arabia's promising plans to become an international hotbed for AI adoption and development.
With AI taking center stage in the rapidly evolving technological landscape of Saudi Arabia, IDC has undertaken a comprehensive study — titled 'Artificial Intelligence: The DNA of Saudi Arabia's Transformation' — in strategic partnership with the SDAIA to capture the current state of AI in the Kingdom. Launched at today's IDC Saudi Arabia Government Congress 2022, which hosted more than 200 of the Kingdom's most influential IT and digital leaders, the study begins by examining latest global developments in the AI arena, with a focus on the following elements:
The history of AI, its key components, the importance of data, and key use cases
National AI initiatives undertaken by key global economies, global AI spending, and the significant benefits derived by economies, industries, and societies
Global AI best practices, international regulatory legislation, and the policy environment for AI adoption and innovation
The report then presents an extensive exploration into the following aspects of Saudi Arabia's evolving AI landscape:
The role of AI in the Saudi Vision 2030 initiative
The key trends shaping the Kingdom's AI landscape, AI ecosystem development, AI skills development, and stakeholder engagements
The impact of AI in Saudi Arabia and commentary on essential use cases
The role of legislation, regulations, policies, and initiatives in shaping AI development across the country
The barriers and challenges to AI adoption in the Kingdom
The future outlook for AI in Saudi Arabia "AI is humanity's next giant leap, and Saudi Arabia has done well to appreciated its importance early on," says Hamza Naqshbandi, IDC's associate vice president for Saudi Arabia and Bahrain. "The Saudi government has made significant advancements in digitally transforming itself by effectively utilizing innovative and emerging technologies to deliver upon key business priorities, including citizen experience, digital operations, sustainability, and security. As Saudi Arabia accelerates its drive to become a true digital economy, artificial intelligence capabilities will be embedded into every single digital transformation initiative that is undertaken."
Commenting on the importance of AI to Saudi Arabia's future, Majid Ali Al-Shehry, general manager of the SDAIA's Studies Department, says: "Based on our belief that data is the oil of the future, we at the SDAIA, are working to unlock the potential value of data through a value chain that covers all aspects of operation, regulation, and innovation."
Sourav Bhanja, IDC's associate vice president for consulting in the Middle East, Turkey, and Africa, says, "Saudi Arabia's national digital transformation goals would benefit greatly from a collaborative effort around AI across government entities, research organizations, local and global enterprises, and emerging start-ups. The key drivers for AI innovation and adoption in the Kingdom will be the need to improve operations through intelligent automation, enhance customer and citizen experiences, manage skills shortages, augment workforce capabilities, and create new digital business models."
This IDC report, conducted under the patronage of the SDAIA, explores the prospects, challenges, and future outlook for AI in Saudi Arabia. To download 'Artificial Intelligence: The DNA of Saudi Arabia's Transformation', please visit www.idcksareport.com. The report was sponsored by SITE, 2P, and Crayon.
About IDC
International Data Corporation (IDC) is the premier global provider of market intelligence, advisory services, and events for the information technology, telecommunications, and consumer technology markets. With more than 1,300 analysts worldwide, IDC offers global, regional, and local expertise on technology, IT benchmarking and sourcing, and industry opportunities and trends in over 110 countries. IDC's analysis and insight helps IT professionals, business executives, and the investment community to make fact-based technology decisions and to achieve their key business objectives. Founded in 1964, IDC is a wholly owned subsidiary of International Data Group (IDG), the world's leading tech media, data, and marketing services company. To learn more about IDC, please visit www.idc.com. Follow IDC on Twitter at @IDC and LinkedIn. Subscribe to the IDC Blog for industry news and insights.
IDC in the Middle East, Turkey, and Africa
For the Middle East, Turkey, and Africa region, IDC retains a coordinated network of offices in Riyadh, Nairobi, Lagos, Johannesburg, Cairo, and Istanbul, with a regional center in Dubai. Our coverage couples local insights with international perspectives to provide a comprehensive understanding of markets in these dynamic regions. Our market intelligence services are unparalleled in depth, consistency, scope, and accuracy. IDC Middle East, Africa, and Turkey currently fields over 130 analysts, consultants, and conference associates across the region. To learn more about IDC MEA, please visit www.idc.com/mea. You can follow IDC MEA on Twitter at @IDCMEA.
Coverage