Current:

IDC Financial Services Congress Showcases the Latest Digital Transformation Trends Shaping the Middle East's BFSI Sector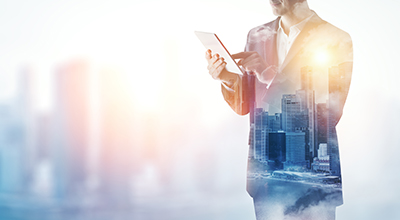 Publication date: 13 Jun 2023
IDC Financial Services Congress Showcases the Latest Digital Transformation Trends Shaping the Middle East's BFSI Sector
Contact
For more information, contact:
Dubai, June 13, 2023 – International Data Corporation (IDC) today hosted the Middle East edition of its IDC Financial Services Congress 2023 at The Ritz-Carlton, Dubai International Financial Centre. The exclusive event brought together more than 120 industry leaders and experts to explore the adoption and utilization of digital technologies in the region's rapidly evolving banking, financial services, and insurance (BFSI) sector.
Hosted under the theme 'The Adoption and Utilization of All Things Digital', the IDC Financial Services Congress 2023 featured keynote speeches, presentations, and panel discussions on a variety of critical topics, including open banking, cloud management, AI/ML integration and industrialization, digital core systems, innovation excellence, cybersecurity risk typologies, frictionless banking, financial wellbeing, financial inclusion, employee empowerment, digital trust, and customer consent.
Cyrus Daruwala, managing director of IDC Financial Insights Asia/Pacific, presented the event's opening keynote, 'Simplification in an Age of Complexity', explaining how digital transformation and the adoption of a new organizational mindset will be key to enabling financial institutions to meet the challenges of tomorrow.
"Traditional financial institutions are facing fierce competition from digital banks and insurers that leverage data to deliver innovative products and services," said Daruwala. "To overcome these challenges, institutions must foster an organizational culture that prioritizes trust, resiliency, transparency, sustainability, productivity, and efficiency for the digital-first BFSI organization."
A major highlight of the IDC Financial Services Congress 2023 was a session titled 'Hacking a Billion Dollar Bank', presented by renowned ethical hacker Glenn Wilkinson. Drawing on his unique perspectives on cybersecurity, he led the audience through the life of an underground hacker who compromises a large bank. Using a live demonstration, he showed how hackers profile companies, identify their weak spots, and ultimately break in to steal sensitive information.
The event also featured a series of fascinating panel discussions on topics such as 'Creating Hyper-Personalized Digital Banking Experiences', 'BFSIs Tapping into FinTech Innovation: A Win-Win Situation', and 'How Artificial Intelligence is Reshaping Critical BFSI Operations'. These end user–led sessions showcased first-hand perspectives from senior representatives of prominent financial institutions from across the Middle East, including:
• Sean Langton, Group CIO, Abu Dhabi Commercial Bank (ADCB)
• Thomas Cherian, CIO, Commercial Bank of Dubai (CBD)
• Dr. Joseph George, Group Chief Digital & Information Officer, Doha Bank
• Sumat Kumar, Senior Vice President & Head of IT Applications Support, RAKBANK
• Salil Ahuja, Head of Products, Portfolio & Value Proposition, First Abu Dhabi Bank (FAB)
• Evren Altiok, COO, Commercial Bank International (CBI)
• Muhammad Rashid, Chief Compliance & Risk Officer, Jingle Pay
• Samy Massoud, Regional Head of Technology Delivery, PayTabs
• Ahmad Alwazzan, Executive Vice President & Managing Director (UAE), Tap Payments
• Devid Jegerson, COO, Invest Bank
• Mohammed Tarik Koubaa, Head of IT Business Management, Emirates NBD
• Ayman Al Qudsi, CIO, United Arab Bank
The IDC Financial Services Congress 2023 was supported by the UAE Banks Federation. IDC would also like to thank the following partners for their invaluable contribution to the overall success of the event: Platinum Partners: G42 Cloud, Alpha Data / Cisco, Appcircle / Veripark, CCI ICT Innovations / VMWare, Splunk; Gold Partners: ServiceNow, NetApp, Ingram Micro; Silver Partners: Appian, Dell Technologies / Intel, PureStorage, Veeam, Bahwan Cybertek, Creatio, IT Valley / Dell Technologies, ManageEngine; Strategic Roundtable Partner: CPX; Media Partners: DX Talks, Financial IT, The Fintech Times, GCC Business News, Security Middle East, U°Today, International Business Magazine, The Finance World Magazine.
To learn more about the IDC Financial Services Congress 2023, please click here or contact Sheila Manek at smanek@idc.com  / +971 4 446 3154. You can also join the conversation on social media using the hashtag #IDCBFSI.
About IDC
International Data Corporation (IDC) is the premier global provider of market intelligence, advisory services, and events for the information technology, telecommunications, and consumer technology markets. With more than 1,300 analysts worldwide, IDC offers global, regional, and local expertise on technology, IT benchmarking and sourcing, and industry opportunities and trends in over 110 countries. IDC's analysis and insight helps IT professionals, business executives, and the investment community to make fact-based technology decisions and to achieve their key business objectives. Founded in 1964, IDC is a wholly owned subsidiary of International Data Group (IDG), the world's leading tech media, data, and marketing services company. To learn more about IDC, please visit www.idc.com. Follow IDC on Twitter at @IDC and LinkedIn. Subscribe to the IDC Blog for industry news and insights.
IDC in the Middle East, Turkey, and Africa
For the Middle East, Turkey, and Africa region, IDC retains a coordinated network of offices in Riyadh, Nairobi, Lagos, Johannesburg, Cairo, and Istanbul, with a regional center in Dubai. Our coverage couples local insights with international perspectives to provide a comprehensive understanding of markets in these dynamic regions. Our market intelligence services are unparalleled in depth, consistency, scope, and accuracy. IDC Middle East, Africa, and Turkey currently fields over 130 analysts, consultants, and conference associates across the region. To learn more about IDC MEA, please visit www.idc.com/mea. You can follow IDC MEA on Twitter at @IDCMEA.
Coverage