Current:

Blockchain Technology: Disruptive Forces in Financial Services, According to IDC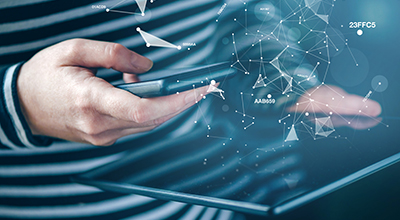 20 Jun 2016
Blockchain Technology: Disruptive Forces in Financial Services, According to IDC
Two new reports highlight potential impact of blockchain and distributed ledgers technology on transactions, post-trade settlements, and payment strategies
FRAMINGHAM, Mass., June 20, 2016 – As blockchain and distributed ledgers technology (DLT) gain momentum and attention, IDC Financial Insights unveiled two new reports to explore the specific impact on financial services firms:
Click to Tweet : New IDC reports highlight disruption of blockchain technology and DLT on financial industry
Smart Contracts, Blockchain Ledgers and Compliance
DLT has captured the attention of market participants across financial services as a valuable tool to help provide new products and services, improve compliance programs, reduce operating costs, and improve liquidity. IDC Financial Insights believes DLT will be a disruptive force in financial services and recommends financial firms and market participants actively research and experiment with DLT and smart contracts. Highlights of the new report include:
Financial firms have become increasingly interested in DLT and smart contracts as a way to reduce post-trade settlement time, improve liquidity, improve compliance recordkeeping (e.g. AML and KYC), and develop a platform to help deliver new products and services.
Regulators are interested in blockchain and smart contracts because new transaction and post-trade settlement models can help improve compliance programs and record keeping by providing consolidated records and transaction histories.
Intermediaries are actively evaluating blockchain solutions and smart contracts and how new platforms will affect their existing business models and technology investments.
Bill Fearnley, research director, IDC Financial Insights, reports that, "We believe the blockchain ledger space will be a marathon versus a sprint given the myriad of technology, business process, and regulatory opportunities and challenges that need to be addressed and solved. However, firms should be actively researching blockchain ledger solutions today and deploying experiments and proof of concept projects. As DLT gains momentum, it will be harder for firms to catch up with leading firms and market participants that are working with these technologies now."
Blockchain and Payment Strategy
While blockchain has become a hot topic in payments, the purpose of this new study is to provide an objective overview of the current state of the technology and its potential in payments as well as examine questions about the technology's utility, scalability and reliability. IDC Financial Insights believes blockchain will affect payments in profound ways and that now is the time to understand the technology, why it is well-suited for changing the payment space, and how to begin integrating it into product and strategy plans. Specifically, the report covers the following:
Interest around blockchain technology has already spawned new products and companies, and financial institutions and their vendors are beginning to unpack the technology from the hype realizing there is much to appreciate in this disruptive new approach.
Multiple issues and challenges facing the development and deployment of blockchain technology need to be addressed, including questions about scale, reliability, and regulation.
Financial institutions, vendors, and participants in the payment space need to evaluate blockchain technology and understand what they should consider when thinking strategically about it.
James Wester, research director at IDC Financial Insights and author of the report, said, "Blockchain has emerged during a time of incredible change in the payment space. Even though banks and technology vendors are grappling with many issues right now, they should pay particular attention to blockchain. It represents a complete shift in the way electronic transactions have been handled for decades, and participants in the market should begin thinking about how they will adapt to it."
To arrange a one-on-one briefing with Bill Fearnley or James Wester, please contact Sarah Murray at 781-378-2674 or sarah@attunecommunications.com. Reports are available to qualified members of the media. For information on purchasing reports, contact insights@idc.com ; reporters should email sarah@attunecommunications.com.
About IDC Financial Insights
IDC Financial Insights assists financial service businesses and IT leaders, as well as the suppliers who serve them, in making more effective technology decisions by providing accurate, timely, and insightful fact-based research and consulting services. Staffed by senior analysts with decades of industry experience, our global research analyzes and advises on business and technology issues facing the banking, insurance, and securities and investments industries. International Data Corporation (IDC) is the premier global provider of market intelligence, advisory services, and events for the information technology market. IDC is a subsidiary of IDG, the world's leading technology, media, research, and events company. For more information, please visit www.idc-fi.com, email info@idc-fi.com, or call 508-620-5533. Visit the IDC Financial Insights Community at http://idc-insights-community.com/financial.
Coverage