Current:

Financial and Professional Services Firms Set to Drive Fastest IT Budget Increases, While Consumer Spending Begins to Slow, According to New IDC Spending Guide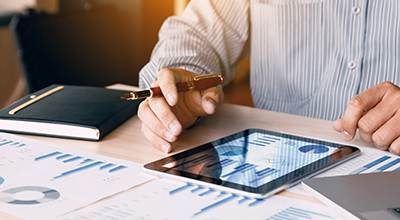 18 Jul 2017
Financial and Professional Services Firms Set to Drive Fastest IT Budget Increases, While Consumer Spending Begins to Slow, According to New IDC Spending Guide
FRAMINGHAM, Mass., July 18, 2017 – Improvements and stability in business confidence across a broad range of vertical industries will drive stronger IT spending growth this year, led by financial and professional services firms, retailers, and healthcare providers. Professional services firms, including cloud service providers, will increase their IT spending by 6% in 2017, while IT budgets in the financial services sector will increase by more than 5%. By 2021, IT spending will reach $2.7 trillion, with the largest contributions coming from consumers, banks, manufacturers, and telecommunications providers. This worldwide technology spending forecast comes from the International Data Corporation (IDC) Worldwide Semiannual IT Spending Guide: Industry and Company Size.
Mobile Device Sales Will Improve in 2017, but Consumer Spending Will Lag Thereafter
Consumer spending is dominated by smartphones and 2017 will be a stronger year for growth, largely driven by emerging markets. Total consumer smartphone spending will increase by 7% this year, while consumer notebook sales will post 2% growth. Consumer tablet sales will continue to decline in the short term, however, and overall consumer spending will slow throughout the forecast period.
Commercial tablet sales are much healthier, with positive growth expected across all enterprise and public sector segments. Strong double-digit growth rates are expected in healthcare, services, telecommunications, manufacturing, and utilities as many businesses adopt new form factors and professional devices.
Commercial spending on traditional PCs is expected to be weaker, but will still be positive outside of the consumer and government sectors. The education industry will post the strongest growth in traditional PCs, driven by a 13% increase in sales of notebooks to education customers. Sales of desktop PCs will decline across most industries.
"Mobile is still driving a lot of enterprise and public sector decision making in 2017," said Stephen Minton, vice president, Customer Insights & Analysis. "Notebook PC sales are making up for declines in desktop upgrades, with particularly strong growth in the most portable form factors and strong adoption trends in the education market. New high-end tablets, including hybrid devices, are also gaining momentum with enterprise buyers as business use cases are more clearly defined."
Strong Enterprise Spending Growth in Infrastructure, Software, and Services
Cloud service providers are expected to resume datacenter investment growth in the second half of 2017, after a brief slowdown, and this will drive server and storage spending by professional services firms to almost 9% growth this year. Meanwhile, enterprise buyers are also poised for a server upgrade cycle this year, driving positive growth in spending across vertical industries.
Enterprise software spending remains strong, led by professional services (+9%), followed by banking, securities and investment services, retail, and healthcare (all +8%). Total annual software spending will surpass $600 billion by 2021, with the largest contributions from manufacturing, banking, and professional services.
"The banking industry shows largely positive indicators for spending plans, with key projects focused on Big Data and Analytics (BDA)," said Jessica Goepfert, program director, Customer Insights & Analysis. "Almost all of the major banks around the world have highlighted that their BDA deployments are now a critical part of their competitive strategies. This is particularly the case on the retail banking side as the banks develop their omnichannel strategies, seek to understand and respond to their customers' behavior, and build strategies for excellence in customer experience."
On the IT services side, the strongest growth will come from project-oriented services including application development and IT consulting, with weaker growth in outsourcing and support services. The strongest IT services spending growth this year will be in banking, telecommunications, and professional services, which will each post increases of around 4%.
Growth will be stronger in business services (business process outsourcing (BPO) and business consulting), led by healthcare (+8%), banking (+7.5%) and retail (+7%). Total IT and business services spending will be more than $1 trillion next year, with the largest contributions from banking, discrete manufacturing, and federal/central government.
Emerging Markets Are Rebounding, with Help from Government Initiatives
A rebound in consumer spending will help to drive emerging markets this year, while growth in the next five years will be increasingly driven by commercial investments including government initiatives. Governments in a number of emerging economies are investing heavily in smart city and digital transformation projects, and this will drive a sustained period of government IT budget increases in key technologies.
"In many developing economies, governments are focused on direct ICT investment as a means to drive productivity and diversify the economy, as well as aiming to stimulate private sector investment in new 3rd Platform technologies," said Minton. "Major initiatives such as Digital India and Saudi Vision 2030 are examples of national projects which will drive opportunities for IT vendors in the next five years."
U.S. Firms Still Ahead of the Curve, but Healthcare Market is Tightening
In mature economies, transformation projects will continue to drive much of the growth in IT budgets, with businesses in the U.S. particularly advanced in their adoption of new 3rd Platform technologies. Nevertheless, there will be some changing dynamics within these markets, as some industries enter a period of slowing growth compared to recent years.
"While in recent years, healthcare was a bright spot for IT spending in the U.S., the near-term outlook continues to decline," noted Goepfert. "Sales cycles are lengthening and few providers want to commit to a major system refresh or replacement. Provider margins are tight, and EHR implementations/consolidations have them financially very fatigued."
To arrange a one-on-one briefing with Stephen Minton or Jessica Goepfert, please contact Sarah Murray at 781-378-2674 or sarah@attunecommunications.com.
To learn more about IDC's Customer Insights & Analysis Group, please visit www.idc.com/customerinsights.
About IDC
International Data Corporation (IDC) is the premier global provider of market intelligence, advisory services, and events for the information technology, telecommunications, and consumer technology markets. With more than 1,100 analysts worldwide, IDC offers global, regional, and local expertise on technology and industry opportunities and trends in over 110 countries. IDC's analysis and insight helps IT professionals, business executives, and the investment community to make fact-based technology decisions and to achieve their key business objectives. Founded in 1964, IDC is a wholly-owned subsidiary of International Data Group (IDG), the world's leading media, data, and marketing services company that activates and engages the most influential technology buyers. To learn more about IDC, please visit www.idc.com. Follow IDC on Twitter at @IDC and LinkedIn.
Coverage