Current:

Worldwide Spending on Augmented and Virtual Reality to Achieve a Five-Year CAGR of 71.6% by 2022, According to IDC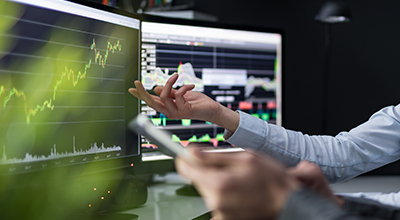 31 May 2018
Worldwide Spending on Augmented and Virtual Reality to Achieve a Five-Year CAGR of 71.6% by 2022, According to IDC
FRAMINGHAM, Mass., May 31, 2018 – Worldwide spending on augmented reality and virtual reality (AR/VR) is forecast to achieve a five-year compound annual growth rate (CAGR) of 71.6% over the 2017-2022 forecast period, according to a new update to the International Data Corporation (IDC) Worldwide Semiannual Augmented and Virtual Reality Spending Guide. Spending on AR/VR products and services is forecast to reach $27 billion in 2018, a 92% increase year over year. New to the Guide are forecasts for all 20 standard IDC industries and the number of industry use cases increased from 28 to 39, including consumer, media, education and government. Finally, the Guide now provides a forecast for China (PRC) as its own region; it was formerly included within the Asia/Pacific region.
Click to Tweet: Spending on #ARVR products and services is forecast to reach $27 billion in 2018
"IDC's Worldwide Semiannual ARVR Spending Guide accounts for the latest technology developments, industry investments, and use case adoption in a comprehensive end user spending forecast product," said Marcus Torchia, research director, Customer Insights & Analysis. "This release incorporates the impact of recent industry developments, such as ARKit and ARCore, as well as trending adoption of screenless viewers in early deployments."
The consumer industry maintains its position as the largest source of spending for AR/VR products and services over the course of the forecast period, reaching $53 billion by 2022, followed by spending in the retail, discrete manufacturing, and transportation industries, representing $56 billion collectively by 2022. Virtual reality gaming continues to be the dominant AR/VR use case in 2018 with spend expected to reach $7 billion. Over the course of the forecast period, retail showcasing represents the use case with the largest CAGR of 119.3%, followed by lab and field and film and television amusement. New use cases for 2018 include public infrastructure maintenance, as well as 360 degree educational video viewing (K-12).
Host devices represent the top technology category for 2018 with spending to reach $10 billion, followed by VR software at $5.7 billion in 2018. With 141.6% CAGR, AR viewers represent the top technology category over the forecast period followed by AR systems integration, and AR customer application development. The consumer sector maintains its leadership position in 2018 with spending forecast to be $14.2 billion, while the distribution and services sector is estimated to achieve a 34.4% CAGR over the forecast period with spend to reach nearly $72 billion by 2022. Manufacturing and resources follows, estimated to achieve 18.5% CAGR over the forecast period while public sector is forecast to reach $33.5 billion by 2022.
"Commercial interest in both augmented and virtual reality continues to accelerate as new hardware ships, improved software appears, and more use cases evolve," said Tom Mainelli, vice president of Devices and AR/VR at IDC. "A recent IDC survey of U.S. IT decision markers showed a huge percentage of companies testing both technologies and we expect that appetite will only grow as major industry players roll out the next generation of AR and VR experiences throughout the rest of 2018."
The United States will maintain a strong foothold as the region with the largest CAGR over the forecast period at 99.1%. The Middle East & Asia, and Asia Pacific (excluding Japan) (APeJ) will experience similar CAGRs over the forecast period followed closely by Latin America. In 2018, China will top all regions in spend at $10.2 billion with top spending in host devices, followed by VR software and AR software.
The Worldwide Semiannual Augmented and Virtual Reality Spending Guide examines the AR/VR opportunity and provides insights into this rapidly growing market and how the market will develop over the next five years. Revenue data is available for eight regions, 20 industries, 39 use cases, and eleven technology categories. Unlike any other research in the industry, the comprehensive spending guide was created to help IT decision makers to clearly understand the industry-specific scope and direction of AR/VR expenditures today and in the future.
About IDC Spending Guides
IDC's Spending Guides provide a granular view of key technology markets from a regional, vertical industry, use case, buyer, and technology perspective. The spending guides are delivered via pivot table format or custom query tool, allowing the user to easily extract meaningful information about each market by viewing data trends and relationships.
About IDC
International Data Corporation (IDC) is the premier global provider of market intelligence, advisory services, and events for the information technology, telecommunications, and consumer technology markets. With more than 1,100 analysts worldwide, IDC offers global, regional, and local expertise on technology and industry opportunities and trends in over 110 countries. IDC's analysis and insight helps IT professionals, business executives, and the investment community to make fact-based technology decisions and to achieve their key business objectives. Founded in 1964, IDC is a wholly-owned subsidiary of International Data Group (IDG), the world's leading media, data and marketing services company that activates and engages the most influential technology buyers. To learn more about IDC, please visit www.idc.com. Follow IDC on Twitter at @IDC and LinkedIn.
Coverage