Current:

Four Companies Offering Innovative Unified Communications and Collaboration Management Solutions Named IDC Innovators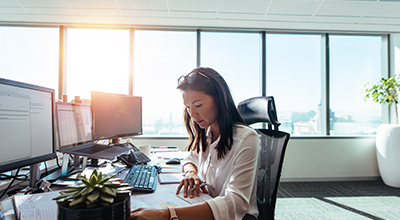 Publication date: 17 Aug 2022
Four Companies Offering Innovative Unified Communications and Collaboration Management Solutions Named IDC Innovators
Contact
For more information, contact:
NEEDHAM, Mass., August 17, 2022 – International Data Corporation (IDC) recently published an IDC Innovators report profiling four vendors offering innovative unified communications and collaboration (UC&C) management solutions that address the growing needs of organizations to properly monitor, manage, and analyze the performance of their networks, applications, and devices. These solutions support the proliferation of real-time communications (voice and video) reliably and efficiently, whether on premises or in the cloud, as well as glean intelligence from the usage data. The four companies are: Kurmi Software, Martello Technologies, VOSS Solutions, and Vyopta.
UC&C management solutions support a range of functionality including the provisioning of new users and phone numbers (e.g., adding new employees to active directory), migration of users (e.g., from premises to cloud), real-time voice/video performance monitoring, management, and administration, reporting and analytics, design/deployment services, automation, and security, among others. Most also support APIs/integrations for business workflow and application integrations across the broader global UC&C ecosystem. Note that UC&C management solutions can support many of these functions, but very few support all these functions.
With a mix of multivendor communication and collaboration solutions being the norm in many business environments today, customers are increasingly considering third-party, cloud-based alternative solutions for managing their UC&C solutions because third-party tools typically can better manage multivendor environments versus UC&C vendor-supplied management solutions.
"For organizations that want to enhance the decision drivers for their UC&C investment — voice, video, collaboration, productivity, user/customer experience, innovation, business growth, and so forth — UC&C management solutions are the best way to measure the results," said Rich Costello, senior research analyst, Enterprise Communications Infrastructure and Unified Communications & Collaboration at IDC. "IDC believes it's imperative today that customers think more proactively about UC&C management solutions versus constantly reacting to network and real-time traffic challenges as they arise."
The report, IDC Innovators: Unified Communications and Collaboration Management Solutions, 2022 (IDC #US49426722), profiles four companies that have developed innovative solutions for unified communications and collaboration (UC&C) management. The four companies are:
Kurmi Software supports a single, unified interface that can manage and administer different types of enterprise communication infrastructure and is compliant with all voice architectures -- on premises or in the cloud.
Martello Technologies provides end-to-end visibility and insight into Microsoft 365 and Teams performance by correlating data on network and UC&C application performance to deliver an enhanced digital user experience.
VOSS Solutions offers UC operations and performance management software that introduce high levels of automation and analytics to enable organizations in the provisioning, management, and monitoring of the digital workplace.
Vyopta helps organizations optimize UC experiences, enhance productivity, and maximize technology and real estate investments by aiding in UC adoption, technology migrations, and capacity planning.
About IDC Innovators
IDC Innovators reports present a set of vendors – under $100 million in revenue at time of selection – chosen by an IDC analyst within a specific market that offer an innovative new technology, a groundbreaking approach to an existing issue, and/or an interesting new business model. It is not an exhaustive evaluation of all companies in a segment or a comparative ranking of the companies. Vendors in the process of being acquired by a larger company may be included in the report provided the acquisition is not finalized at the time of publication of the report. Vendors funded by venture capital firms may also be included in the report even if the venture capital firm has a financial stake in the vendor's company. IDC INNOVATOR and IDC INNOVATORS are trademarks of International Data Group, Inc.
For more information about IDC Innovators research, please contact Jen Melker at jmelker@idc.com.
About IDC
International Data Corporation (IDC) is the premier global provider of market intelligence, advisory services, and events for the information technology, telecommunications, and consumer technology markets. With more than 1,300 analysts worldwide, IDC offers global, regional, and local expertise on technology, IT benchmarking and sourcing, and industry opportunities and trends in over 110 countries. IDC's analysis and insight helps IT professionals, business executives, and the investment community to make fact-based technology decisions and to achieve their key business objectives. Founded in 1964, IDC is a wholly owned subsidiary of International Data Group (IDG), the world's leading tech media, data, and marketing services company. To learn more about IDC, please visit www.idc.com. Follow IDC on Twitter at @IDC and LinkedIn. Subscribe to the IDC Blog for industry news and insights.
Coverage