Current:

IT Spending in the Middle East, Türkiye, and Africa Will Come Close to Breaking Through the $100 Billion Barrier for the First Time in 2023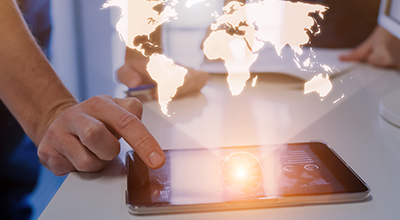 Publication date: 01 Feb 2023
IT Spending in the Middle East, Türkiye, and Africa Will Come Close to Breaking Through the $100 Billion Barrier for the First Time in 2023
Contact
For more information, contact:
Dubai – Overall spending on information and communications technology (ICT) across the Middle East, Türkiye, and Africa (META) will top $233.8 billion this year, an increase of 3.9% over 2022. That's according to the latest predictions presented today by International Data Corporation (IDC) as more than 400 senior executives from the region's most influential technology vendors, telecommunications operators, and IT service providers gathered at The Ritz-Carlton, Dubai International Financial Centre for the 2023 edition of IDC Directions Middle East, Türkiye, and Africa.
Announcing its regional forecasts for the year ahead, IDC revealed that it expects telecommunications services spending to increase 3.6% year on year (YoY) in 2023 to reach $133.9 billion, with IT spending set to grow 4.3% YoY to $99.9 billion. As the region's digital economy increasingly takes shape, IDC forecasts that digital transformation spending in the META region will top $48.8 billion in 2023 and accelerate at a compound annual growth rate (CAGR) of 16% over the coming years to cross the $74 billion mark in 2026.  
"The region will continue to face several headwinds throughout 2023, including volatile demand, high inflation, interest rate hikes, supply chain uncertainties, and currency fluctuations," says says Jyoti Lalchandani, IDC's group vice president and regional managing director for the META region. "In order to navigate these storms of disruption, organizations will need to invest in strengthening their digital resiliency so they are better positioned to succeed in new market environments as conditions continue to change.
"Regardless of what the economy throws at us over the coming 12 months, the implementation of further digitalization in critical areas such as customer experience, operations, and financial management — together with a more rapid shift to a 'digital business' approach — will be key to separating the thrivers from the survivors. To this end, we expect to see digital transformation spending as a share of overall IT spending continue to grow, reaching 43.2% in 2026, up from just 29.4% in 2021."
Opening proceedings at this year's edition of IDC Directions Middle East, Türkiye, and Africa with a session titled 'Navigating the Storms of Disruption in 2023 and Beyond: Technology Market Outlook for the META Region', Lalchandani explained that the shift toward a 'digital-first' approach requires enterprises to transition from traditional infrastructure that is inefficient, inflexible, and difficult to scale, to highly responsive, resilient, and adaptable infrastructure that spans edge, core, and cloud.
He also outlined IDC's predictions for the META region in 2023. The key highlights included:
Spending on public cloud services will grow at 25.0% to surpass $10.4 billion in 2023.
SaaS apps will account for 43.2% of public cloud software spending in 2023, with IaaS constituting 24.5% and systems infrastructure SaaS and PaaS making up 18.1% and 14.2%, respectively.
Cloud managed services will grow 16.1% to surpass $1 billion in 2023 and $1.4 billion by 2025.
Spending on big data analytics will grow 11.4% to top $4.1 billion in 2023.
Spending on AI will grow 16.3% to reach $7.9 billion in 2023.
Spending on RPA software will grow 34.5% to surpass $192.7 million in 2023.
IDC's global president, Crawford Del Prete, presented the event's keynote address, 'Global Strategies Built to Drive Better Outcomes', during which he explained that by 2026, 40% of total revenue for G2000 organizations will be generated by digital products, services, and experiences. He also pointed out that by 2027, more than one-third of publicly listed companies will be digital-native businesses.
This was followed by a session titled 'Beyond Uncertainty: Preparing for a New Tech World Order' that was presented by Steven Frantzen, IDC's senior vice president and regional managing director for the EMEA region. During this session, he opined that the reaction to recessionary pressures in 2023 will be unlike anything previously seen.
"As tech leaders address global economic uncertainty, the tactics they employ will differ from those used in past economic downturns," said Frantzen. "In a digital-first economy, where an enterprise's competitiveness is tied to its digital business model, leaders will avoid wholesale cutbacks in tech. Furthermore, in the first potential 'as-a-service' recession, where cloud represents 40% of enterprise IT spend, unwinding these investments will be complex. Nevertheless, new tactics will be employed as tech leaders seek to realize maximum business value from their tech investments."
IDC Directions Middle East, Türkiye, and Africa takes place annually and is a firm fixture on the ICT industry calendar, providing an unrivaled platform for exchanging ideas and engaging with IDC's most prominent local and global analysts. As well as the three main discussions outlined above, the agenda incorporated a series of track sessions that enabled delegates to deep dive into the individual markets that top their agenda for the year ahead.
These dedicated sessions outlined trends and forecasts for key countries/sub-regions and explored the latest developments in critical areas such as sustainability, digital trust and security, partner transformation strategies, the role of cloud supply chains in driving innovation at scale, the future of enterprise intelligence, and strategies for building a resilient and adaptable enterprise infrastructure.
To learn more about IDC Directions Middle East, Türkiye, and Africa, please contact Sheila Manek at smanek@idc.com or on +971 4 446 3154. You can also join the conversation on social media using the hashtag #IDCDirectionsMETA.
About IDC
International Data Corporation (IDC) is the premier global provider of market intelligence, advisory services, and events for the information technology, telecommunications, and consumer technology markets. With more than 1,300 analysts worldwide, IDC offers global, regional, and local expertise on technology, IT benchmarking and sourcing, and industry opportunities and trends in over 110 countries. IDC's analysis and insight helps IT professionals, business executives, and the investment community to make fact-based technology decisions and to achieve their key business objectives. Founded in 1964, IDC is a wholly owned subsidiary of International Data Group (IDG), the world's leading tech media, data, and marketing services company. To learn more about IDC, please visit www.idc.com. Follow IDC on Twitter at @IDC and LinkedIn. Subscribe to the IDC Blog for industry news and insights.
IDC in the Middle East, Turkey, and Africa
For the Middle East, Turkey, and Africa region, IDC retains a coordinated network of offices in Riyadh, Nairobi, Lagos, Johannesburg, Cairo, and Istanbul, with a regional center in Dubai. Our coverage couples local insights with international perspectives to provide a comprehensive understanding of markets in these dynamic regions. Our market intelligence services are unparalleled in depth, consistency, scope, and accuracy. IDC Middle East, Africa, and Turkey currently fields over 130 analysts, consultants, and conference associates across the region. To learn more about IDC MEA, please visit www.idc.com/mea. You can follow IDC MEA on Twitter at @IDCMEA.
Coverage