Current:

According to IDC's Forecast, China's AI Market to Exceed US$26 Billion by 2026, Hardware to Make Up 56% of Market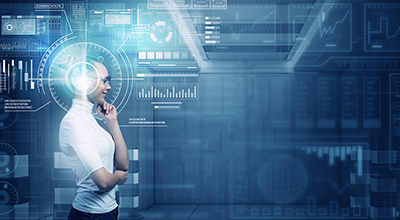 Publication date: 18 May 2023
According to IDC's Forecast, China's AI Market to Exceed US$26 Billion by 2026, Hardware to Make Up 56% of Market
Contact
For more information, contact:
SINGAPORE, May 18, 2023 — Following the successful event in Shenzhen on April 18, 2023, IDC Directions China has come to Beijing, bringing with it IDC's expertise to hundreds of ICT industry participants. With the theme of Technology to Scale the Digital Business, senior IDC analysts shared their insights on emerging technologies such as AI, industrial internet of things (IIoT), cybersecurity, big data, and cloud computing, as well as the development trends of smart endpoints, smart city, semiconductors, and other industries. The event also had in-depth one-on-one exchanges with ICT companies. IDC believes that as enterprises seek to thrive in the digital business era, the next focus will be on leveraging technology to scale the digital business.
"Despite the mounting economic headwinds, we are still in the golden age of technological innovation. Only by creating resiliency and value based on effective use of the continuously evolving innovative technologies can an IT leader that leans on a digital-first strategy cope with the storms and truly realize transformation, innovation, and development," said Kitty Fok, Managing Director, IDC China.
This year, the popularity of generative AI such as ChatGPT has once again set off a wave of AI. In his keynote, Zhenshan Zhong, Vice President of IDC China, said that 2023 was expected to be the most exciting year in the world of AI, and the next-generation AI, led by generative AI, would have a profound impact on the way we live and work. He suggested that both technology suppliers and users should understand the nature of the technology, possible use cases, and possibilities for implementation, and prepare for the upcoming changes.
"To win opportunities from China's over US$2 trillion ICT spending in the next four years, ICT vendors should partner with ICT industry leaders to leverage technology to scale their digital business. They should work from five dimensions: understanding the macro policy trends, grasping digital technology trends, gaining insight into changes in user needs, developing eco-tech solutions, and delivering quantitative digital value," said Lianfeng Wu, Vice President and Chief Research Analyst, IDC China. IDC predicts that by 2026, 40% of the total revenues of Global 2000 companies will come from digital products, services, and experience.
Dr. Antonio Wang, Vice President of IDC China, focused on China's consumer market in his keynote. "In 2023, the first year of the post-pandemic recovery, consumers will still have a lot of anxiety about the future — exchange rates, layoffs, and policy uncertainties are clouding the consumer market. At the same time, the huge consumption base and the long-term positive drivers are obvious reminders that there is still huge potential in China's consumer market over the next five years. New use cases, technological changes and upgrades, and the expansion of the customer base will all become positive factors contributing to the rise of the consumer market amid uneasiness," said Dr. Wang.
IDC Directions provides an unrivaled platform for exchanging ideas and engaging with IDC's most prominent local and global analysts. IDC Directions Shenzhen and Beijing ran two parallel sessions focused on the themes of continuously developing enterprise intelligence and industry ecosystems and addressing opportunities and challenges in the connected world. During the event, IDC shared its insights on industrial internet of things (IIoT), cybersecurity, big data, smart city, cloud computing, servers, databases, smart endpoint products, and the semiconductor industry. IDC analysts also engaged participants from leading companies in one-on-one sessions to dive deeper into their challenges and growth opportunities.
The next stop for the IDC Directions event will be the virtual event in Japan on June 15. If you are interested, please register for the Tokyo event here. 
For media inquiries, please contact Miguel Carreon at mcarreon@idc.com or Michael De La Cruz at mdelacruz@idc.com.
-Ends-
About IDC 
International Data Corporation (IDC) is the premier global provider of market intelligence, advisory services, and events for the information technology, telecommunications, and consumer technology markets. With more than 1,300 analysts worldwide, IDC offers global, regional, and local expertise on technology and industry opportunities and trends in over 110 countries. IDC's analysis and insight helps IT professionals, business executives, and the investment community to make fact-based technology decisions and to achieve their key business objectives. Founded in 1964, IDC is a wholly-owned subsidiary of International Data Group (IDG), the world's leading tech media, data and marketing services company. To learn more about IDC, please visit www.idc.com. Follow IDC on Twitter at @IDCAP and LinkedIn. Subscribe to the IDC Blog for industry news and insights.
Coverage